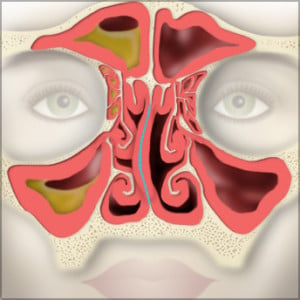 "Like congestion from an allergy or cold, some people might view all nasal breathing problems as temporary—some are, many require specialized surgery." As a board-certified facial plastic surgeon and ENT (Otolarnyngologist) dedicated to long-term results, Dr. Raval wants prospective patients with persistent breathing difficulty to be informed: "There many nasal-specific causes, but few adequately trained surgeons that a patient can identify to help solve the problem and improve their life." One of the most common causes is from a phenomenon many people have never heard of; the nasal valve.
"Persistent problems breathing through one side of the nose," Dr. Raval explains, "is often caused by a deviated nasal septum." The nasal septum is the wall of tissue and cartilage that separates the nasal passages, which when asymmetrical or mal-formed impacts breathing until it can be surgically repaired using grafts. "In other cases," he continues, "collapse of the nasal valve—from injury, previous surgery, or age—can affect one or both sides of the nose during breathing, and is frequently overlooked." The nasal valve area, the channel air takes through the nose, could be obstructed by many factors, but especially from tissues, such as turbinates or scarring, that can enlarge overtime, create stuffiness, and block airflow.
"Many of my patients have suffered damage from a previous surgery," says Dr. Raval, "Only an experienced surgeon who can recognize the persistent cause and treat it permanently," observes Dr. Raval, "will improve patients' breathing and feeling." His patients' feelings of satisfaction and well-being are supported by a long-term study spanning 1.5 years. More than 70% of those studied were "very happy" or "extremely happy" with the results of airway surgeries on the nasal septum or valves. Through a follow-up process similar to Dr. Raval's practice, respected researchers concluded that "corrective nasal surgery results in significant improvement in [breathing-related] quality of life and high satisfaction level."
For individuals who want easier breathing and these benefits, the process of identifying the cause, choosing the right procedure, and protecting the safety of patient's health begins with a simple consultation. As owner and Medical Director of both Raval Facial Aesthetics and Rocky Mountain Laser, Dr. Raval provides a comfortable environment and access to specialized nasal airway surgery. You can learn more and schedule a consultation by calling (303) 381-FACE.


Supporting Source: Rhee et al., "Nasal Valve Surgery Improves Disease-Specific Quality of Life," The Laryngoscope 115, March 2005.