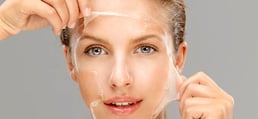 Chemical peels are a tried-and-true method of resurfacing facial skin. They have been used successfully for years, to reduce the visible effects of acne and other scars, fine lines and wrinkles, sun spots and other types of hyperpigmentation. A chemical peel can also reduce inflammation and nourish your skin with antioxidants, to give it a healthy-looking update.
Chemical peels are just what the name implies. Mildly acidic chemicals are blended and applied to the face for a specific amount of time. Then the chemicals are neutralized and removed. Over the next few days, the treated skin cells peel away, revealing smoother, brighter skin tone and texture.
The chemicals are custom-blended for each patient's skin type and desired result. A peel can treat skin superficially or deeper, depending on the concentration and timing.
While there are a number of newer skin rejuvenation alternatives available, chemical peels remain the best choice for certain patients. Here at Raval Facial Aesthetics, we offer three types of chemical peels. All three of them can be gentle enough to combine with other non-surgical procedures and skin care products to achieve the results you want and to maintain your newly-refreshed look.
We encourage you to click on the link for each peel to learn more about its process and results. We also encourage you to schedule a personal consultation, because treatment details, results, and side effects are different for each patient.
This medical-grade chemical peel option combines multiple power-packed ingredients to produce higher-impact results. Glutathione is an antioxidant that slows aging, while kojic acid lightens dark spots and boosts production of collagen and elastin. TCA, phenol, and retinoic acid also address pigment issues and reduce wrinkles, while salicylic acid exfoliates.
Unlike many peels, The Perfect Derma Peel is suitable for all skin types. The treatment is fast (less than 15 minutes), with virtually no pain or downtime. We can use it to remove or reduce age spots, hyper-pigmentation and acne scars, help smooth fine lines and wrinkles, and reduce pore size. The result? Brighter skin with improved texture that looks younger and healthier.
LACTIC ACID PEEL
Derived from milk, lactic acid is a form of alpha hydroxyl acid (AHA), similar to citric acid and glycolic acid. Our medical-grade lactic acid peel is more concentrated than at-home products, producing deeper, more obvious results. That said, lactic acid is gentler than most other chemical peels (including citric and glycolic acids), requiring little to no downtime.
The lactic acid peel doesn't even "peel" off, but does exfoliate surface skin, triggering fresh production of hyaluronic acid and collagen. Exfoliation also enables skin care products to penetrate better. A lactic acid peel can make your skin glow again, but it also helps fight wrinkles and reduce pigmentation problems, improve skin tone and texture. While lactic acid is a better choice for sensitive skin, it may not be the best choice if you have darker skin. It is also not recommended if you have eczema, psoriasis, or rosacea.
Also known as an alpha-hydroxy peel, this technique uses fruit acids to help women and men improve the appearance of their facial skin. It is the most common type of chemical peel. Glycolic acid peels can be used to address several skin conditions, including reduction of wrinkles, scars, moderate age spots, and melasma (brown patches).
In addition to removing dead skin cells, this peel stimulates your skin's natural production of collagen and elastin – the building blocks that keep skin supple and healthy. You can see immediate results from the treatment, and your skin will continue to improve on its own. There is virtually no downtime.
This technique use trichloroacetic acid (a vinegar relative) to resurface the skin on the face or elsewhere on the body. TCA is safe and effective for use on most skin types, making it a good option for some people with darker skin, for whom lasers and other treatments do not work well.
Although some doctors use stronger concentrations for TCA peels, Dr. Jeffrey Raval uses only light TCA solutions of no more than a 10-20%. That ensures complete control over the process, producing optimal results without risking potential problems. The light TCA peel does not require sedation, and downtime is short.
This skin-lightening peel technique was developed by Dr. Jeffrey Raval and is exclusive to Rocky Mountain Laser Aesthetics. The "secret" is the addition of moisturizers to the process – a step Dr. Raval says is crucial for residents of our dry Colorado climate. The extra moisturizer improves results and significantly speeds recovery compared to traditional melanage peels.
The mini-melanage is also unusual in that it is entirely safe and effective for all skin types, even the darkest tones. It is used to lighten discoloration, melasma, sun spots, and age spots. Unlike glycolic acid and TCA peels, patients who choose the mini-melanage leave our office with the chemical masque in place, then wash it off several hours later at home.