Age spots are those brown (or sometimes grayish) spots that begin to appear on our face, neck, chest and hands as the years go by. But here's the thing, age isn't even the real problem. Sun exposure is the true culprit that causes brown spots. So younger men and women who spend lots of time outdoors (and who doesn't here in Colorado!) may start to see brown spots even before noticeable wrinkles.
Officially called solar lentigines, you may call these spots freckles, a more youthful-sounding name for what is essentially the same issue. (A lentigo is a cluster of pigmented cells.) But while freckles are adorable on kids, many adults don't feel that way about their natural tendency toward hyperpigmentation. So, whether you've always dealt with freckling or you're seeing spots now that you're older, laser treatment can significantly reduce their appearance.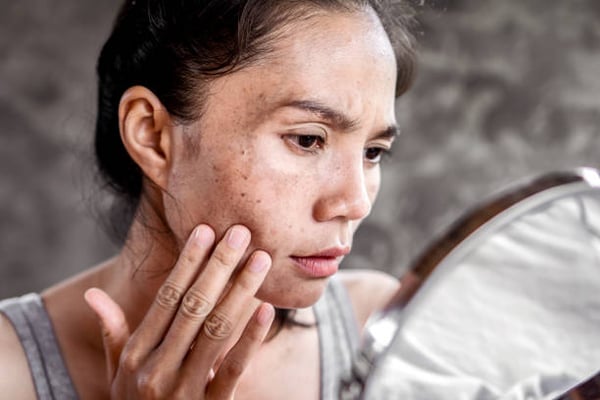 Why choose laser treatment to correct brown spots?
Brown spots look like a surface imperfection, but what you're seeing is really excess pigment at the base of the epidermis. Getting rid of brown spots on the face, neck and hands requires treatment that will work below the surface.
There are several ways to take corrective action, from home remedies to prescription bleaching creams, freezing to destroy the pigmented area, dermabrasion or microdermabrasion to scrape away surface cells, or chemical peels that use a type of acid to resurface skin. Here at Rocky Mountain Laser Aesthetics, we believe laser treatment is the best option for most patients looking for how to treat age spots, because it offers so many benefits.
Benefits of laser treatment for brown spots:
Lasers are versatile. There are different types of laser-based devices, so we can select the treatment best suited for each patient. After all, each person's skin and goals are unique, especially when it comes to age spots and sun damage.

Lasers are precise. Unlike other types of treatments, lasers enable us to zero in on a specific spot or two, or treat larger areas such as the cheeks or chest. Because we can precisely adjust the laser's depth, we are able to reach the melatonin at the base of the epidermis without damaging surrounding tissue or the skin's surface.
Laser treatments are fast. Depending on the size of the target area, treatment may take just a few seconds. Larger areas can be treated in a matter of minutes, which is why we often refer to laser procedures as the lunch-hour option.
Laser treatments are not painful. Most patients say it feels a little like being snapped with a rubber band. In some cases, we may apply a topical numbing agent at the beginning of the procedure to further ensure comfort.
Lasers are gentler than most of the treatment options for dark spots mentioned above, especially dermabrasion and chemical peels. After-effects are usually minor, so there is little or no downtime required. Because the treatments are gentler, it usually takes more than one session to achieve optimal results, depending on which laser technique we use and each person's desired outcome.
Immediately visible results. It is always gratifying to see improvement right after your treatment, but final results won't be visible for some time because your skin will continue to heal, producing new collagen and skin cells.

Laser brown spot treatment services at RMLA
At Rocky Mountain Laser Aesthetics, we offer these laser resurfacing options:
Intense-Pulsed Light (IPL)
IPL is sometimes called photo rejuvenation or photofacial because the laser uses high-intensity light to target unwanted pigment, delivering short bursts of this intense light below the skin's surface. This also triggers production of new collagen which helps support new skin cells as they are produced. IPL treatments are safe and comfortable thanks to a sapphire tip that cools and protects the skin during the procedure. IPL helps correct redness, rosacea and broken blood vessels as well as brown spots.
As the name indicates, this type of laser device targets only a fraction of the skin within the treatment area. Micro-beams of energy target unwanted melatonin. The tiny wounds created serve to stimulate natural healing in the surrounding skin as well as the target area. The result is fresh skin that is smoother and even-toned.
Traditional chemical peels are often reserved for more severe skin conditions because they are harsh and require a recovery period. A microlaser peel is gentler, using the laser to resurface only the epidermis without damaging deeper skin layers. Post-treatment skin looks fresh and smooth, with more uniform tone.
Triple Peel is our own specialty treatment here at Rocky Mountain Laser Aesthetics. You might say it's the ultimate laser brown spot treatment because it combines the benefits of all three procedures in a single treatment session that requires little downtime. One, two, three, and you're on your way to exponentially better results when it comes to fading brown spots.
Boost your benefits
And speaking of exponentially better results, our laser treatments not only address age spots, they can help you achieve plumper, tighter skin by reducing fine lines and wrinkles and improving overall skin texture as well as tone. Not only that, we can also combine laser treatments with other non-surgical procedures such as Botox injections and fillers, to help you achieve and maintain smoother, younger looking skin.


Why RMLA?
Laser treatments can be impressively effective, but lasers can also be very dangerous if used improperly. It takes training and experience to use these tools safely and gently. At Rocky Mountain Laser Aesthetics, we offer peace of mind as well as great results because patient safety is always our #1 priority. You can count on Dr. Jeffrey Raval and our team of Medical Aestheticians to deliver the professionalism and skill you need in a comfortable, friendly atmosphere you'll love.