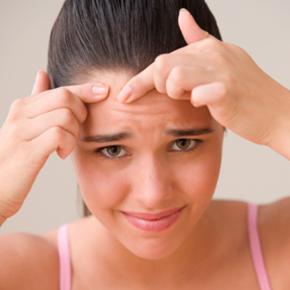 Acne can be plenty troubling when you're a teen, but for many adults the scarring and uneven skin tones, acne leaves behind can be just as troubling. Noticeable pitting and discoloration can make us feel self-conscious and less confident. It's frustrating, to say the least. Fortunately, while there is no treatment that can entirely erase severe scarring, laser acne scar treatment can significantly improve skin tone, texture, and smoothness.
Why choose laser acne scar treatment?
There is a lot to love about laser technology, and these benefits make laser treatment especially valuable for reducing the appearance of acne scars.
Lasers are versatile. Laser resurfacing can address both shallow and deep acne scars, including ice pick scars, and visibly improve overall complexion at the same time. Different types of laser devices enable us to choose exactly the right option for each patient, then individually tailor treatment depending on specific scarring issues and the patient's goals.

Lasers are precise. We can use them to treat tiny areas such as a specific scar, or larger areas such as the cheeks, shoulders or back. We can also precisely adjust treatment depth, depending on the type of scarring.

Laser treatments are fast. Treatment can take as little as a few seconds for a very small area, or less than an hour for your entire back. Our patients often refer to laser procedures as "lunch hour favorites."

Laser treatments usually don't hurt. Patients report it feels something like being "snapped." For deeper treatments, we often use a topical numbing agent to further reduce any potential discomfort.

Lasers are gentler than treatment options such as dermabrasion. After-effects are generally mild, so there is little to no downtime required. However, because treatments are gentler, we usually recommend multiple treatments. The number depends on the treatment method and the extent and type of each patient's acne scarring.

Visible results. Nothing makes you feel better about yourself than seeing instant improvement. Of course, acne scars didn't develop overnight, and it will take some time to see the ultimate results. As the skin heals and new skin cells are produced, improvement becomes more pronounced.


Laser acne scar treatment at RFA
As noted earlier, there are different types of laser technology – devices that enable us to address each patient's acne scarring in the most effective way. At Raval Facial Aesthetics, we offer these laser resurfacing options:
Intense-Pulsed Light (IPL)
This is sometimes called a photofacial because the laser directs short bursts of high-intensity light below the skin's surface to stimulate new collagen production. The renewed collagen works to support new skin cells, filling in surface depressions to produce a smoother surface appearance. The treatment is not uncomfortable, because the device's sapphire tip cools and protects the skin's surface during the procedure.
While most lasers treat an entire areas, this device targets just a fraction of the skin within the treatment area. It uses micro-beams of energy to create tiny wounds, which triggers the skin's natural healing response throughout the treatment area. As new collagen and skin cells are produced, the overall surface appears smoother, with more even tone and texture. With this device, we can precisely control the depth of penetration, making it an excellent choice for patients who have both shallow and deep acne scars.
Traditional peels use chemicals to resurface the skin, which can be harsh and require longer recovery time. Microlaser peel uses a gentle laser to resurface only the top layer of skin, in effect "scraping" away dead and damaged surface cells. This can be a great choice for those with shallow acne scars and pigmentation problems. Post-treatment skin appears smoother and fresher, with more uniform tone.
Triple Peel is a specialty of the house at Raval Facial Aesthetics. We created it because sometimes a combination of treatments is the best way to go. In this case, patients get the ultimate in laser acne scar treatment, with all three procedures combined in a single-session appointment. We perform the three treatments in a three-step process that produces exponentially better results, without much downtime.


Laser Acne Scar Treatment and Botox
Laser acne scar treatments can produce impressive results to improve the appearance of scarring, but many adults find they have other skin issues, too – fine lines and wrinkles, enlarged pores, redness or dark spots. Laser treatments can rejuvenate skin in multiple ways. They can also be combined with other non-surgical procedures such as Botox injections, to help maintain smoother, younger looking skin.


Why Raval Facial Aesthetics
In the hands of a well-trained, experienced provider, laser treatments are both safe and gentle. However, lasers are powered by intense light or heat, so they have the power to be dangerous if used incorrectly. Damage may be temporary, or even permanent. Patient safety and comfort are our top priorities at Raval Facial Aesthetics. Dr. Jeffrey Raval and our team of Medical Aestheticians are well-known for their professionalism and skill. You can choose RFA for laser acne scar treatment with confidence.