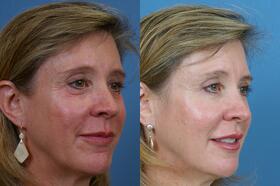 Restylane® is an injectable dermal filler, used to restore more youthful features by re-plumping the lips and deep creases. Restylane is a biodegradable gel, the only injectable dermal filler that contains NASHA (Non-Animal, Stabilized Hyaluronic Acid). That means there is no chance of allergic reaction. Millions of patients in more than 60 countries have benefited from Restylane treatments.
You do not need a pre-treatment skin test before receiving Restylane treatments. It can be used safely in combination with several other cosmetic procedures including Botox®, dermabrasion, and chemical peels. To avoid any discomfort during your procedure, Dr. Raval may apply a topical anesthetic cream first or, in some cases, he may recommend a local anesthetic injection. Immediately following treatment, most patients experience some slight swelling, tenderness, redness, or an itching sensation in the treated area.
Tiny amounts of Restylane are injected into the skin using a very fine needle. Results are immediate and long-lasting, providing natural-looking enhancement that is gentle and safe for your skin. Over time, the gel turns into water and carbon dioxide and is absorbed into your body.
This is actually one of the great advantages of Restylane — it is long lasting, but not permanent. That makes it an ideal complement to your constantly changing face. You will continue to age, but you can choose to continue receiving refresher injections in order to maintain the natural look you desire.