Etchings are pretty as artwork, but when you start to see fine lines and wrinkles etching your face, it's not so pretty. You don't even have to be "of a certain age" for pesky wrinkles to appear. They can make you look tired as well as old. Fortunately, women and men of all ages can benefit from skin rejuvenation procedures that help you fight back. Laser wrinkle treatments can be especially effective.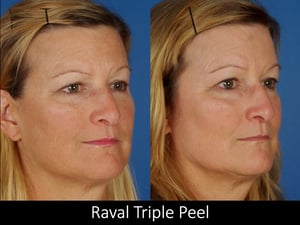 At Raval Facial Aesthetics, we use laser technology to improve many types of skin imperfections, but the big favorite among our patients is laser wrinkle treatment. No one wants wrinkles, but we all get them. Laser-based treatments can help almost everyone achieve smoother, more youthful skin. That said, it's important to note that different lasers work in different ways, and not all are appropriate for every skin type. Personal consultation is essential.
And those other imperfections? Who says "side-effects" are all bad? Many of us have multiple types of skin issues we'd like to fix. So, while you're considering laser skin treatments for wrinkles you can also choose a procedure that will plump or tighten your skin, reduce hyperpigmentation, minimize the appearance of acne or other scars, and/or refresh your skin tone and texture overall. Smooth indeed!


Why choose laser wrinkle treatment?
Lasers allow us to address wrinkles in two ways:
They resurface the skin so it looks smoother
They stimulate growth of collagen and skin cells, producing new skin that looks fresher and more youthful because it is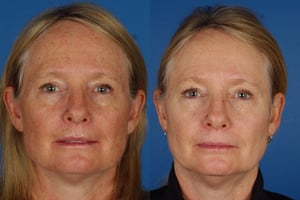 Lasers can be precisely controlled, which enables us to target and treat small or larger areas, at the most appropriate depth. This also ensures that each patient receives an entirely individualized procedure.
Laser wrinkle treatments are convenient. The procedures are performed in-office. They don't take long, discomfort is minimal, and there will be little to no downtime afterward. The details of your experience will depend on the specific treatment type, the size of the area(s) being treated and your own skin's condition.
Laser treatments are intended to produce noticeable but not dramatic results. Therefore, we recommend multiple sessions to achieve optimal results. The number of treatments varies by patient, but typically you can schedule them several weeks apart. That, and the fact that treatments don't take much time, makes it easy to fit them into the rest of your life. Once you have achieved desired results, we will recommend a maintenance schedule to keep those results looking their best.


Laser wrinkle treatment at Raval Facial Aesthetics
Lasers are not only versatile, there are different types of laser-based devices designed for different purposes. At Raval Facial Aesthetics we use all of the options listed below to treat wrinkles, deciding which is most appropriate for each patient:
Intense-Pulsed Light (IPL)
This is sometimes called photo rejuvenation because the laser is light-based. It applies quick bursts of high-intensity light to sub-surface skin layers, which stimulates natural growth of new collagen. These fibers strengthen the skin, helping diminish the appearance of lines and wrinkles. The IPL device has a sapphire tip that keeps the skin's surface cool and safe during the procedure.
This procedure works by targeting just a fraction of the skin (therefore the name) with micro-beams of energy. This creates tiny wounds, triggering the body's natural healing response throughout the treatment area without damaging surrounding skin. As new collagen is produced, the skin looks fresher and smoother. The precise depth of penetration is custom-calibrated for each patient. For most patients, Dr. Raval recommends a series of up to four ProFractional treatments.
Instead of using chemicals to resurface the skin, Microlaser peel is a gentler and more affordable option. The laser "scrapes" away dead and damaged surface cells, revealing uniformly smoother, even-toned skin. Results are immediately apparent, and although this laser wrinkle treatment works only on the surface, they can be surprisingly impressive.
This is a specialty here at RFA. It is the ultimate in custom-tailoring laser wrinkle treatments for each patient because it combines the benefits of all three treatment options into a single-session procedure. It's a one-two-three step treatment that produces exponentially better results with little downtime.


Combining Botox with Laser Wrinkle Treatment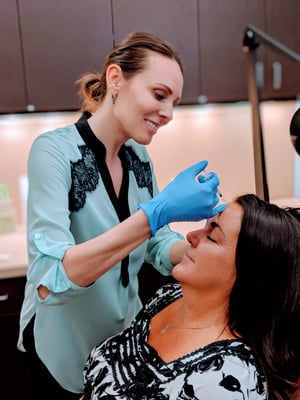 Laser wrinkle treatments work nicely as a stand-alone procedure, but we can also combine them with other non-surgical procedures – Botox is an especially popular example. We also recommend combining laser treatments for wrinkles with specialized skin care products that can further improve results as well as protect your skin long-term.
After all, correction is a wonderful option but prevention is the best defense against future formation or worsening of lines and wrinkles. We can't stop the aging process. But a personalized skin care regimen can help protect your skin from the sun and other environmental damage, and it can replace nourishment that naturally diminishes as we get older.


Why Raval Facial Aesthetics for Laser Wrinkle Treatment
Lasers use either intense heat or light to do their work. The tools are designed to be gentle, but lasers can be dangerous. It takes considerable technical skill and experience to achieve successful results safely. At RFA, you can choose the right laser wrinkle treatment for your skin, confident it will be performed by Dr. Jeff Raval or one of our Medical Aestheticians – professionals who are among Denver's most respected when it comes to facial rejuvenation.