Etchings are pretty as artwork, but when you start to see fine lines and wrinkles etching your face, it's not so pretty. You don't even have to be "of a certain age" for pesky wrinkles to appear. They can make you look tired as well as old. Fortunately, women and men of all ages can benefit from skin rejuvenation procedures that help you fight back. Laser wrinkle treatments can be especially effective.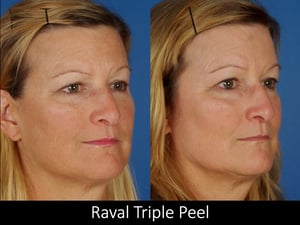 At Raval Facial Aesthetics, we use laser technology to improve many types of skin imperfections, but the big favorite among our patients is laser wrinkle treatment. No one wants wrinkles, but we all get them. Laser-based treatments can help almost everyone achieve smoother, more youthful skin. That said, it's important to note that different lasers work in different ways, and not all are appropriate for every skin type. Personal consultation is essential.
And those other imperfections? Who says "side-effects" are all bad? Many of us have multiple types of skin issues we'd like to fix. So, while you're considering laser skin treatments for wrinkles you can also choose a procedure that will plump or tighten your skin, reduce hyperpigmentation, minimize the appearance of acne or other scars, and/or refresh your skin tone and texture overall. Smooth indeed!