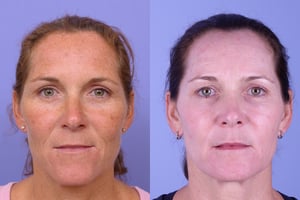 How lucky we are to live in a time when there are so many ways to improve our skin's appearance. Especially non-surgical options such as Botox, the most-requested minimally-invasive skin treatment.
If we're young adults, we can preserve our skin's health and resilience as we age. If we're older adults, we can actually turn back the clock, erasing or reducing fine lines, wrinkles, sagging, and other signs of aging. And no matter what our age, there are treatments that help minimize the appearance of any number of skin blemishes and conditions, anywhere on our body.
No matter what improvements you want to make, there's a treatment for that. Some of today's procedures can be used to address a variety of skin issues, whereas others are more specific.
Since there's something for everything – and almost everyone – many of us want to get multiple types of treatments. In fact, Dr. Jeff Raval may recommend a certain combination depending on your overall aesthetic goals. Does that mean you have to make separate appointments for each one?
No!
You can combine Botox with other treatments
Botox and dermal fillers complement many other skin rejuvenation procedures because they work in different ways. You can combine Botox with treatments such as:
Here at Rocky Mountain Laser Aesthetics, we believe that less is more. We know you want improvement, but strictly natural-looking results. We also know that time is a precious commodity for most of us these days. Happily, most minimally-invasive skin treatments take only a few minutes, and often there is little or no downtime required afterward.
To make things even more convenient, you can get Botox on the same day – during the same appointment – as laser skin treatments, chemical peels, etc. Dermal fillers and Vitrase (a product that dissolves filler) can also be combined nicely with other skin treatments, but they cannot be administered on the same day.
Proper treatment order is crucial
Botox and fillers must be done first because they affect the skin's subdermal layer. So we can do Botox and then another type of treatment in one session. Or we can do filler in one session, then the other procedure a few days later.
Along with administering treatments in the right order during each appointment, we will recommend the safest and most effective schedule of repeat sessions as well. Because they work incrementally, Botox and most other skin treatments require multiple applications to achieve the best possible results.
Determining appropriate treatment order isn't something you have to worry about, because Dr. Raval and our exceptional team of Medical Aestheticians have the necessary training and experience.
Every face needs custom-tailored treatment
The best plan, of course, is to have a plan. Rather than randomly scheduling multiple skin treatments, let us help you create a strategic plan to address all your concerns – short term and long-term. That way, you'll get maximum results, most efficiently and affordably. Why not schedule a personal consultation right now?
A one-on-one visit is the best first step toward skin improvement. It gives us a chance to discuss in detail your aesthetic goals and concerns, examine your skin first-hand, and then recommend the best procedure(s) and timing to achieve the results you want.
Botox and other treatment options can tighten skin and restore fullness, smooth its texture and tone, and more – whether you want to maintain or restore a healthy, youthful appearance. With the right combination of treatments, we can help you achieve maximum results, conveniently.