What is SkinTyte?
SkinTyte is a no-downtime treatment of light technology that cools and protects your skin as it stimulates natural collagen repair below the surface. Because the gentle thermolysis application at the surface of your skin produces a more youthful appearance through contracting and firming, patients receive a non-surgical lift through 100% natural skin repair. Most patients seek two to three treatments, noticing results after the first appointment.
SkinTyte Results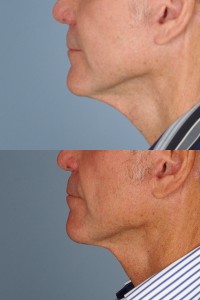 After this non-surgical lift process, you can tighten loose skin in the desired treatment area and start to see the organic rejuvenation of your skin. Since collagen loss is one of the most indicative signs of aging, repaired collagen makes our patients look more refreshed and youthful. The face, neck, arms, and abdomen are especially responsive to these treatments. Many patients select areas for treatment that might otherwise require a surgical procedure. While the non-surgical treatment cannot replace a surgical lift procedure, SkinTyte is an attractive option for patients wishing to remedy moderately concerning areas of loose, flabby skin.
How Does SkinTyte Work?
After consulting on the best cosmetic care series of appointments and treatment areas for you, cosmetic technicians deliver gentle pulses to over your preferred treatment area. As the treating energy is guided over your skin, smooth rotations of the SkinTyte delivery system ensure the best results for collagen production over the next three to four weeks prior to a follow-up visit. After your session, your skin regains strength, improving the outward appearance as it continues to repair.