Treating skin troubles like sagging, fine wrinkles, age spots, and mild acne scars has never been easier. Technologies have advanced the types of products available to cleanse, exfoliate and treat all kinds of symptoms, as well as in the tools professionals use for more aggressive treatment. One of the most popular treatments for youthful, smooth and vibrant skin is laser skin resurfacing.
There are several options to consider, depending on your personal needs and skin health history, and we're here to demystify what you need to know most. Skip to your most important question with the table of contents, or read straight through for a comprehensive view of laser skin resurfacing.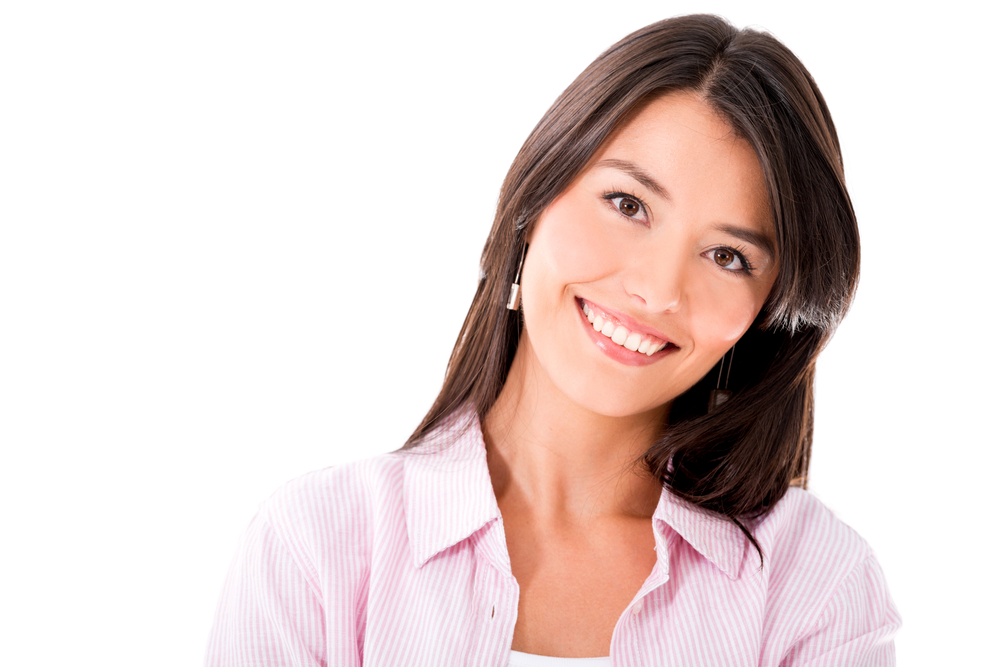 ---
Table of contents
---
How Does Laser Skin Resurfacing Work?
At the most basic level, laser skin resurfacing is a technique that can either remove the very top layer of the skin on your face and neck or work from below the surface to reveal a smoother, more even-toned appearance. There are different types of lasers, each offering its own approach and precision. There are two methods of laser resurfacing, referred to as ablative and non-ablative. It's worth noting that non-ablative is not technically "resurfacing" but is covered here, because a lot of patients and providers refer to laser treatments of any kind as "resurfacing."
Ablative Laser
The more aggressive of the two main facial laser treatment tools is the ablative laser. Ablative means to scrape, so with this method, your certified and licensed Paramedical Aesthetician uses a Sciton laser to remove the outer layer of skin. To heal itself, the body initiates the production of collagen and elastin. These newly grown skin cells make the face appear more smooth, tight, and vibrant.
Non-Ablative Laser
A less aggressive option, these lasers stimulate new collagen growth by heating the skin below the surface. With repeated treatments, this type of laser will improve skin tone and texture. Because the treatment usually does not directly affect the skin's surface, there is minimal down time and you can resume normal activity immediately. This method is not technically "resurfacing," but non-ablative laser treatments are often referred to as such.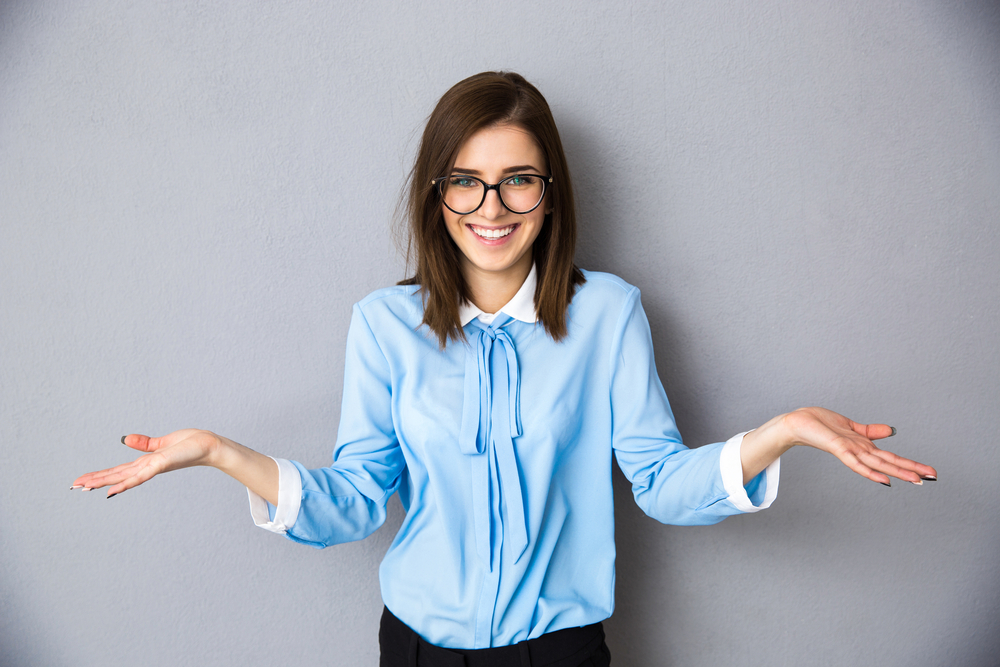 ---
Types of Lasers & Treatments
Types of There are many types of lasers out there for treating the signs of aging, and you'll see many types and brands of lasers in the med spa world. The reason there are so many options is because not every laser can treat every skin type, pigment level or condition. Here's a rundown of some of the lasers we use here at Raval Facial Aesthetics.
Intense Pulsed Light (IPL)
IPL treatments are sometimes called a photofacial because this device uses short bursts of high-intensity light instead of heat to target unwanted pigment. IPL works gently but effectively below the surface to break up pigment, which is then naturally exfoliated. It also stimulates renewed collagen production, for healthy new skin free of discoloration.
Profractional Laser
One type of ablative laser treatment is a fractional laser procedure, which uses heat energy to create microscopic wounds within the treatment area. It targets only a fraction of the skin, but the process triggers new collagen and skin cell regeneration within the entire area. This shortens recovery times and reduces the risk of side effects like scarring.
MicroLaser Peel
Chemicals used in traditional peels can be quite harsh, so we reserve that treatment to address severe skin conditions. For most patients, microlaser peel can be very effective to smooth the epidermis and help improve skin tone. This process is gentle and does not affect subsurface layers of skin.
Triple Peel (IPL + Profractional + MicroLaser Peel)
We created this three-in-one option here at Raval Facial Aesthetics because so many patients have more than one type of skin issue they want to address. We perform the Triple Peel as a three-step process in a single session, and patients can enjoy the benefits of all three types of treatment.
---
What Conditions Does Laser Skin Resurfacing Treat?
There are several stubborn skin conditions that lasers can help with, and many men and women have turned to laser skin resurfacing for acne, wrinkles, melasma and age spots, and even stretch marks. Combined with an effective skincare and aftercare routine, laser treatments can help you achieve the smooth, glowing skin you're looking for with lasting results.
Laser Treatments for Acne
Unfortunately, the pain of having acne can remain long after the actual acne has run its course - in the form of uneven skin, discoloration and scarring. Laser resurfacing can help acne by stimulating the production of collagen and elastin to help lessen the appearance of pits and scars, and breaking up red or brown spots that have lingered after acne breakouts.
Many of our patients have battled with acne, and find relief in treatments like IPL and microlaser peels can help to treat. Our patients report noticeable reductions in acne scars, pits and spotting.
Lasers Can Help Smooth Wrinkles
Wrinkles are a fact of life for everyone. They can be caused by age, repeated facial expressions, and exposure to sun and wind over time. When wrinkles start to appear, many men and women turn to laser treatments for help to stimulate the growth of new skin cells, and smooth the appearance of those pesky wrinkles.
Treat Age Spots with Laser Treatments
One of the most common complaints we hear from patients is about melasma or age spots. Discoloration on the face, usually brown and spotted, is common here in Colorado, where many people lead an outdoor lifestyle. It is also common among adults who tanned frequently in their earlier years. Using laser skin resurfacing has become a go-to for many people dealing with age spots. However, we often ask our patients to see a dermatologist first for any suspicious pigmented lesion, to rule out skin cancer before we start treatment.
Fade Stretch Marks with Lasers
Pregnancy and childbirth, weight fluctuations, and muscle-building can cause stretch marks. Our trained professionals have used laser technology to treat stretch marks, and watched them fade from view as new collagen and elastin is produced.
---
Who is a Good Candidate for Laser Treatment?
It's easy to get swept up in the potential benefits of laser resurfacing for conditions like melasma and wrinkles. But it's also important to understand the potential benefits and risks for your particular concern and skin type. One thing any great cosmetic medical practice or provider will recommend is a personal consultation with a trained professional.
While lasers can be used to improve a variety of skin imperfections, they are not equally effective for all skin types. In some cases, results can be negligible or even negative for those with darker skin.
Even if your skin and the issues you're trying to treat make you a great candidate for laser skin treatments, you may also be asked to change your skincare routine, even vitamins, supplements or medications for a time period before treatment is possible.For example, we have some patients pre-treat with Retin-A, then stop before their procedure. This helps make the skin more receptive, to get maximum benefits from the laser treatment.
---
How to Prepare for a Laser Treatment
After your initial consultation and once you've decided which procedure will be right for you, your aesthetician will examine you, collect a comprehensive medical history and discuss your expectations for the procedure at length. Once you've scheduled your laser treatment, there are several steps you can take to make sure you get the best results possible and face the least pain or side effects.
You'll want to be aware of the types of facial cleansing and moisturizing products you're using, and particular chemicals or medications to avoid. One common piece of advice aestheticians may offer is to stop the use of ibuprofen, aspirin and vitamin E at least a week before your laser treatment. Smokers will need to quit two weeks before treatment and continue to not smoke until you are healed as this will impede the healing process by constricting blood vessels. You will want to avoid sun or extreme weather exposure, too, and let your provider know if you're prone to cold sore breakouts. You certainly want to postpone your appointment if you've got an active sore or bad acne breakout, because the laser treatments can open the way for potential problems with bacteria and infection.
---
What to Expect During and After a Laser Treatment
Most of these treatments last between 30 minutes to two hours and patients experience very little discomfort. A topical numbing cream is typically used to avoid any pain. During an ablative treatment, an intense beam of light energy - the laser - is directed very precisely at the area to be treated. It destroys the outer layer of skin and simultaneously heats the underlying skin. This promotes collagen production which will improve skin tone and texture. The experience of a non-ablative laser treatment is much the same, only it does not destroy any outer skin cells. The level of pain is about the same for both.
How long your treatment will take depends on the specific procedure and size of the area being treated. In general ablative laser treatments can take between 30 minutes and 2 hours, non-ablative laser treatments between 15 and 45 minutes.
After an ablative treatment, you can expect rough, swollen, and itchy skin. A thick ointment may be applied and it will take a week or more for new skin to cover the treated area. Cold compresses and a mild pain reliever will ease your recovery, just be sure you do not use any products that might irritate your skin. Avoid sun exposure and activities like swimming that might increase your risk for infection.
Following a non-ablative laser resurfacing procedure, the time to recover is quick. Your skin may be red and a bit swollen, but you may resume normal activities and your skin care routine right away.
---
Laser Skin Resurfacing Results
One of the most important things that you will discuss with your doctor or aesthetician will be your expectations of results. Laser resurfacing is typically very effective at helping clients achieve a rejuvenated, vibrant appearance. Following ablative laser treatments, the skin is likely to be red or pink for several weeks, even months. As it begins to heal, you will see improvements in your skin that will last for years to come. Non-ablative treatments will provide a more gradual and progressive improvement. In order to maintain your new results, whether from an ablative or nonablative laser, you will want to avoid sun exposure and be sure to use high quality skin care products.
Take a look at these gorgeous before and after examples from laser skin treatment clients.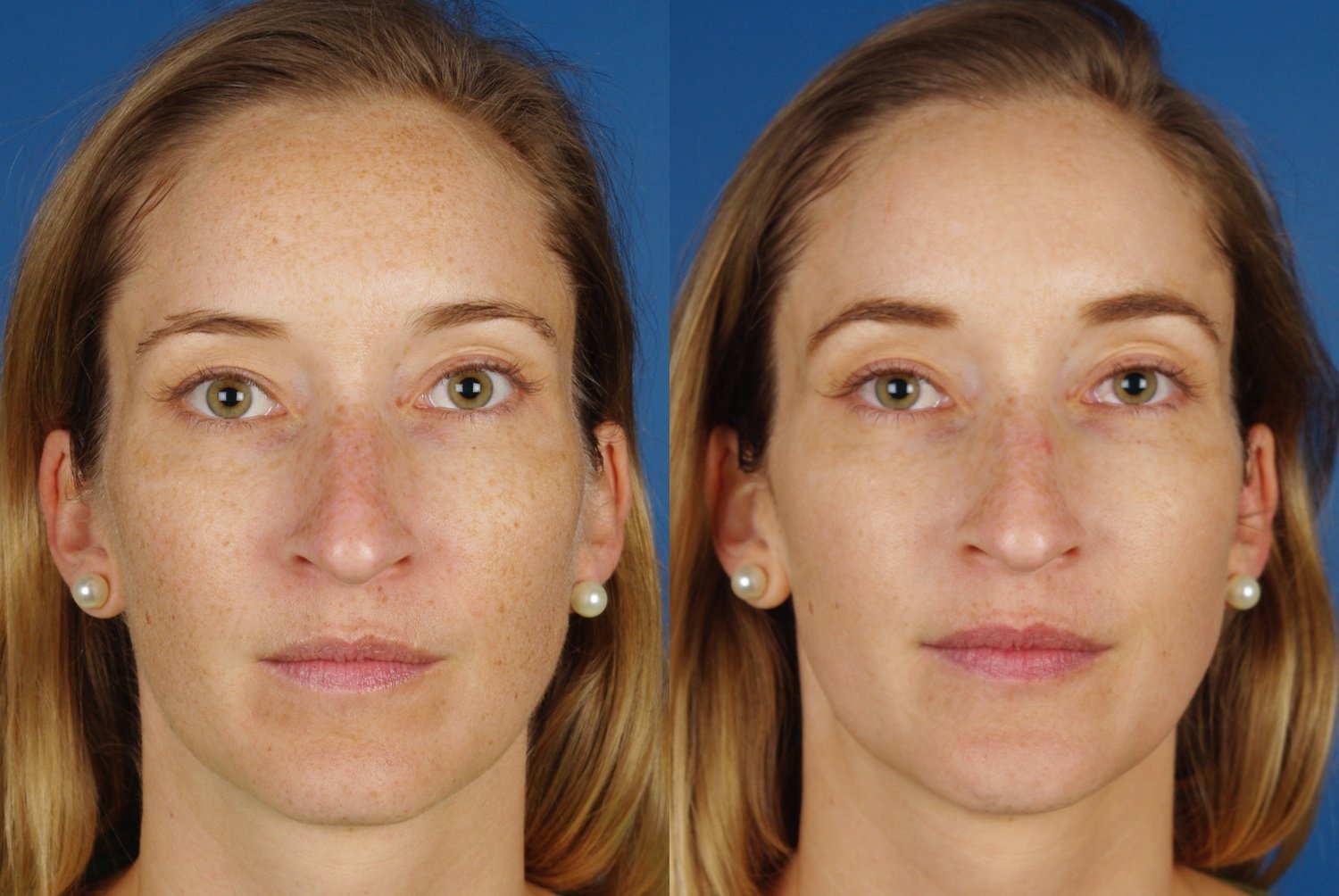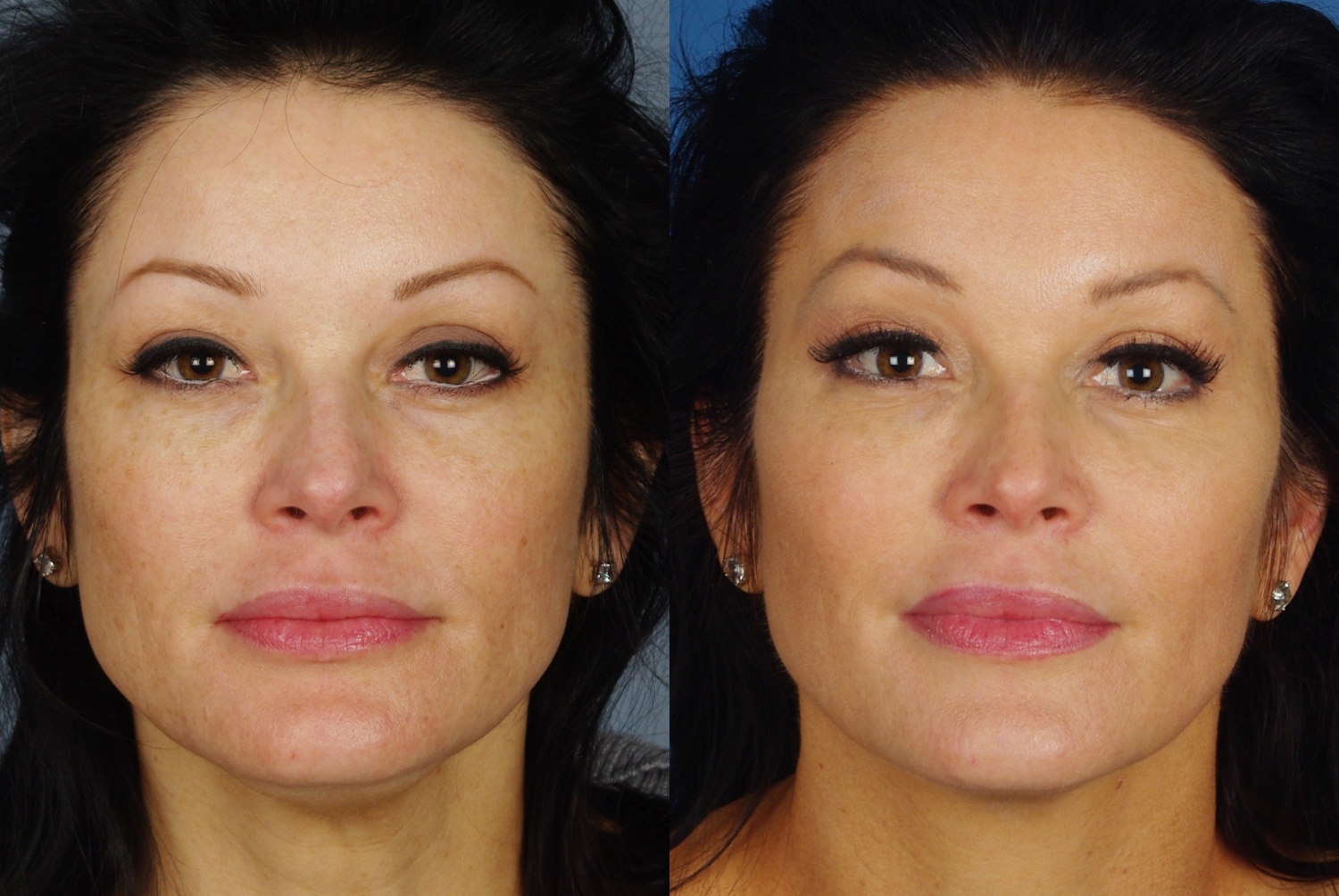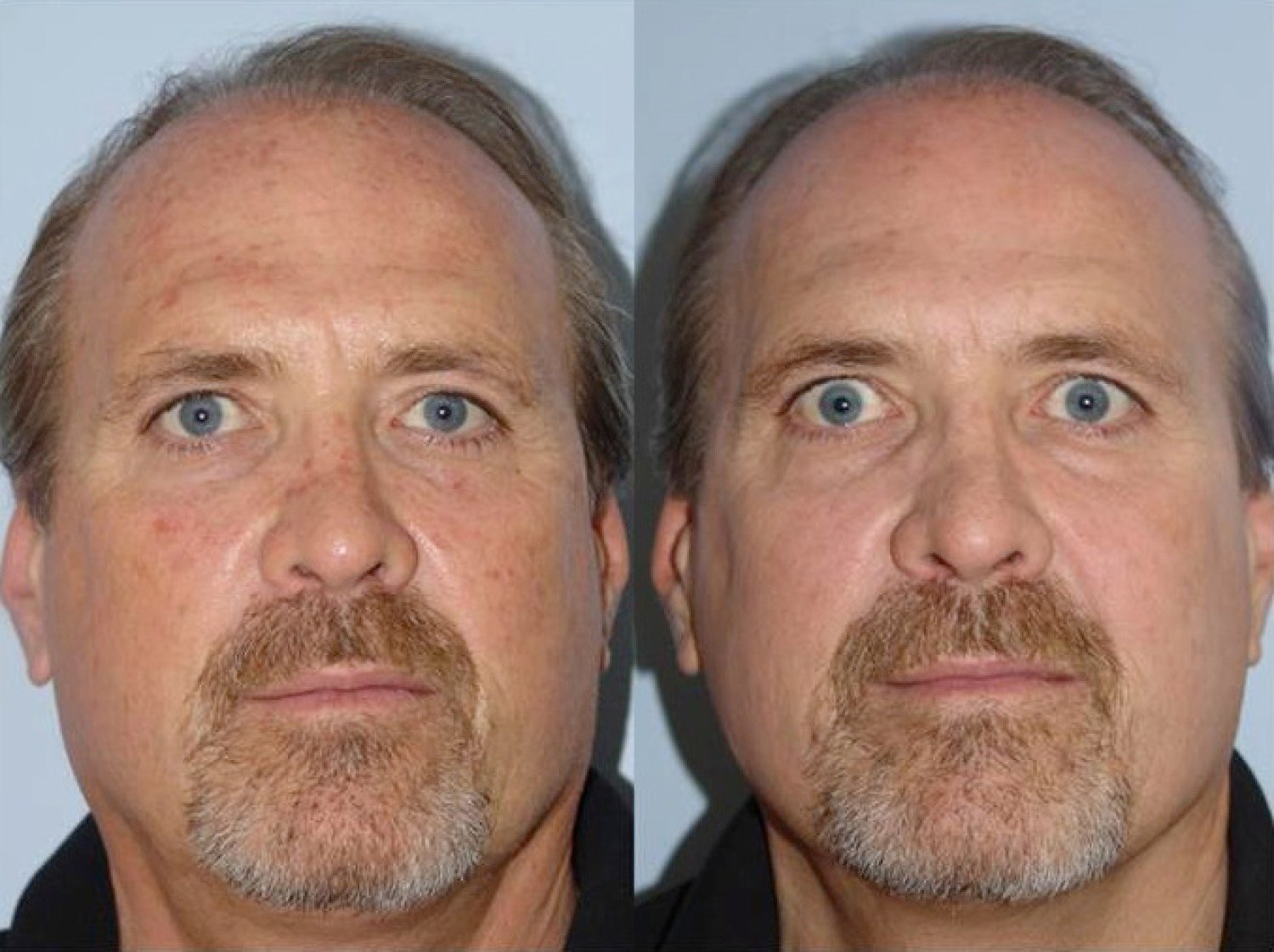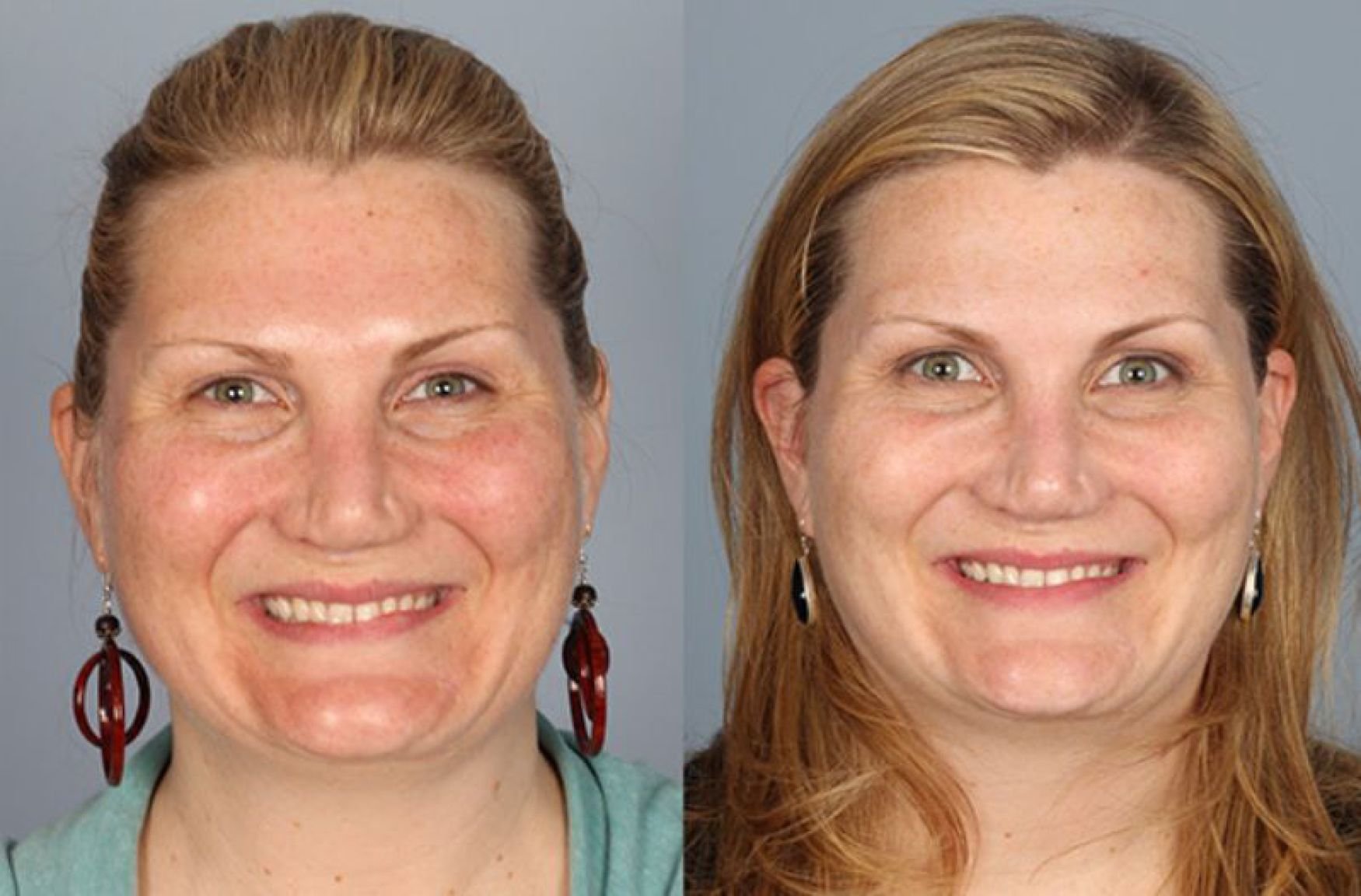 ---
Benefits of Laser Skin Resurfacing
So many people turn to lasers for skin resurfacing and rejuvenation, because the benefits are undeniable. We hear from our laser patients all the time about their beautiful and lasting results and the renewed joy they experience.
Removes dead skin cells
Treats fine lines and wrinkles
Lightens or eliminates age spots
Evens skin tone & texture
Corrects sun damage
Reduces the appearance of acne scars
---
Risks of Laser Skin Treatments
Many of our patients express concern about the potential risks of laser treatment, and it's understandable. The good news is that the risks of laser skin resurfacing are generally mild. The more severe side effects and risks are quite rare. Talk with your provider about the risks for your particular skin type, age, issue and treatment. It's important to express concerns and get a fully-satisfying answer before proceeding with treatment. It's our job to help educate you on the treatments we provide, including risks and benefits.
Here are a few common risks to consider when getting laser skin treatments:
Redness at treatment site
Swelling at treatment site
Itching
Acne breakouts
Infection
Changes in skin color
Scarring
---
Cost of Laser Skin Treatments
The cost of laser skin resurfacing can vary, depending on the size and severity of the area to be treated and the specific laser device used. Another factor will be whether or not you need repeated treatments. Also keep in mind that if you require any medication following your procedure, that is an added cost. At Raval Facial Aesthetics, we offer many affordable options for laser skin resurfacing.
During your consultation we will discuss costs and can give you a personalized price based on your treatment plan.
---
Recovery, Aftercare, and Downtime
You'll have to be aware of a small amount of recovery time when considering laser skin treatments. If you're going for a non-ablative laser treatment, downtime can be negligible. In fact, many of our patients using the less-invasive laser methods return to their normal skin care routines and lifestyles within 1-3 days.

For the more aggressive, ablative laser treatments such as MicroLaser Peel, you'll want to plan about a week for recovery. Normally, our patients report feeling back to normal - with refreshed and beautiful smooth skin - within about a week. Now, this doesn't mean hiding away completely for that period, but it does mean you'll experience redness, sensitivity, and even scabbing on the treated area. Need aesthetician confirmation
During the recovery period, it's always advised to stay out of the sun, or extreme weather, and to avoid strenuous activity that may raise your temperature. After laser treatment, your skin can tend to feel uncomfortable with exercise or heat.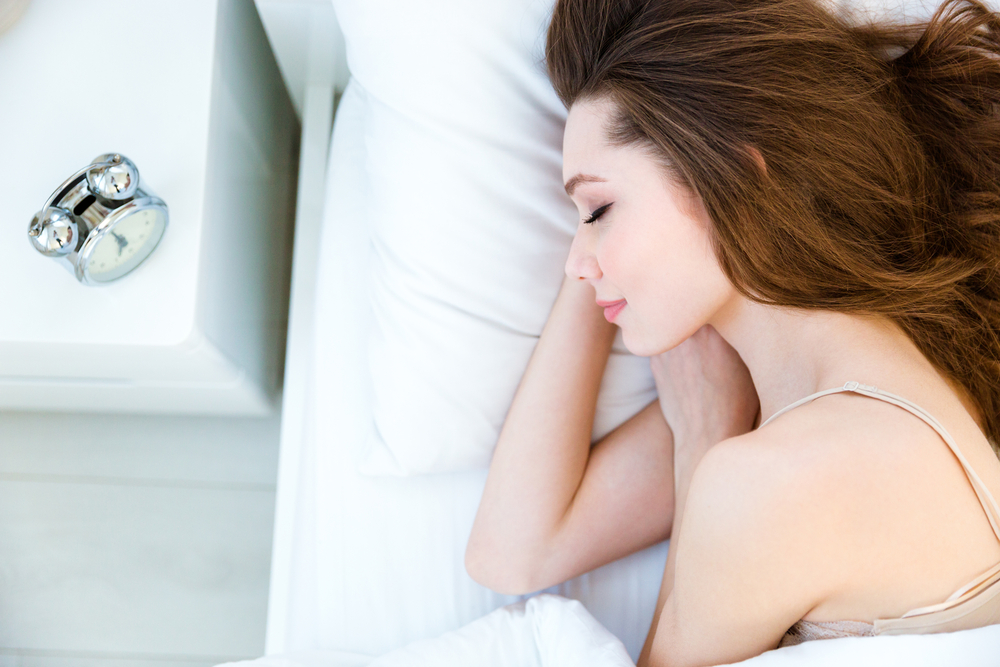 ---
Alternatives to Laser Skin Resurfacing
There are several alternatives to laser skin resurfacing, some of which are able to achieve similarly impressive results with less downtime. Intense Pulsed Light (IPL), which we talked about earlier, is not technically a laser, but the treatment provides similar results.
Microneedling
Many of our patients ask us about the difference between microneedling and laser treatments for skin annoyances like wrinkles. Microneedling is just what it sounds like, really tiny needles that poke the skin across the target area. Lasers, on the other hand, use highly targeted light energy to pinpoint imperfections. Your Paramedical Aesthetician can help you determine which is better for your particular condition, but the common thinking is that lasers are much better for specific, targeted problems like a broken blood vessel, even though both methods have the result of prompting the body to produce more collagen and heal damaged skin cells.
Chemical Peels
A chemical peel is basically a very intense face mask that exfoliates the top layers of skin and dead surface cells to reveal fresh skin underneath. Besides the actual methodology, the main difference between a chemical peel and laser skin resurfacing treatments is the result that can be expected. Some types of chemical peels can be quite harsh, so they are not intended for delicate skin such as around the eyes. Use your consultation time to ask questions about alternative treatments, and your paramedical aesthetician will guide you to the best treatment for your particular skin and goals.
Microdermabrasion
Microdermabrasion is not really an alternative to laser skin rejuvenation, but monthly microdermabrasion treatments can be an excellent maintenance option.
---
Choosing a Laser skin treatment Provider
When you're considering laser skin treatments, or alternatives like microneedling, or chemical peels, it's important to choose your provider carefully. There are plenty of options available out there, and you should only trust your beautiful face to a trained professional with a great reputation. Look for a provider by requesting referrals from friends and family, seeking out highly-reviewed options online, or searching for reputable providers in your geographic area.

Once you have a cosmetic medical practice in mind, make sure you are checking on qualifications, education, cleanliness, personality and procedures. All of the elements must come together for you to feel confident and comfortable trusting the provider with intense procedures that can go wrong with an inexperienced or under-educated practitioner. Ask for credentials for your specific provider, doctor or aesthetician. Ask to see before and afters for your intended procedure. Research client reviews. If there is any issue responding to these types of requests, be wary. A reputable provider will be happy to answer such questions, and if they aren't they may not have a great track record to share.
---
About Raval Facial Aesthetics
Raval Facial Aesthetics is led by Jeffrey Raval, MD, MBA, FACS, a facial plastic surgeon, board-certified by the American Board of Facial Plastic and Reconstructive Surgery as well as the American Board of Otolaryngology. Our professional staff of well-educated, experienced Paramedical Aestheticians, Laser Technicians, Aesthetic Injectors is the best in the business. We receive rave reviews from our clients on a daily basis, and we are happy to share our success stories with laser skin resurfacing and any other service we offer.


Schedule your consultation today to learn more about what we can do for your gorgeous skin.