Ready for an entirely new kind of facial? One that does more for your skin and works – really works – for every type and color of skin? Meet HydraFacial MD®.
HydraFacial MD goes beyond our popular facials, but it's not as big a commitment as an in-depth laser treatment. It's fast, it feels great, and you'll love the result – skin that looks fresh and vibrant.
WHAT IS HYDRAFACIAL MD?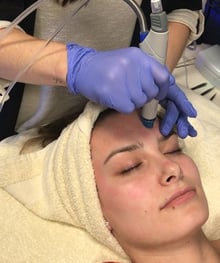 It's a unique 3-step process that cleanses, moisturizes, and nourishes facial skin. HydraFacial MD offers broad benefits when it comes to rejuvenating or improving your skin, making it a great choice whether you're looking for a soothing yet invigorating facial experience or you want to address specific skin concerns such as:
Fine lines and wrinkles
Oily skin
Enlarged or congested pores
Acne
Hyperpigmentation
Uneven tone and/or texture
HydraFacial MD not only cleanses and restores, it hydrates. It boosts firmness and elasticity, and it can improve skin texture and tone. Dr. Jeff Raval says HydraFacial MD is especially good for those who have rosacea.
WHAT DOES THE TREATMENT INVOLVE?
HydraFacial MD uses patented technology and proprietary "super serums" to comprehensively clean and renew skin:
Step 1: Cleanse and peel. This step gently relaxes and exfoliates the skin's surface.
Step 2: Extract and hydrate. This step painlessly removes debris and impurities, then infuses the skin with nourishing moisturizers.
Step 3: Fuse and Protect: The final step bathes the skin's surface with a blend of antioxidants, hyaluronic acid, and peptides.
HydraFacial MD puts the "treat" back in treatment, because there is no discomfort or irritation. You'll enjoy the experience as much as the results. And it takes just 30 minutes.
"BOOSTERS" CUSTOMIZE THE EXPERIENCE
HydraFacial MD can deliver even greater results, if you're concerned about certain common skin issues, by adding specially-formulated boosters:
Britenol Boost helps to brighten and smooth your complexion by minimizing the appearance of sun spots and other dark spots.
Dermabuilder Boost uses a patented blend of peptides to recharge skin, helping reduce visible signs of aging.
Growth Factor Boost targets connective tissue, helping to restore healthy skin and minimize the appearance of fine lines and wrinkles.
IS THERE DOWNTIME?
HydraFacial MD is ideal for those with busy lifestyles. Not only are sessions short, because the treatment is non-irritating, there is no downtime whatsoever. You can re-apply your makeup and go right back to work. (However, be warned this treatment is so relaxing you may want to treat yourself to a little downtime anyway.)
WHAT RESULTS CAN I EXPECT?
You'll see healthier looking, more radiant skin right away, and the hydrating benefits can last up to a week or more. Patients typically see significant improvement after 3 treatments. Over time, ongoing treatments can actually improve skin health.
For best results, and to keep your skin in tip-top condition, we recommend continued treatments. After all, you don't stop aging or exposing your skin to the elements, etc. HydraFacial MD is highly effective, yet it's gentle enough for weekly treatments.
WHO IS A GOOD CANDIDATE?
You are! HydraFacial MD is appropriate for any age adult. And unlike many other types of skin improvement treatments, HydraFacial MD is safe and effective for every skin type and every skin color.
WHAT'S BEST FOR YOU?
Let's talk. Your face and skin are like no one else's, so we want you to have a custom-tailored HydraFacial MD experience. A personal consultation allows us to learn your skin concerns and goals and work with you to devise the best treatment strategy for you.