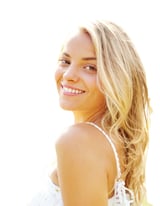 Are you excited about the idea of giving your skin's appearance a little boost, but not quite ready to try any type of invasive procedure? Does your busy lifestyle mean you don't have time for down time? You are just like so many other women and men. Happily you have non-invasive options – great ones – that can help your skin look younger and smoother.
We understand how you feel. Dr. Raval believes that less is more, whether you're contemplating a tiny tweak or dramatic change. We know you want the most natural-looking results, from a procedure that is affordable and takes as little time as possible. Often, a non-invasive treatment is exactly the thing to achieve the results you want to see. Why do more?
Later on, as you learn what skin rejuvenation can do for your appearance and your outlook, you may want to try a minimally-invasive treatment such as Botox or a dermal filler. But non-invasive choices can be wonderfully effective when it comes to smoothing your skin and giving you a more vibrant, youthful look.
WHAT ARE NONINVASIVE SKIN REJUVENATION TREATMENTS?
Non-invasive means the procedure we use affects only the surface of your skin. There are no needles involved.
WHAT ARE THE BENEFITS OF NONINVASIVE TREATMENTS?
These procedures can give your face an overall "uplift," cleansing and resurfacing your skin so that it looks fresher, healthier, more vibrant and youthful. Non-invasive treatments can also address specific skin concerns such as enlarged pores, fine lines and wrinkles, dark spots, uneven tone or texture, and acne scars.
WHAT NONINVASIVE TREATMENTS ARE AVAILABLE?
Chemical peels use natural acids to dry your skin's surface cells and then peel them away, revealing fresh new skin. Here at Rocky Mountain Laser Aesthetics, we offer three types of chemical peels – glycolic, TCA, and min-mélange – plus a Triple Peel option that combines all three.
Our less-is-more philosophy really comes into play here. Because we blend the chemicals and adjust the concentration individually for each patient, we could use strong concentrations to address severe skin issues. But that poses unacceptable risks, so we use chemical peels only to produce light to moderate results.
This treatment painlessly exfoliates the skin on your face or other areas of the body. It cleanses your pores and helps correct sun damage, age spots, and uneven skin tone.
Soothing HydraFacial MD is a three-step treatment that deep-cleanses your pores, rehydrates, and introduces nourishing elements that stimulate your skin to continue improving itself. HydraFacial can refine lines and wrinkles, clogged pores, acne, and uneven tone or texture, no matter what your skin type or color.
Chemabrasion combines microdermabrasion with a light to moderate chemical peel. This dual treatment can minimize age spots and freckles, enlarged pores and acne, even deep wrinkles on the face.
Technically, microneedling is a minimally-invasive procedure because tiny, very fine needles prick the surface of your skin. Nonetheless, we include it here for two reasons. Microneedling is not uncomfortable because Dr. Raval's team first applies a numbing cream to your face. And this treatment option is an excellent choice to boost your skin's overall appearance and also refine certain imperfections such as acne scars. So microneedling can be an excellent alternative to some of the truly non-invasive treatments we offer.
Want to learn more about what a non-invasive procedure could do to rejuvenate your skin? By scheduling a personal consultation, you will be able to ask all the questions you want and get custom-tailored information and recommendations based on your skin and improvement goals.
DOES ROCKY MOUNTAIN LASER AESTHETICS OFFER ANY SPECIALS?
Yes, of course. The best way to learn about them is to "like" our Facebook page. That way, you'll be among the first to hear about special promotions and discounts, and you can stay in touch as part of our Raval family. You may also check out the Specials page on our website, and we invite you to subscribe to our e-newsletter.