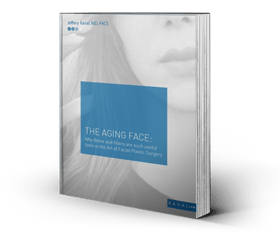 As a nod to Dr. Raval's Top Doc status in 2016, our favorite doctor has put together his thoughts on the latest advances in head and neck skin treatment? His new e-book is called "The Aging Face."
We used to blame gravity for our sagging facial features. Now, plastic surgeons know more about our face and the aging process. And there are many new treatment options and products to help improve our facial appearance. Dr. Raval says he is excited about these advancements, because he now has a wide spectrum of options to create a tailored aesthetic improvement program for each patient. He is especially excited about Botox and dermal fillers.
In this e-book, he explains:
how your face changes as you age
why products such as Botox and dermal fillers can make a significant difference
Download "The Aging Face" now
If you want to look as great as you feel on the inside, or defy the effects of aging before they take hold, Dr. Jeff Raval's e-book is a must-read. Get your free copy today!