Rhinoplasty
Before + After Photos
A rhinoplasty procedure can modify the overall size or shape of your nose or smooth depressions or humps. Dr. Raval's rhinoplasty procedures provide natural-looking results through surgical and non-surgical techniques for cosmetic and functional needs.
How Will I Look?
That's the Big Question everyone asks when they are considering nose surgery. Dr. Raval will explain the possibilities, based on your face, skin, and desired results. But seeing other people's results makes it easier to envision what changes to your own nose might look like. You can even get some ideas about the sort of changes you'd like to make.
There is no such thing as the perfect nose. But that doesn't mean you can't make some changes to yours. Rhinoplasty can modify the overall size or shape of your nose, smooth depressions or humps, and make other changes. Nose surgery can also correct internal structural defects to improve your breathing.
Reviewing photos also helps you develop realistic expectations. Since perfection is not attainable, you should think in terms of improvement. That is definitely attainable!
Some Pictures Are More Valuable Than Others
While it's interesting and informative to review all our photos, some will be more relevant for you than others. For example, it's a good idea to look for patients who are the same gender and about the same age as you. And it's even better to look for patients whose pre-surgery concerns and desired results were similar to yours. That way you're comparing apples to apples, you might say.
Keep in mind that no one has a perfectly symmetrical face. And our faces can vary considerably in overall size and bone structure. So a nose that gives your face a pleasant balance could look out of place on someone else.
Results Are Only as Good as Your Surgeon
Your nose is the centerpiece of your face – often the first feature people notice when they meet you. Surgical skill is critical in any surgery, but successful rhinoplasty also requires experience performing the specific type of surgery you're considering. And it takes an artistic eye, too, if you want to make cosmetic changes.
The right surgeon is someone who makes you feel confident. They have proven skills, and you've seen examples of the results. The right surgeon is also someone who makes you feel comfortable so that you won't hesitate to ask questions or speak honestly about your concerns and desired goals.
Do Your Homework
Looking at our photo gallery is one way to learn more about how nose surgery might help achieve your aesthetic or functional goals. But we recommend that you learn more about the procedure itself, too. How long does it take? What happens during the procedure? What will happen afterward, and how long will it take to recover? We know you have lots of questions.
Schedule a Personal Consultation
Nothing compares to talking with an expert, and that's what happens when you schedule a private consultation with Dr. Jeffrey Raval, a nationally-respected plastic and reconstructive surgeon, and he specializes in rhinoplasty procedures. You can ask all your questions and learn exactly how nose surgery might change your life.
Get a Rhinoplasty Consult
Schedule your in-person consultation for only $100 and meet one on one with Dr. Raval.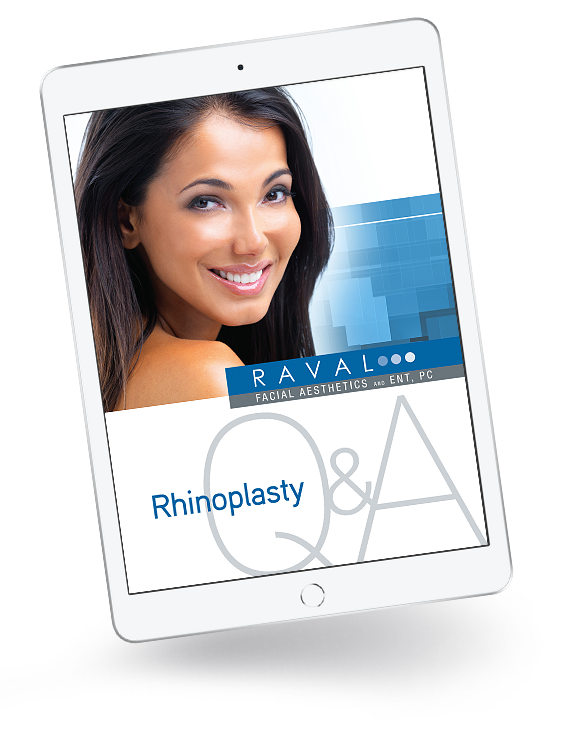 Download our Rhinoplasty
Q&A eBook
Get the answers to questions you're probably already asking! Download this guide today.