Patient Introduction
Nasal airway surgeries address moderate to severe breathing problems, such as from a collapsed valve or deviated septum. Prospective patients of any surgical procedure struggle to choose a trusted doctor, a personalized procedure, and the right results for them. The following sections are designed to help by introducing you to Dr. Jeffrey Raval, the nasal airway surgery, as well as their structural benefits for nasal structure and breathing. If any of your questions are not answered by this page, please contact us for more information at (303) 381-3223.
Nasal Airway Procedures
Patients consult Dr. Raval to determine the right procedure or combination of procedures for their facial structure—whether purely structural or cosmetically-enhanced during surgery and through in-office procedures.
As in any surgical rhinoplasty, Dr. Raval re-sculpts bone and cartilage through minimal incisions for cosmetic or functional improvements. Surgical rhinoplasty can correct barriers to healthy breathing, whether from a collapsed valve, deviated septum, or other malformations that often lead to secondary health concerns.
In combination cosmetic surgical and non-surgical treatments, patients have the ability to enhance structural improvements by correcting the external shape of their nose. See our page describing surgical and non-surgical cosmetic rhinoplasty.
Dr. Raval
Dr. Jeffrey Raval is a double board-certified surgeon by the American Board of Facial Plastic and Reconstructive Surgery and the American Board of Otolaryngology (Head and Neck Surgery). As a leader in medical cosmetics, Dr. Raval often appears in the media to showcase innovative techniques in structural as well as cosmetic procedures. Dr. Raval is the recipient of many awards for the excellence of his procedures and patient care: Compassionate Doctor Recognition, 2013, Vitals; Best of 2012: Plastic & Cosmetic Surgeon 2012, PSP; America's Top Physicians 2007—2012, Consumer's Research Council of America.
As medical director of both Raval Facial Aesthetics and Rocky Mountain Laser Aesthetics, Dr. Raval sets a standard of custom care that empowers his patients. With both offices in one location, patients can individualize their procedures—combining surgical and non-surgical offerings. His surgical competencies allow Dr. Raval to combine, when elected, cosmetic and structural benefits to his patients through combinatory procedures. Combinations of cosmetic and structural improvement through surgical and non-surgical methods become a unique "course of cosmetic care" for patients that saves time, protects results, and creates comfort. Likewise, Dr. Raval's practice and office of cosmetic technicians continues to be decorated by outstanding community recognition, for example, Excellence in Patient Satisfaction 2011 and 2012 by Talk of the Town and the Patients' Choice Award, 2011—2013 by Vitals.
Learn more Dr. Raval, his office, and team of cosmetic technicians.
Nasal procedure (septoplasty) for a deviated septum
Nasal procedure (airway surgery) on external collapsed valve
Results
By addressing structural issues within the nose, like congenital deformation and injury-related blockages, patients are relieved of pained breathing, which may have been the historical cause of sleep and energy loss, chronic headaches, infection, and other symptoms of low oxygen intake and problematic nasal organization. As each procedure is unique, requiring varying degrees of preparation and post-op care, patients are consistently satisfied by the results of Dr. Raval's surgeries.
For breathing problems, a septoplasty and rhinoplasty procedure is a long-term solution to functional problems, such as congested or pained breathing.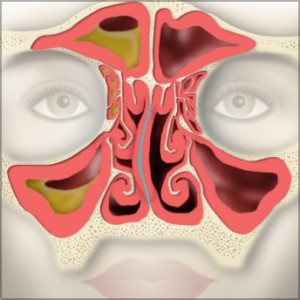 Before
one of Dr. Raval's nasal procedures, notice build-up, pressure, and collapsed passages.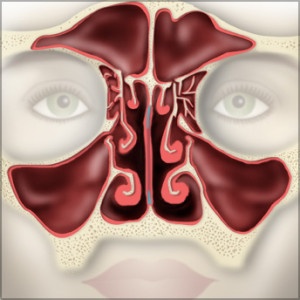 After
Dr. Raval's nasal procedures, notice a clearer structure for healthy breathing.
To see the results of a procedure cosmetically enhanced by non-surgical fillers or surgery, view the Before-and-After Photo Gallery to view the results of Rhinoplasty, Revision Rhinoplasty, and Filler.