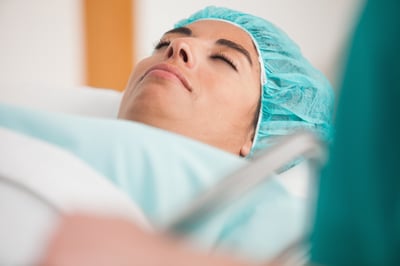 Nasal valve surgery is a common procedure we do at Raval Facial Aesthetics that can do wonders to correct breathing problems. Often, we have patients ask if they can also have some cosmetic changes done to their nose at the same time as their nasal valve surgery - essentially asking if they can have their nasal valve repair and Rhinoplasty done at the same time. We're happy to say the answer is yes!
Whether you were born with a genetic malformation inside your nose, or (like many people) your nose was injured by accident, those interior imperfections can make it hard to breathe normally or even get a good night's rest. Impaired breathing can lead to other health problems as well. Occasionally, cosmetic nose surgery can also result in somewhat diminished breathing.
Regardless of the reason, nasal valve reconstruction can repair the problem and restore your ability to breathe easier.
Everything about your nose is interconnected, so structural defects can also affect the outward appearance of your nose. For example, if you have a deviated septum, your nose may be crooked. Repairing the inside may improve the exterior appearance, but a combination procedure can deliberately address both issues. Or perhaps you just don't like some visual aspect of your nose – its size or shape – and you want to make some changes while you're having your breathing restored.
We can do that.
Here at Raval Facial Aesthetics and ENT, we also see patients who have undergone rhinoplasty with another surgeon and who are not satisfied with their results. If you are considering revision rhinoplasty and you're always wanted to do something about your breathing problems, too, this is another opportunity to choose a combination procedure.
Your insurance may cover part of the cost
Health insurance typically does not cover the cost of cosmetic surgery. However, nasal valve reconstruction is not considered cosmetic because the point is to improve your physical health by improving your breathing. Therefore, insurance companies usually do cover costs of nasal valve surgery in revision cases. If you are having a combined procedure, there is a chance your insurance will cover the functional cost of the surgery.
Don't make any assumptions about this, though. It is important to speak with your insurer to confirm exactly what your policy will pay for, because coverage details, deductibles, etc. can vary widely.
Who should perform your surgery?
The most important decision you'll have to make is choosing the surgeon who will perform your combined nasal valve correction and aesthetic procedure. It takes medical knowledge, substantial experience, and a special kind of artistic talent to achieve the functional and aesthetic results you want. You are putting both your appearance and your ability to breathe in your surgeon's hands, literally, and that takes trust.
Dr. Jeffrey Raval, MD, FACS, specializes in facial surgery, rhinoplasty in particular. He is double board certified by the American Board of Facial Plastic and Reconstructive Surgery and the American Board of Otolaryngology/Head and Neck Surgery. He is also a fellow of the American Academy of Cosmetic Surgery as well as the American College of Surgeons.
He is well-known and highly respected in the Denver area, and in fact, patients from all around the country travel to Denver to have Dr. Raval perform their nose surgery.
Let's talk
Whether this will be your first nose surgery or not, we can combine aesthetic changes and structural repairs in one procedure for you. Exactly how that will work depends on the specifics of your nose's current condition, your skin, your overall health, and your goals. Those things make you unique, which is why a personal consultation is so important as a first step toward surgery.
When you meet with Dr. Raval, you can ask all your questions and he will be able to examine your face. Then, together, you can make a surgical plan tailored just for you.