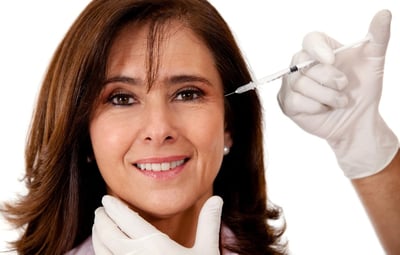 Who would have imagined a generation ago (or even more recently) that you could enjoy a significant "lift" in facial appearance without ever undergoing surgery? Boy, how times have changed . . . and, boy, are we glad! While there are still times when a bit of surgery is just what the doctor ordered, far less invasive alternatives such as a liquid facelift can be surprisingly (and subtly) effective.
Yes, "liquid facelift" is a thing!
It's our humorous description of dermal fillers. Get it? You can get a lot in the way of facial rejuvenation by using dermal fillers. As we get older, we lose facial volume. The filler material is a soft gel that is injected under the skin to replace lost volume. That added plumpness smooths your skin's surface, reducing the appearance of fine lines, wrinkles, and even developing folds. In some cases, they may not be visible at all.
Dr. Jeff Raval may recommend getting Botox injections along with dermal fillers. Botox works differently, relaxing the muscles that create facial lines when we laugh, smile, frown, or scowl. The precise amount of Botox, precisely placed, will not affect your ability to make the normal expressions that define your face, but it will slow development of new wrinkles. So you can look younger with dermal fillers, and help those effects last longer with Botox.
A liquid facelift is great for maintenance
With the facelift of old, you waited until you looked, well, old. Then you had comprehensive surgery that made such a dramatic difference the changes were obvious to everyone, not always in a good way. Today, surgeons know a lot more about how our face ages, so even a full facelift is a very different procedure that produces natural-looking results.
The other thing that is so different today is that we're much more aware of skin care and its role in preventing signs of aging. Young adults want to keep looking youthful and healthy. Women and men in their 30s, 40s, and 50s want to turn back the clock a little to look more vibrant and alert. And we have the resources to do that. Dermal fillers allow us to tweak as we go.
Got fine lines and wrinkles around your mouth or eyes or on your forehead? Skin starting to sag a bit where you've lost volume, say in your cheeks or alongside your nose? Worrying about them will simply cause "worry lines" to form as well. Dermal fillers, on the other hand, can virtually erase them.
Liquid facelifts erase downtime
With surgery, you'll have to set aside time away from work and play for recovery. Many facial rejuvenation procedures such as chemical peels, dermabrasion, even some types of laser resurfacing can also keep you on the sidelines for at least a couple of days. The liquid facelift is a "lunchtime" procedure – fast and without downtime. You're in and out, and back in action in no time.
The liquid facelift is not permanent
Surgical facelift procedures give you permanent results, although your face will continue to age. Dermal fillers are made of natural ingredients, so the gel is eventually absorbed (harmlessly) by your body.
In order to maintain your new, smoother-looking appearance, you will need to get refresher applications of filler. Some fillers last about six months, others can last as long as two years.
A liquid facelift is affordable
Any type of surgery is expensive because you have to pay for a surgical facility, anesthesiologist, etc. as well as your surgeon's fee. When you make an appointment with Dr. Raval and one of our paramedical aestheticians for a filler injection, we'll do that right here in the comfort of our office.
But first, take a look at our free E-book on how Botox and fillers can help lessen then effects that age has on the face. Then let's set up a personal consultation. That way we can discuss your aesthetic goals face-to-face and work up an ideal plan for giving your face the lift you want to see.