Whether for personal or professional reasons, we all want to put our best face forward. We're healthier than ever and we want to look as young as we feel. But is it time for a facelift? Surgery has the potential to turn back the clock and it can address moderate to severe issues like:
Lines, wrinkles, and folds
Sunken cheeks and under-eye hollows
Sagging jowls or neck
You want to look younger, but you want to look natural, too. And you're not alone -- facelifts account for about 20% of all surgical cosmetic procedures performed each year.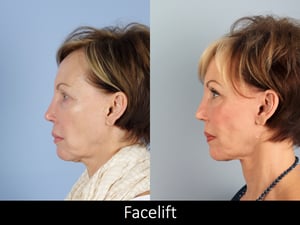 Thanks to major advancements in surgical techniques and our understanding of the aging process, modern facelifts produce results that are incredibly natural looking, unlike the more "plastic" look of years past. The different types of facelift surgeries contribute to this natural outcome by allowing surgeons to address only what they need to; no major facelifts for a patient wanting only to smooth wrinkles on their forehead. This fits beautifully with Dr. Jeffrey Raval's philosophy: Less is More.
The facelift is no longer a one-size-fits-all procedure. Instead, we have a variety of techniques we can use to perform facial rejuvenation surgery that are tailored to meet your specific goal to look great, no matter your age.
Types of Facelifts
Perhaps one of the most striking achievements of the cosmetic surgery field is that a facelift no longer means altering the appearance of the entire face. For instance, a rhytidectomy is a procedure that addresses the lower third of the face -- from the mouth to mid-neck – by lifting and removing excess skin. It is meant to reverse the sagging caused by gravity as we age and smooth the wrinkles and folds caused by time and exposure to the sun.
Just as every face is different, individual plastic surgeons approach facelifts differently. Here at Raval Facial Aesthetics and ENT, we perform three basic types of facelifts.
Mini-Facelift
As the name implies, the mini-lift is a more subtle procedure. The surgeon makes a small incision near the ears, then removes excess skin and re-suspends the remaining skin and underlying tissue. This surgery is shorter, and there is less recovery time, compared to a more extensive facelift.
The mini-lift is a good choice for those in their 40s (or even late 30s) to early 50s, who have begun to develop jowls and want to refine their jawline. The mini-lift does not address the neck. It is a way to "reinvent" yourself just enough to look younger but still entirely natural. As such, it can help keep you looking younger for longer, possibly eliminating the need for a more extensive facelift.
Deep Plane Facelift
Patients in their mid-50s or older – those with more advanced signs of facial aging – may need more than a mini-lift to achieve optimal results. You may have read or heard about the MACS (Minimal Access Cranial Suspension) facelift technique, or perhaps the SMAS (Superficial Muscle Aponeurotic System) technique, both of which address the lower third of the face.
These are similar in concept to a mini-lift, but considerably more complex since they involve elevating deeper tissues as well as removing excess skin. The SMAS procedure is somewhat more extensive than MACS because it involves deeper layers of tissue. However, while Dr. Raval is skilled in both of these techniques, he now prefers to perform the newest, most advanced technique, called the deep plane facelift. The reason? More effective results!
A deep plane facelift goes below the SMAS layer to release and then re-suspend deeper muscles. That makes it an excellent choice for patients who want to improve mid face issues other facelift techniques do not include, such as nasolabial folds or "hollows" under the eyes as well as moderate to severe jowls at the jawline or moderate to severe banding or fullness in the neck area.
Dr. Raval prefers the deep plane technique because it produces the most robust, longest-lasting results. In fact, he often incorporates this technique when performing a mini-lift, to further enhance results of this "lighter" procedure. Nonetheless, if you have only minimal skin laxity, he may still recommend the SMAS option as the best procedure for you.
During a deep plane facelift, Dr. Raval makes incisions along the sides of the face at the hairline. This procedure takes longer than a mini-lift, of course. Recovery time is also longer, and the cost higher.
Necklift
Some people experience more pronounced aging on their neck than along their jawline – sagging, wrinkled skin and/or accumulations of fat. Men often complain they can't wear a tie anymore because their neck sags over the edge of their collar. A necklift is ideal because it is specifically targeted. It rejuvenates by lifting sagging neck skin, removing fat, and tightening the underlying muscle.
You may have heard about Kybella, an injection that is sometimes confused with a necklift. Kybella only removes accumulated fat that causes a double chin, it does not address sagging skin the way a necklift does. Which is the best choice for you? Schedule a consultation with Dr. Raval to discuss your specific situation.
What about the Rest of Your Face?
There are other surgical procedures specifically designed to improve the appearance of the eyelids (called a blepharoplasty) or the forehead (often called a brow lift). In many cases, these may also be combined with a facelift.
It's not unusual for patients – usually older individuals with more severe signs of aging -- to desire a full facial rejuvenation. But that requires more downtime, and increased time under anesthesia can increase risks. So people who want a full facelift often choose to divide their surgery into stages.


What Does the Facelift Surgery Process Involve?
Because every patient is different, every facelift is unique. Dr. Raval may recommend a combination of techniques, or even a traditional full facelift, depending on your personal situation and goals. Because aging causes us to lose fat as well as skin elasticity, Dr. Raval may also use dermal fillers to re-plump contours or wrinkles, creating an even more natural looking "finishing touch" for your procedure. In some cases, he may also recommend a skin resurfacing treatment, which can be completed once you've fully recovered from your surgery.
Dr. Raval performs mini-lift, necklift, and SMAS or deep plane facelifts as outpatient procedures in an accredited surgical center. He prefers to use general anesthesia for all facelift patients. Your surgery will take between 3 and 5 hours, depending on the specifics of your procedure. In general, the process works like this:
1. Anesthesia
You will go to sleep and wake up to a new you. Still yourself, of course, but once you've recovered you will look younger, better rested, and more vibrant.
2. Incisions and surgical changes
For an SMAS or deep plane facelift, Dr. Raval will make incisions that begin at the temples and continue around the ear to the lower scalp. He will detach deep muscles and connective tissues, lift and re-suspend them to tighten the underlying foundation of the lower face.
Dr. Raval will then remove any excess skin. He may also make a small incision under the chin, if needed to remove fat under the chin or along the jawline.
Mini-lift incisions are shorter. The surgical steps are similar to those of a deep plane lift, but less extensive. Nonetheless, Dr. Raval may use the deep plane technique to ensure best results. A mini-lift does not involve the neck.
For a necklift, Dr. Raval will make incisions that start in front of the ear lobe and then wrap around the ear into the hairline behind the ear. In some cases, if only a limited neck lift is needed, he may make incisions only around the ear. He will then remove accumulated fat from the neck and jowls and trim away excess skin. He may also tighten the underlying platysma muscle.
3. Closing
Dr. Raval may choose to use sutures that will dissolve on their own. If not, you will need to have your sutures removed a few days after surgery. Because he is a skilled surgeon, he is able to place incisions for all types of facelifts within the hairline or natural creases around the ear. Once healed, it's unlikely anyone will be able to notice any scars.
Following surgery, you will rest in the recovery room for about an hour while the anesthesia wears off. Then you can go home – but someone will have to drive you.


Facelift Recovery Time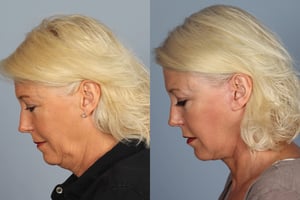 You will receive detailed, written follow-up instructions on what to do at home to care for your incision sites and to ease your recovery. Exactly how long that will take depends on the details of your surgery and your overall health. It also depends on you doing your part – it is essential to follow Dr. Raval's instructions in every way. If you do not, you run the risk of delaying your recovery or even inviting problems such as infection.
If you were a smoker before your surgery, it is especially important that you continue cessation as you recover. Smoking can seriously hamper healing by restricting blood flow to the surgical sites.
At first, you will have one or two tiny tubes at your incisions, to help drain any excess blood or fluid. These are usually removed the next day. You will wear a special wrap around your face and neck for a few days to help minimize swelling and bruising. You may also be given medication to help relieve initial pain or discomfort.
After about a week, your stitches can be removed. You should be back to moderate exercise in a couple of weeks, and swelling should be mostly gone in about 3 weeks. If you've had a deep plane facelift, it may take a little longer for swelling to go down, but in most cases, facelift patients are ready to get back to normal life within about two weeks.
It is important to note that it may take 2 or 3 months for your face to feel entirely back to normal in terms of skin sensation and tightness. Nonetheless, you'll start to see visible improvement soon after your surgery, and that will continue to develop during your recovery period.


Facelift Costs
There are variables associated with every surgery because your face and improvement goals are unique. The exact cost of your surgery will depend on your individual situation. Approximate costs of the three facelift options discussed are:
Mini-lift: $8,850 - $9,010*
Necklift: $9,090 - $9,390*
Deep plane facelift: $11,210 - $11,690*
These figures include surgeon fees, facility fees, and anesthesia. Though approximate, they give a general idea of cost to help you compare options. Pricing is one of the things you will want to discuss during your personal consultation.
Most health insurance does not cover cosmetic surgery. However, we recommend that you speak with your provider before scheduling surgery, to be sure you understand what your policy does or does not cover.
*Price Ranges apply based on the varying facility fees associated with the three hospitals we partner with. Prices as of March 2019 and subject to change with time.


Facelift Results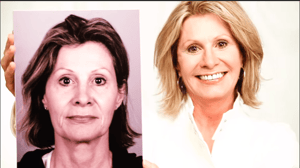 No matter what type of facelift you choose, we know your primary goal is to look more youthful but still entirely natural. You may also be searching to feel a renewed sense of self-confidence. All of these goals are achievable with Dr. Raval's work.
The changes made during facelift surgery are permanent. On average, patients look 7 to 10 years younger, but the more extensive deep plane facelift can help you look 10 to 15 years younger. It is important to remember that your face will continue to age over time.
The most important factor in achieving a successful outcome is realistic expectations. Since we have many facelift and necklift options to customize procedures for every individual, it is easier than ever to look more youthful without making overdone or obvious changes. You can simply look smoother, healthier and more vibrant.
The best way to maintain your refreshed look is by protecting your skin from sun exposure. Always use sunscreen when you venture outdoors, even on cloudy days. Surgery and other treatments can improve the appearance of your face, neck, and skin, but without sunscreen the sun's UV rays will create new damage.


Will I Have Scarring from a Facelift?
Visible scars are a real concern of almost every facelift patient since our face and neck are not areas we can easily conceal with clothing. By choosing a skilled surgeon who uses the latest techniques, not only can you expect entirely natural looking results from a modern facelift, you'll be happy to know that any scarring will be minimal, or maybe entirely invisible.
By their very nature, incisions do leave scars. As they heal and as time passes, the appearance of scars will diminish. For every type of procedure – deep plane facelift, mini-lift, or necklift -- Dr. Raval makes the smallest incisions possible to achieve your desired results. He places them within the hairline or in other locations such as creases around the ear, where the scars will be virtually undetectable. He closes and sutures the incisions with great care so that no one will know you've had "a little work done" unless you tell them.


Facelift Before and After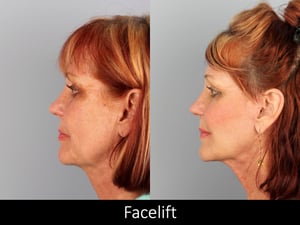 Every person has a different facial structure and unique skin. This means surgical results can vary from one patient to another. In addition, every patient has their own ideas about what specific signs of facial aging they want to address and how extensive they want changes to be. This is why Dr. Raval individually tailors each surgical procedure for each patient.
You can get a good idea what a facelift or necklift might do for you by reviewing the before after photos of various facelift patients. Try finding someone of the same approximate age and whose procedure may have addressed the same concerns you have.
Just as important, you want to look at a wide variety of before and after examples that show facelift patients of the surgeon you are considering. That will give you the best overall idea of their skill and success in producing natural-looking results. As you examine each photo to compare results to the "before" picture, look to see if you can detect any scars.
One easy way to learn more about Dr. Raval's work is to view the facelift before and after photo gallery on our website.


Am I a Good Candidate for a Facelift?
Any healthy, active adult who wants a more youthful looking face and/or neck is a good candidate for some type of facelift.
Are you in your 20s or early 30s? Dr. Raval may recommend a non-surgical option if you're looking for just a little enhancement. These options are fast, affordable, and require little to no downtime.
Are you in your 30s or early 40s? Dr. Raval may recommend a mini-lift.
Are you in your 50s, 60s, or 70s? Dr. Raval will probably recommend an SMAS or deep plane facelift and/or a necklift.
As with any surgery, you should also be a non-smoker. If you do smoke, you will have to quit one month prior to your facelift surgery and continue to avoid smoking for one month after. Smoking constricts blood flow, which can delay healing.


Facelifts for Men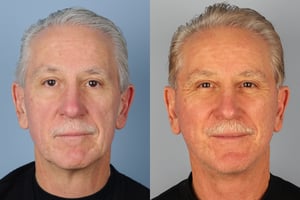 Looking young and vibrant is not a desire unique to women and many aging men are seeking to retain a competitive edge on the job as younger generations enter the work force. Furthermore, looking youthful above the neck complements all the hard work you do to maintain a strong, healthy physique. About 10% of facelift patients are now men, a number that continues to increase.
There are a few differences between facelift procedures for men and those for women. Typically, a man's skin is thicker than a woman's and male facial musculature is a bit different, which may affect how Dr. Raval approaches your surgery. Furthermore, many men wear their hair quite short, requiring specialized skill to hide closure scars.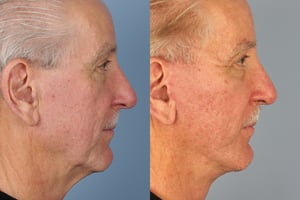 Expectations of results also tend to differ between men and women, often dictated by social acceptance. We live in a culture in which women look "old" if they have facial wrinkles, folds, or sagging skin and hollow cheeks. Even early signs of aging are cause for concern. Men, however, tend to be perceived as more masculine as they age. Their faces don't develop wrinkles, they take on greater character.
So, when it comes to a potential facelift, men are often less concerned about slight to moderate nasolabial folds or loss of rounded contours in their cheeks as women would be.
On the other hand, we tend to view men who exhibit signs of aging along their jawline and on the neck as "older" looking. As neck skin becomes lax, it can also cause annoying difficulty buttoning a shirt, and the excess skin can bulge over the collar – issues women don't typically contend with. As a result, men are often particularly good candidates for necklift surgery, rather than some other type that addresses the mid-face.
Many men say their biggest concern is that they want to look healthier and more virile, but not more feminine. This desire fits perfectly with Dr. Raval's philosophy – less is more. He believes that the key to achieving the most natural looking results for every patient is to do just enough, but not too much, using techniques that will also produce the longest-lasting results possible.


Non-Surgical Facelift Alternatives
As previously touched upon, there are cases in which Dr. Raval may recommend a treatment alternative to surgery, especially to address early signs of aging. These options are not really "facelifts," of course, but they can produce impressive results. Dr. Raval sometimes incorporates these techniques into surgical procedures, too, to provide a finishing touch that gives the most natural looking results.
Liquid Facelift
This is a clever name for the use of dermal fillers to reduce the appearance of fine lines and wrinkles or emerging folds. It can also be used to replace volume lost over time that starts to cause visible hollows or sagging. Fillers have become vastly popular, because treatments are safe, quick, cause little or no discomfort, and require no downtime.
Whether you're in your 30s or your 50s, a liquid facelift might be the ideal option for you. Dr. Raval may also recommend Botox injections as a companion treatment, to help prevent development of future wrinkles. Remember that dermal fillers and Botox are both temporary solutions because the solution is eventually absorbed by the body (perfectly safe!). With refresher treatments, though, you can maintain your smoother look as you age.
The Alternative Facelift
This type of facelift begins with a sample of your own blood. This is a simple two-step process that is quick and requires little or no downtime.
First, we draw a small sample of your blood and spin it in a centrifuge to separate its components. This triggers natural regeneration of collagen, elastin, and fat. We can do that two ways:
By combining the patient's own blood with a dermal filler and injecting it.
By applying the patient's own blood directly to their face during a microneedling treatment. (The tiny needles essentially inject the blood below the skin's surface.)
This type of facelift is an alternative treatment for fine lines or sunken areas, but it can help improve overall skin tone and appearance as well.


Facelift Risks
There are always risks with any surgery, but complications from facelifts are rare. Risks can include, but are not limited to:
Bleeding, which could lead to a hematoma or blood clot. Dr. Raval uses the post-surgery drain to minimize this risk.
Temporary numbness or nerve damage, in which case it could take up to 6 months for feeling to return.
Infection.
An undesirable result.
No facelift can achieve absolute perfection. The key to avoiding a disappointing result is ensuring you have an understanding of what a facelift procedure can do for you as well as knowing its limitations. This is an important part of the discussion during your personal consultation with Dr. Raval.
Because your personal health and safety matter as much as surgical results, Dr. Raval always performs surgeries in accredited, state licensed surgical centers staffed with the most highly trained personnel. Having an excellent surgical team where the anesthesia is supervised by a physician anesthesiologist ensures that all patients receive excellent care.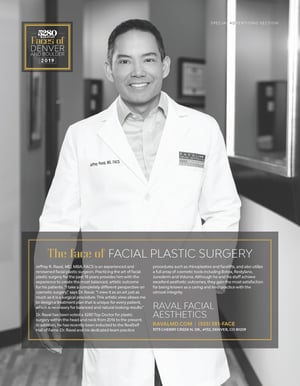 Choosing the Right FAcelift Surgeon
Regardless of which procedure you choose, surgical skill plays a vital role in the aesthetic and medical quality of your facelift. You want a surgeon who has the training, experience and aesthetic talent to help you achieve your goals.
Jeffrey R. Raval, MD, FACS is board certified by the American Board of Facial Plastic and Reconstructive Surgery and the American Board of Otolaryngology/Head and Neck Surgery. He is a fellow of both the American College of Surgeons and the American Academy of Cosmetic Surgery.
ready to explore a facelift?
Your face is your first impression and a reflection of your self-image. If the face or neck you see in the mirror looks older than the way you feel inside, a facelift may be just the solution you're looking for. We hope to have answered some of your questions above, but we are always here to answer more!
Schedule a face-to-face consultation with Dr. Jeff Raval. That gives you a chance to meet him in person and ask all your questions, and it gives him a chance to examine your face close up and discuss your aesthetic goals. Then you can work together to develop a plan that's just right for you.