When you hear the term "injectables," you may think of dermal fillers and Botox. Well, it's time to expand your thinking because now there is an injectable option that can do even more. Much more. A thread lift can lift, tighten, firm, and smooth your skin, producing more visible, longer-lasting results without having a true facelift.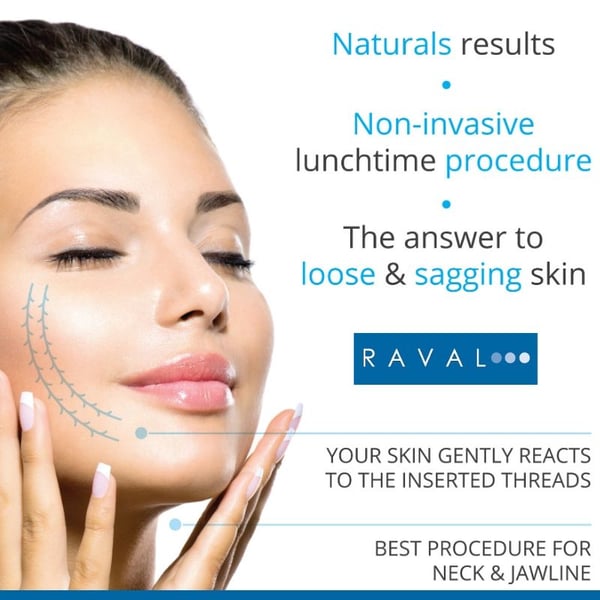 No incisions. No scars. No big time commitment, for the treatment or recovery. Instant results that can last up to two years. Results that turn back the clock a bit to give your face and/or neck smoother skin and more youthful contours.
With thread lifts, you now have an exciting new option to rejuvenate your mid-face, lower face and neck without resorting to surgery. Best of all, you can get this procedure here at Raval Facial Aesthetics and ENT, performed by the plastic surgeon you trust when it comes to facial rejuvenation -- Dr. Jeffrey Raval, MD, MBA, FACS. That's critical because skill determines results.
Thread Lifts: the surprisingly simple, in-office procedure
The "threads" are actually polydioxanone sutures, called PDO -- the same absorbable sutures surgeons have been using safely for decades. To lift and firm the mid- and lower face and neck, Dr. Raval uses threads that have very tiny barbs. The barbs grip sagging skin and hold it in a lifted position. They also stimulate production of new collagen, which further supports and volumizes the lifted skin, even after the sutures have dissolved.
Depending on the condition of your skin and your lifting goals, Dr. Raval will determine the precise placement pattern for the thread lift as well as the appropriate thread type. For the procedure, he will use a local anesthetic to numb the injection points, then use a preloaded syringe with a thin needle to insert the thread, which remains behind as the syringe is removed. If more substantial lifting is required, he will place a thicker thread, using a microfine cannula and sterile insert. He may place the threads in lines for directional lift, or in a cross-hatch pattern if greater structural support is needed.
The procedure is performed in-office and takes only 20 minutes to an hour, depending on the size of the area being treated and the number of threads Dr. Raval will need to inject.
The sutures are absorbed by your body over 6 to 12 months, but you will continue to see the results of your thread lift for up to two years. As with other types of temporary injectables, future refresher treatments can help you maintain your youthful appearance as you age.
There is little to no downtime. Dr. Raval may recommend you take it easy for a day or two, as you may have some minor post-procedure bruising, but you won't need pain medication. He may also recommend using a facial wrap at night for a few days, to speed healing and ensure optimal results.
Whether or not you're already using dermal fillers and/or Botox, a thread lift can make your face and neck look younger, but with more subtle change than a surgical facelift would deliver.
How much does a thread lift cost?
The cost of a thread lift is based on the zones of the face addressed: the mid-face, jowls and neck.
$1,700 per zone
$500 per additional zone (if done at the same time)
Club members benefit even more!
If you belong to our Raval Youthful Skin Club, ClubTox and ClubTox Elite, you can get 10% off your first 8 barbed sutures, and then 12% off any barbed sutures after that when used during the same treatment.
Want to learn more about Thread Lifts?
Of course you do! Schedule a personal consultation with Dr. Raval to learn more about Thread Lifts and learn if this ingenious injectable lift may be right for you.