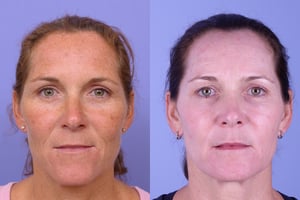 In addition to helping you reach aesthetic goals, recent research shows that a trained professional can shrink even the slightest risks of procedure like Botox.
Treatments like Botox have great results without the invasive techniques, downtime, and risks needed for a surgical procedure, but experienced doctors like Dr. Raval expect patients to "continue to invest their trust as wisely as their dollar."
The most common side-effects of minor procedures are slight, short-term, and don't significantly impact satisfaction. With Botox, patients report temporary bruising and bleeding as the most common side-effect of their rejuvenation. It's not as common that a patient will get a result that doesn't align symmetrically, and drooping lids occur in only the rarest cases.
According to the study that looked at 20,399 distinct procedures in the U.S., less than 1% of those non-surgical procedures had any adverse effects. Even relatively small complications were uncommon for a minor procedure, and Botox, as one of the least invasive, showed to be one the safest. Nevertheless, a surgeon commenting on the study warned patients shopping for a minimally-invasive procedure: "It is only safe if you have the necessary training."
Reviewing a surgeon's before-and-after portfolio and reading about their practice online should be simple. An experienced surgeon like Dr. Raval with patient-centered office will be open about their aesthetic direction and medical training. A site should go beyond the surface of what services are offered by giving you a view into their staff as well.
To learn more about Dr. Raval, enroll in ClubTOX, his program for patients to save on regular Botox treatments, or other lower-risk non-surgical treatment options available, call (303) 381-FACE.