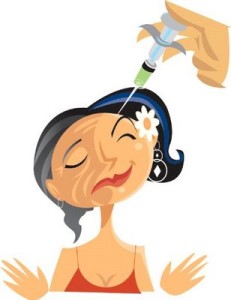 There are many areas of the aging face and neck to rejuvenate and brighten using Botox and Dysport. These sites are considered off-label but well within the standard of care in the cosmetic industry.
WHY USE BOTOX AND DYSPORT OFF-LABEL?
Off-label uses of Botox and Dysport give you a versatile and cost-effective treatment for more signs of aging on the body and face. You may know to use Botox and Dysport for wrinkling around the forehead and eyes. Additional uses—around the lips and neck—are called "off-label" treatments.
MORE OFF-LABEL USES OF BOTOX AND DYSPORT
Through specialized techniques, Dr. Raval applies his concentrated suspension of Botox and Dysport in several more useful areas for patients to:
Smooth an aging neck,
Rejuvenate the lip and jaw area, and
So many applications open up for patients to reach their personal, aesthetic goals "off-label."
NECK AREA USES
For example, platysma bands (that droop down from the neck) become more noticeable as we age and especially when conversing with others.
Botox and Dysport "quiets down" these neck muscles, leaving the neck area smooth and at rest—even when conversing.
LIP AND JAW AREA USES
Many patients come in with concerns for wrinkled lips, a common sign of aging made worse by puckering.
Botox and Dysport reduces pursed lips as well as the wrinkle depth and severity (making bleeding lipstick less likely). In the mouth area, men and women of Asian descent use Botox and Dysport to treat a square outer jaw as well.
UNDERARM AREA USES
Botox and Dysport are even effective at reducing overactive glands in the body.
Some people are bothered by excessive sweating under their arms and choose to use Botox or Dysport to reduce sweating for social reasons.
FINDING AN INJECTOR FOR OFF-LABEL USES
With a trusted injector, you have many simple treatments available to you for younger skin (and drier underarms) with Botox and Dysport.
All these treatments are considered off-label which means that even through Botox and Dysport are safe for use in humans, they were not approved for use in these specific areas. These "off-label" treatments fall under the category of "standard of care," meaning they are widely accepted treatments among medical professionals in the field of cosmetics.
Patients wanting to rejuvenate their body and face can contact Dr. Raval's Cherry Creek office at (303) 381-3223.