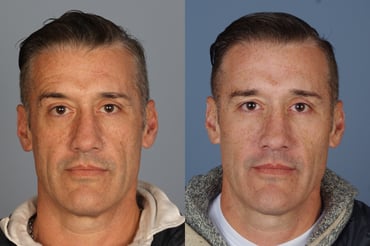 What guy doesn't want to look his best? Women aren't the only ones who want to look as young and healthy as they feel – regardless of age. No wonder more and men are taking advantage of Botox to halt or reduce the appearance of facial wrinkles. Think of it as Brotox.
What is "Brotox"?
Botox (aka Brotox) is a safe derivative of the botulinum toxin which is injected into specific facial muscles to reduce the appearance of wrinkles and creases. It is the most-requested facial enhancement procedure in the world, and over nearly two decades millions have enjoyed the benefits of periodic Botox injections.
Unlike dermal fillers, which work below the skin's surface to re-plump wrinkles and folds, Botox works by temporarily limiting muscle movement that causes dynamic wrinkles – the ones that appear when you smile, laugh, squint, or frown. You can improve your appearance without sacrificing the facial expressions that are uniquely yours.
Botox is administered in tiny amounts called units. The more units you get, the more dramatic the results. That means you and your doctor can control exactly how much change you'll see, and it means you can make change incrementally so people won't even know. Oh, they'll notice how great you look – more relaxed, more confident -- but they'll never suspect you "had something done."
Brotox for Men
Men using Botox is nothing new. In fact, clinical studies conducted on the treatment included significant numbers of men – 17.5% in the study on moderate to severe frown lines, and 12% in the study on crow's feet. Botox has been studied repeatedly, and it is proven safe and effective.
It's easy to make Brotox your thing, too. It's called the "lunchtime procedure" because sessions take just 10-20 minutes, depending on how many units you receive. You can literally pop in on your lunch hour or in between appointments when you're out and about, without missing a beat, no matter how active your lifestyle.
If Deion Sanders can do it, why shouldn't you?
No one would question the masculinity of Deion Sanders, a legend in baseball as well as football. But when he turned 50, he says it was time to get proactive about those crow's feet developing around his eyes. Time to invest in his appearance.
And that's what makes Brotox such a great solution for almost any man. You don't have to be famous to want to look your best. Look at it this way: you exercise regularly to keep your body in the best possible physical shape, right? And you're eating healthier, too – at least you're trying to. A regular schedule of Botox injections puts the finishing touch on all that effort, allowing you to retain just the level of youthfulness you want.
Brotox with Trusted Medical Professionals
Botox is a prescription-only medical treatment. And it's your face we're talking about. That means professional skill and an experienced touch are critical to safely perform injections and produce precisely the results you want to see. With our years of experience and outstanding reputation, you can trust Dr. Jeffrey Raval and our team of Medical Aestheticians to deliver the highest quality care, in an atmosphere that will make you feel comfortable, not conspicuous.
When you're ready to "go Bro," schedule a consultation with us.