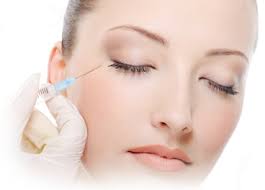 The typical Botox and Dysport treatment time is less than 5 minutes. After 5 to 7 days, you see the effect of a few tiny injections. There is no downtime, but sometimes mild bruising. For such a brief procedure and with the possibility of bruising, new patients often ask Dr. Raval:
"How many injections will I receive?"
"Will my injections cause bruising?"
Focused Injections: Getting No Nonsense during Your Botox and Dysport Treatment Time
The number and kind of injections depends on how your Botox doctor treats target areas:
(1) moderate to severe wrinkle areas
- Places where deep creases need attention
(2) at-risk areas
- Facial areas where Botox and Dysport can minmize where slight or moderate aging wrinkles develop.
Deeply wrinkled areas may require more than one treatment to see significant results.
For example, Dr. Raval uses a concentrated formulation for his patients' treatments. With this solution, he makes many fine injections (according to patient needs) using a hyper-thin needle. Through focused injections, Dr. Raval's Denver Botox and Dysport patients save time.
The only time you need to invest is finding an appointment with an experienced, compassionate doctor who can give you treatments that consider your needs, value your time, and reduce your risk of bruising.
Get Botox, Not Bruising: After your Botox and Dysport Treatment Time
A hyper-thin needle and surgeon injector can reduce instances of bruising. An experienced injector (a facial plastic surgeon in most cases) will possess advanced anatomical knowledge of vein and muscle structures below the skin's surface.
For treatments around the eye in particular, surgical training allows your injector to navigate the many veins just below this sensitive skin without causing unnecessary bruising. A thinner, more comfortable needle aids these sensitive injections.
Slight bruising usually hides easily under a little make-up and fades a few days after treatment.
Dr. Raval gives patients a clear picture of Botox and Dysport treatment and the time it takes.