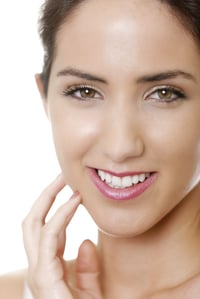 There are lots of reasons to love winter when you live in the Denver area, but did you know this is also the best time of year to get laser skin treatments? Sounds odd, doesn't it? But it's true. Despite the snow and freezing temperatures, warmer weather will be here soon. If you want to look your best when it's time for tank tops, shorts, and bikinis, you need to start planning now. You're smart not to wait till the last minute.
Why Winter is the best time to do laser skin treatments
If you are sunburned or well-tanned, you are not a good candidate for laser skin treatment. That's because lasers apply heat or light energy to target specific skin cells in order to stimulate new cell production. The process works best on lighter skin, because it's easier for the laser to detect color contrast and zero in on the targeted cells. By mid- to late-winter, your summer tan has faded – in this case, a very good thing.
After the procedure, exposure to heat and the sun's ultraviolet rays can interfere with healing or even reverse the effects of your laser treatment. We advise our laser patients to stay out of the sun and even avoid hot showers for a few days.
Frankly, it's a lot easier to avoid the sun in winter, both before and after your laser skin treatment. Yes, we get plenty of blue-sky days here, but the reality is we spend far more time indoors – or covered up when we're outside. This provides the protection your skin needs, and bulky scarves and mittens hide temporary post-procedure redness or chapping.
There's another reason winter is the best time for laser skin treatments: scheduling. In some cases, it takes more than one session to achieve the skin improvement outcome you want. Starting now gives you plenty of time to schedule as many appointments as you need and still be ready to show off those great results this spring.
What could a laser skin resurfacing do for you this winter?
Laser treatment can be ideal for skin challenges from head to toe, including:
Reducing fine lines and wrinkles

Removing skin blemishes such as rosacea or skin tags

Removing spider veins on your legs or elsewhere on your body

Eliminating dark spots caused by sun or aging

Helping improve the appearance of acne and other scars
Winter is a great time for all skin rejuvenation procedures
You might also consider other types of skin rejuvenation. While our Sciton laser is an excellent tool to address any number of specific skin issues, winter is also a great time to focus on your face. Rocky Mountain Laser Aesthetics offers several choices, depending on your skin type, concerns, and aesthetic goals:
Now is also the time to rev up your daily skin care regimen. Just because your body is covered up with layers of clothing doesn't mean you should cut back on the basics that keep your skin soft and moisturized. Winter is extra-dry, especially here in Colorado, and that means you're more prone to itchy, red, or flaky skin. Developing proactive skin care habits now will have you looking your best come spring.
The next few months are still prime time for laser skin treatments. Why not schedule a personal consultation soon? We can discuss the best treatment options to achieve your skin improvement goals and advise you about the most effective skin care regimen and products to keep your skin healthy and happy all year long.
What better way to get through these last, chilly weeks of winter and beautify your skin in time for warmer, more "revealing" weather!