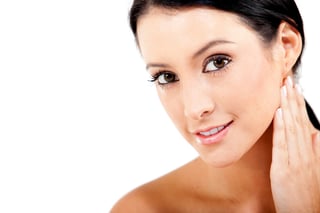 Summer is the season when our skin is most exposed. But while shorts, tank tops, swimwear, etc. reveal more of our body, our face is still the feature people usually notice first. If you've been wishing you could display smoother, more youthful looking skin this summer – on any part of your body -- microneedling may be your perfect choice.
Microneedling has become very popular with men and women of all ages, because it offers so many advantages:
It can turn back the clock by reducing signs of aging such as fine line and wrinkles.

It can improve the appearance of scars from acne, injury or surgery.

And unlike many other commonly-used treatments, microneedling is safe and effective for every skin color and type.

You can even combine microneedling with some laser or other treatments, to further enhance results.
Tiny needles stimulate new skin growth.
Just as the name implies, this procedure uses a pen-like device with tiny, surgical steel needles at the tip to puncture the skin. Your body responds to these microscopic injuries by activating the natural healing process, increasing blood flow to the area and producing new collagen and elastin.
Microneedling isn't painful. Most patients report little to no discomfort, while some say the procedure feels something like having their skin lightly sanded. Usually, a numbing agent is applied to your skin prior to the procedure, to further minimize any discomfort.
You may see a bit of redness in the treatment area for the first day or two, but as that subsides, you'll notice your skin already looks healthier and smoother. As new skin production continues, your results will become even more pronounced.
Microneedling is fast – ideal for busy summer schedules.
Depending on the specifics of your procedure, it will probably take just 30 to 60 minutes. Then you can go right back to your normal daily routine. However, you should avoid the sun for a day or two, since your skin will be extra-sensitive immediately following your treatment.
This procedure is intended to work gently and gradually, so Dr. Raval may recommend multiple sessions to help achieve optimal results. You may need only 2 or 3, or if your goal is to improve deeper skin problems such as acne scars, it may take 5 or 6 treatments.
Is microneedling the solution for your summer skin enhancement?
While almost everyone is technically a good candidate for this procedure, the best plan is to schedule a personal, private consultation with Dr. Raval. That way, he can examine your skin first hand, you can get all your questions answered, and you can work together to develop a skin treatment plan that addresses your aesthetic goals.
Why not schedule a consultation right now? The sooner you get started, the sooner microneedling can help transform your skin so you can look your best this summer and all year long.
Don't forget the sunscreen.
Use it every time you go outdoors, even if you'll only be out there a short while. The last thing you want this summer is for your better-than-ever-thanks-to-microneedling skin to suffer unnecessary damage.