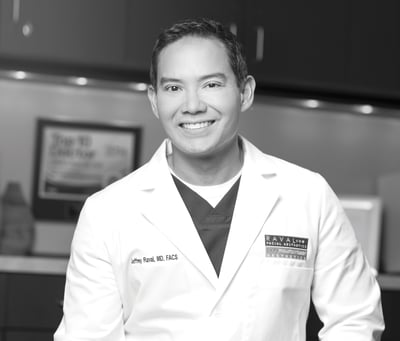 Every surgery is a serious undertaking. But when the surgery involves your face, the process of choosing a surgeon takes on even greater meaning. When aesthetic results are a primary consideration, you want a Denver facial plastic surgeon who has artistic talent as well as solid medical training and specific surgical expertise.
And, frankly, you'll be happiest with a facial plastic surgeon you like, too. We all feel more comfortable around people we like. Without a comfortable rapport, you may be hesitant to speak openly and honestly in discussing your medical history, aesthetic objectives and concerns -- personal details that affect your surgical choices as well as the outcome.
You're looking for a Denver facial plastic surgeon you can trust to treat you as a partner in achieving your aesthetic and/or corrective goals.
Selection starts with knowledge and skill
Board certification verifies the surgeon's knowledge and the fact that he or she graduated from an accredited medical school and completed several years of residency. Fellowship training confirms the surgeon has had additional hands-on training to further perfect specific plastic surgery skills. Look for a surgeon who demonstrates a strong commitment to ongoing learning, too, beyond the minimum required to maintain his license to practice. You want to benefit from the very latest techniques and best practices.
For example, Dr. Jeffrey Raval is double board-certified – by the American Board of Facial Plastic and Reconstructive Surgery and the American Board of Otolaryngology/Head and Neck Surgery – and he is fellowship-trained. He is also a member of the American Medical Association, American Academy of Cosmetic Surgeons, Colorado Medical Society, and serves on the Board of Directors of the Denver Medical Society.
Plastic Reconstructive vs. cosmetics
There is a difference between a cosmetic surgeon and a facial plastic surgeon. Cosmetic surgeries are elective procedures designed to produce aesthetic results. Plastic reconstructive surgeries are reconstructive, designed to repair or improve structural defects due to birth defects, injuries, burns, etc. Plastic surgeons can perform cosmetic surgeries, but cosmetic surgeons do not perform plastic surgeries.
A good example is rhinoplasty. This is a type of plastic surgery that can change the aesthetics of your nose, giving it a different size or shape, but it can also repair a deviated septum or other issues to restore normal, healthy breathing.
Experience counts
Practice makes perfect, as they say, and you're considering a surgical procedure for your face – the first thing about you most people notice. Look for a plastic surgeon who has had plenty of experience performing surgeries like yours, not just surgeries in general. Someone who has worked on many different patients is in the best position to adapt surgical techniques to your unique face.
Body of proof
The results of most types of facial plastic surgery are very visible. Look for a surgeon who can show you lots of before and after photos of real patients they have treated. Especially look for patients who had similar concerns to yours and who have similar facial structure, so you can make the closest comparisons possible. That said, remember that no one else's face is exactly like yours, so everyone's results differ to some extent.
You should be able to review these photos on your own, but a great surgeon will also go over some of them with you during your consultation, pointing out and explaining specific details. This will help you make a well-informed decision based on realistic expectations.
Safety shouldn't be an assumption
All surgical procedures come with some risks, so where your surgery takes place can directly affect your health and safety. Look for a facial plastic surgeon that performs surgeries in top-quality, accredited and state-licensed hospitals or surgical centers. These facilities meet the highest medical standards, and they are fully-equipped for emergencies.
Budgeting for your surgery
Facial plastic surgery is a significant, life-changing investment in yourself. You shouldn't feel awkward asking about cost, and you want to be sure you fully understand what you will pay and what you will get for that. Cost should include routine follow-up care as well as the surgery itself.
Where to look for a Denver facial plastic surgeon
Ask your primary care provider for recommendations about Denver-area plastic surgeons. Ask any family members or friends who have had surgery similar to yours about their surgeon and their experience. Look online to read reviews from patients.
You can double-check with the state medical board to verify a surgeon's licensing, certification, and education background. You can also learn if they have ever been the subject of any disciplinary action.
Consider intangible factors, too. If you're looking for a Denver facial plastic surgeon, then look for one who is well-respected within the Denver community as well as the medical community. Participation and sponsorship of local activities, contributions to local publications, service on boards of directors, and other forms of service indicate deep commitment to the greater well-being.
Awards and other honors are also good indicators of respect and trustworthiness. While superior medical competence and experience and comfortable rapport should be your primary considerations, why not choose a facial plastic surgeon who is a good neighbor, too?
And, by the way, you don't have to be a neighbor to benefit from the services of a Denver surgeon. Especially when it comes to facial surgery, patients go where they know they will get the best outcome by working with the best doctor.
The personal touch
You can research many of these factors on your own, and you should definitely take the time to do that. Narrow your choices to two or three prospective facial plastic surgeons, then schedule a personal consultation with each of them. This is the only way to find out if you like them personally and if you feel comfortable with other key staff members. As a patient, you'll be working with several team members, not only your doctor. Nonetheless, be sure the surgeon you select intends to participate personally in your follow-up care.
The personal consultation isn't merely an interview, of course. It's your chance to learn more about facial surgery in general and how a specific type of surgery may benefit you. Again, you can do quite a bit of research on your own, but reading and email or phone conversations are not enough. Only an in-person meeting allows the plastic surgeon to examine your face. This is critical, because every facial surgery is a custom-tailored operation.
With an in-person examination, he or she can see the exact nature and extent of your concerns. That helps them consider the best surgical techniques to achieve the outcome you want. An experienced surgeon may well have suggestions you haven't read or heard about that could be more appropriate or more beneficial for you. And they can dispel any myths or misconceptions you may have encountered during your research.
During your consultation, you'll also gain valuable insight into the how each surgeon approaches your situation and develops a personalized surgical plan. Did they take the time to explain details and willingly answering all your questions – in a way that was easy for you to understand? Did they candidly explain potential risks or side-effects, as well as post-procedure requirements? Did they offer additional printed or online resources?
You want a surgeon who is both a good listener and a good communicator. To schedule a consultation with Dr. Raval or one of our Paramedical Aestheticians, click the button below!