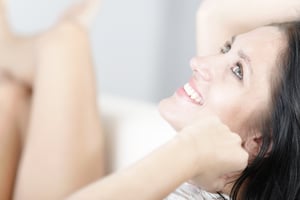 An overwhelming percentage of RealSelf users (94%) say they think laser hair removal is "WORTH IT!" Well, no kidding. Women and men both love laser hair removal because they can finally get rid of excessive or unwanted hair – long term. And there is no downtime following the treatments.
The procedure is fast, non-invasive, pretty painless, and it's FDA-approved because it is safe and effective. And did we mention there is no downtime? Let's look at that more closely.
Speed is of the essence with laser hair removal
We are all so busy these days, with work, family, outdoor recreation, and all the other things that make up the Denver lifestyle. Wasting time on endless shaving, waxing, application of depilatory creams, etc. takes us away from things we'd rather be doing. Plus, the cost adds up over time. And waxing hurts!
Laser hair removal works safely to stop hair growth virtually anywhere on your body, from tiny earlobes and toes to large areas such as the back. You can spruce up your face (including your upper lip), chest, shoulders, back, arms, armpits, buttocks, bikini line and pubic area, feet and hands. The procedure is fast because it is extremely precise. We can treat an area about the size of a quarter in just a few seconds. To do your entire back may take an hour.
That means you can schedule an appointment without taking a big bite out of your day – even a lunch hour may be plenty. Afterward, you'll want to stay out of the sun for a day or two, and of course, wear sunscreen. (You do that religiously anyway, right?)
Along with no downtime, laser hair removal is not painful. Most patients say it feels a bit like being snapped with a rubber band. You may experience slight redness or swelling immediately afterward, but other side effects are quite rare. We do recommend you avoid vigorous exercise for a day or two, to give your treated skin a chance to rest.
Other than that, you can come in for your appointment, and then go on about your business. Nice.
Laser Hair Removal too good to be true?
Laser hair removal is as good as patients report, which is why it is one of the most-requested skin treatments. But is it right for you? There are some things to think about if you're considering this procedure for yourself.
Timing. While individual treatments are fast, it does take several sessions to achieve optimal results. Our hair grows in cycles, and the laser can kill only follicles that are actively growing. Repeat sessions (usually about a month apart) allow us to "catch up" with hairs as they come into their active phase. Typically, it takes anywhere from 3-7 treatments in all
Skin and hair color. Lasers require light contrast in order to target the pigment in hair follicles. This can be difficult if your hair and skin are both very dark or very light colored. If that's you, don't be dissuaded. The best way to know if you're a good candidate is to schedule a personal consultation. We'll even do a little test to make sure.
In the right hands, laser hair removal technology is amazing
The "right hands" are crucial, because lasers can be dangerous if the provider doesn't have proper training and experience. You don't want to risk iffy results or skin damage. The best way to protect yourself is to remember that laser procedures are essentially medical treatments. Here at Rocky Mountain Laser Aesthetics, Dr. Jeff Raval and our team of Medical Aestheticians are highly trained and highly respected by our patients. (Patients love our comfy, friendly office, too.)

Now that you know you won't have to budget time for downtime, isn't it time you said goodbye to your unwanted hair, once and for all?