If you find yourself seriously considering changes to your nose, you are not alone. Rhinoplasty is trending upward, across the US and around the world. Perhaps that's because getting a nose job can do more than alter the size or contours of your nose.
What Can a Rhinoplasty Accomplish?
Facial Symmetry
Your nose is the central feature of your face. Making changes that cause your nose appear more symmetrical can enhance your overall facial appearance.
Unobstructed Nasal Airway
If you suffer from breathing complications due to a deviated septum, persistent sinus problems, or nasal valve collapse, rhinoplasty can provide permanent relief. Repairing structural problems restores airflow so your body can get more oxygen and you can get more sleep.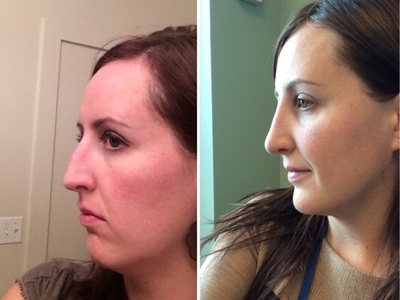 Confidence and Self Esteem
Long-term studies have shown that the positive physical and aesthetic changes of rhinoplasty can boost mental health and self-esteem. What's trending in self-image? Embracing your "ethnic" nose. Increasingly, patients are asking Dr. Raval to make more subtle changes that enhance overall appearance rather than eliminating racial or ethnic characteristics that affect size, shape, the bridge or tip of the nose.
You Might Even Appear More Youthful
In one study, people asked to review photos of successful rhinoplasty procedures said the patients looked younger after their nose job, regardless of their actual age.
These potentially life-changing benefits appeal to hundreds of thousands of Americans each year. According to the most recent report from the American Society of Plastic Surgeons, more than 352,500 rhinoplasty procedures were performed in 2020. Most patients are women -- rhinoplasty has surpassed breast augmentation to become the #1 most-sought-after surgical procedure. Nonetheless, rhinoplasty is increasingly trending with men as well.
Why the major jump now? Believe it or not, researchers are attributing it to the "Zoom Boom."
Zoom Boom? Really?
Really! The COVID-19 pandemic has flipped many aspects of our day-to-day life upside down. Spending most of 2020 and 2021 at home, navigating the world of remote work landed many of us in front of a computer screen, taking several face-to-face Zoom calls each day. Now, some researchers are saying that this increase in time staring at ourselves in that little window may have led to closer scrutiny of our own facial features.
And a lot of men and women aren't thrilled with what they're seeing. As a result, the American Academy of Facial Plastic and Reconstructive Surgery says cosmetic surgeries overall have increased 10% thanks to the pandemic. The trend is the same or even greater in other countries. It's no surprise that rhinoplasty is trending at the top of the charts when it comes to facial enhancement through elective procedures.
But the Zoom-related dose of visual reality is not the only factor driving the rise in nose procedures. Here are a few other factors:
Staying home saves money on clothing and travel so people can redirect spending to things such as fitness and personal improvement.
The ability to stay home and control one's schedule makes it easier to set aside downtime for recovery without having to take sick days or even miss work.
Post-procedure bruising and swelling can easily be hidden behind a mask. And a single click can simply turn off the video during online meetings with no one the wiser.
Always Trending: Choosing the Right Surgeon
Here at Raval Facial Aesthetics, Jeffrey R. Raval, MD, MBA, FACS has been performing rhinoplasty procedures using state-of-the-art surgical and non-surgical techniques for more than 20 years. He is board certified in both Facial Plastic and Reconstructive Surgery and Otolaryngology Head and Neck Surgery and widely acclaimed by peers as well as patients for his exceptional skill and compassionate patient-focused demeanor.
If now seems like the time to "fix" your nose, aesthetically or functionally, scheduling a consultation with Dr. Raval is the next step.
Dr. Raval has been performing rhinoplasty procedures using surgical and non-surgical methods for many years. He is recognized as a Compassionate Doctor (2013), a Patients' Choice surgeon (2011-2013), and one of America's Top Physicians (2007-2012). Patients seeking a trusted surgeon for their rhinoplasty consultation can contact our office at (303) 381-3223.