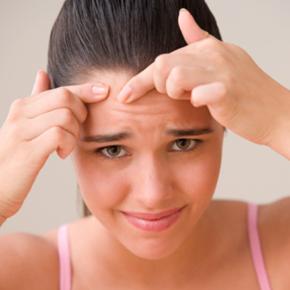 For many of us, acne scars are one of life's great frustrations. Acne can leave scars underneath your skin and leave the surface looking uneven and even pitted. Medical science has tried for decades to devise methods to improve the appearance of acne scars, with limited success. Now, though, platelet-rich fibrin matrix, or PRFM, is proving to be a valuable option for many patients.
PRFM has several inherent advantages
It is a simple, injection-based treatment. And it is safe and effective for every skin color and type. In fact, it's about as safe as you can get, because the PRFM serum is made by concentrating platelets from your own blood. That may sound complicated, but it is not.
At the beginning of your appointment, we take a small sample of your blood, then spin it in a centrifuge to separate the platelets from red and white blood cells. The resulting concentration is called platelet-rich plasma, or PRP. You've probably read or heard about PRP, because it is can be used to enhance a number of skin rejuvenation procedures. But platelet-rich fibrin matrix is even better – we like to say it's a turbo-boosted version of PRP.
That's because we add one more step to the process. Once we have your platelet-rich plasma, we add a small-but-precise amount of calcium chloride, which converts the fibrinogen in the plasma to fibrin. You might think of this as microscopic "fibers" that give the serum a gel-like substance. This platelet-rich fibrin matrix holds the platelets in place at the injection site and protects them, so they can continue to release growth factors much longer. PRFM works actively for about a week, PRP lasts just one day. That's a significant difference.
PRFM has quickly become a favorite with patients, because treatment sessions are short (typically a half-hour), discomfort is minimal, and there is no downtime.
What can PRFM do for acne scars?
These injections are great for adding volume where the skin is pitted or uneven, to smooth the overall appearance of your face or other treatment area. In this way, the injections act a bit like a dermal filler, but they also release growth factors which stimulate production of new collagen and elastin – the building blocks of new skin cells. As new skin cells are created, they help fill in depressions caused by acne.
To achieve optimal results, Dr. Raval recommends a series of PRFM injections – usually once a month for 3 months, then a renewal injection every 6 to 12 months. Every patient is different, and therefore the effects of PRFM treatment may last longer in one person than another. For some acne scarring patients, Dr. Raval recommends combining PRFM with other skin resurfacing techniques such as microneedling.
Will PRFM work for you?
PRFM treatment is not for patients with active acne, Dr. Raval warns. It is important to treat the acne itself first. Then when it's under control, PRFM can be a valuable next step to reduce scarring as well.
Aging can accentuate the appearance of acne scars because we lose volume in our face as we get older. Dr. Raval says older patients that come to him to get help with acne scars often have other skin issues, too, such as fine lines and wrinkles. Fortunately, PRFM has proven to be a valuable resource in treating those conditions as well.
"The bottom line," says Dr. Raval, "is that we're using the patient's own platelets that are full of growth factors and other chemicals the body uses to help heal injuries. By injecting the PRFM, we can stimulate healing directly where it is needed."
Want to know if platelet-rich fibrin matrix is the best choice to help repair your acne scars? That requires a personal consultation, because every person is unique. So why not schedule a meeting with Dr. Raval to learn more? You can have smoother, better-looking skin.