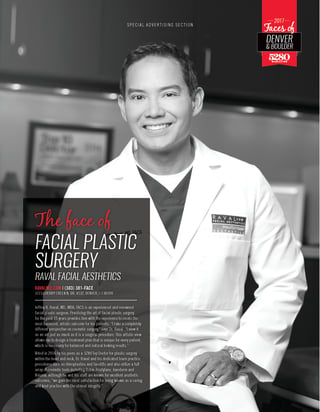 The single most important thing you need to know about choosing any Denver plastic surgeon is that the doctor you pick will have a significant impact on your results. This is true for any type of cosmetic or reconstructive surgery, but especially for facial procedures.
Do not assume all surgeons are equally well-trained or competent. Most patients don't realize that any doctor can legally market himself (or herself) as a "plastic surgeon." Accreditation verifies a physician's medical knowledge, surgical skill, and real-patient experience performing specific types of procedures.


What is plastic surgeon accreditation?
Choosing to become accredited is an additional voluntary step doctors can take to independently confirm their surgical competence.

To earn a certificate of accreditation from a recognized surgical board, a surgeon must complete his or her medical training at an accredited school and also pass extensive oral and written exams that cover general plastic surgery procedures and/or procedures in certain specialized areas.

There are three boards that certify plastic surgeons:

The American Board of Facial Plastic and Reconstructive Surgery (ABFPRS) certifies doctors in plastic surgery of the head, face, and neck – procedures such as rhinoplasty and facelifts.
The American Board of Otolaryngology (ABO) certifies doctors in plastic surgery of the head and neck.
The American Board of Plastic Surgery (ABPS) certifies surgeons in all types of plastic surgery anywhere on the face, neck, or body – procedures from facelifts to butt lifts.
Dr. Jeffrey Raval, MD, MBA, FACS is certified by both the ABFPRS and ABO. The FACS designation indicates he is also a Fellow of the American College of Surgeons. To earn this distinction, surgeons must be board-certified, pass a professional evaluation, and also pledge to uphold the highest ethical and patient safety standards throughout their practice. You can learn more about Dr. Raval here.
One thing you'll notice is that Dr. Raval has extensive experience practicing in the Denver area for more than 15 years, performing plastic surgeries only of the head and neck areas. This is one reason his medical peers have elected him "5280 Top Doc" multiple times.
Many doctors also choose to join medical associations such as the Colorado Medical Society. These are professional "trade" groups, organized to help physicians stay in contact with one another and stay up-to-date on the latest trends, procedures, techniques, and best practices in their specialty or medicine in general.
Membership in a medical society indicates a physician is committed to ongoing education and improvement, but it does not verify his or her competence or experience.
Why does it matter?
You're considering plastic surgery to make aesthetic changes in your face or body and/or surgically correct a problem. You are putting your body, your money, your future health and self-image in the surgeon's hands. Literally. Nothing matters more than that.
Surgical facilities such as hospitals and outpatient surgical centers can – and should – be accredited as well. To become accredited, a facility must meet the highest national standards for operating room safety, equipment, credentials of all surgical and other medical personnel. These facilities have extremely low rates of complications from surgeries, however they are equipped to handle any emergency. Look for a plastic surgeon in Denver who performs surgeries only in accredited facilities.
Find out for yourself
It takes knowledge, skill, talent, and experience to become a top-notch surgeon, and surgeries such as those of the face and neck are particularly intricate. It's up to you to ask about a prospective surgeon's medical training and experience. Double-checking what you read or what they say will give you the necessary confidence and peace of mind to make a wise decision when choosing the surgeon that's right for you.
Every doctor must be licensed by the state in which they practice. So any plastic surgeon in Denver should be listed with the Colorado State Medical Board. You can verify board-certification by visiting the websites of the three certifying bodies mentioned above.
But this is just one step. As important as accreditation is, there are several other factors you should consider when choosing a plastic surgeon in Denver. Once you're assured of their knowledge, skill, and experience, look for proof of quality results, in patient testimonials as well as before-and-after photos. And look for someone who makes you feel comfortable as well as confident. A personal touch shows caring and concern for patients, not just procedures.

To learn more about Dr. Raval's accreditation, his experience and the procedures we offer to our patients in our offices, make sure to click the contact us button below or call 303.381.FACE (3223).