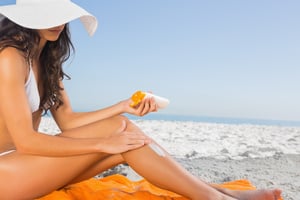 If you're considering laser hair removal, you're in good company. It is one of the most popular non-invasive skin treatment options, among both men and women.
What's so great about laser hair removal?
Instead of spending the rest of your life agonizing over excessive or unwanted hair, you can get rid of it – virtually permanently. Say goodbye to shaving, tweezing, plucking, or waxing. Say help to smooth skin that's free of razor burn, nicks, bumpy red spots, or prickly stubble.
We can target any part of your body – anywhere – from a tiny area to your entire back or chest.
Treatments are fast – anywhere from 5 to 60 minutes depending on the size of the area being treated. In just a few sessions (typically anywhere from 3 to 6), you can be hair-free. If a few random hairs reappear in the future, we can zap them, too. (And, if you simply want to thin excessive hair, laser hair removal is perfect for that, too.)
Treatments are not painful, and the laser technology we use is air-cooled to provide even greater comfort.
There's no downtime.
But beware: not all lasers are the same
Laser technology is a fine science, and researchers are constantly working to expand and improve our treatment options. There are different types of laser tools, specifically designed to address certain skin care needs. For example, here at Rocky Mountain Laser Aesthetics, we might use one type of laser to reduce brown spots and small facial veins, whereas for skin tightening we would recommend a different type.
You may have seen that some spas or clinics offer hair removal services using intense pulsed light (IPL) technology. We do not use IPL for this because it is not effective compared to other options. Our goal is to help you achieve your aesthetic goal in the safest and most effective manner. By understanding how the technology works and the best uses for each type of laser, we can fully customize treatment recommendations for every patient.
There are even different types of lasers specifically designed for hair removal. All use focused light pulses to target hair follicles, but they are not all equally effective. We use a system that combines the two options – Alexandrite and Yag. What does that mean?
Alexandrite is a gemstone that, when used with the laser, produces a long beam of light. The longer beam requires fewer light pulses to do its work, so it is faster and more comfortable. It is safe and effective for a wide range of skin tone and hair color combinations. It is effective for very fine as well as coarse hairs, which can be problematic for other types of lasers.
The Nd:YAG laser uses garnet -- neodymium-doped yttrium aluminum garnet, to be precise, which is why we use the short nickname! This type of laser can "see" subtle pigmentation differences, a significant problem for many lasers. So it is effective even for those with dark skin and hair. Like Alexandrite, the Yag also produces a very long beam.
With this dual wavelength technology, we can achieve the most effective results, and we can treat women and men with any skin type.
The best laser hair removal laser in skilled hands
Using the best equipment for the job will help you get the most from your laser hair removal treatment. Equally important, it is essential to get your treatment from someone who is professionally trained and skilled in using medical grade laser technology. You want the best possible results, but with the least potential risk. In the wrong hands lasers can be dangerous. Here at Raval Facial Aesthetics, we're friendly and have an excellent reputation because we know our stuff.
So if you're ready to get rid of excessive or unwanted hair, let's talk. A personal consultation will help us make the ideal recommendation for you, and it's the first step toward smooth, hair-free skin.