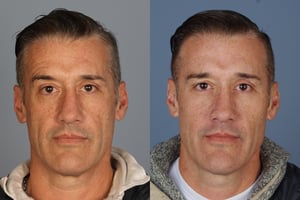 Wh
ile the number of male patients seeking rhinoplasty and facelift procedures continue to rise, men often prefer the more subtle and natural results of non-surgical procedures. Injectables like
Botox
,
Dysport
, and fillers such as
Restylane
,
Juvederm
and
Voluma
, allow men to fight signs of aging with no downtime.
Why They Work (Non-Surgical Procedures for Men)
Botox, Dysport, and fillers treat signs of aging by targeting key areas and symptoms. As we age, the face loses volume and once invisible wrinkles worsen. Botox and Dysport target the forehead and around the eyes where creases develop and stops them from forming by relaxing the muscles below the skin. Filler injections restore youthful volume in key areas like the cheeks and around the mouth and nose.
Trends in Colorado (Non-Surgical Procedures for Men)
Dr. Raval's office has seen a bump in the number of men coming for volume replacement. The increase ironically comes from the high number of highly-active, physically fit nature of the Colorado lifestyle. From training and exercising, men can boast attractively low body fat. Low body fat also means that their thin faces don't have the volume that once gave them a more youthful appearance. Filler injections restore that youthful volume.
There are more reasons that Dr. Raval is seeing a bump in male patients: He is a nationally-recognized leader in facial aesthetics and patient care with frequent specials on fillers like Juvederm and Restylane. Read more about Dr. Raval, non-surgical procedures, and our current specials.