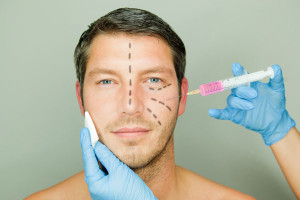 Are men finally figuring out what women knew all along? Appearance really does matter! More and more men are stepping into the world of plastic surgery. What once seemed like a segment of the medical community that was more suited to women, is now quickly becoming a place for men as well. As seen recently in the national media (ABC's Good Morning America & NBC's Today Show), men are looking for ways to look younger that might require going under the knife.
With advancements in plastics procedures, surgeries that used to require a stay in the hospital can now be done on an outpatient basis. With less time needed for recovery, Dr. Raval says this appeals to men who don't want to take a significant amount of time for an elective procedure."We are seeing more facelifts, eyelid surgery, chin work and even Botox in men than ever before," said Jeffrey R. Raval, MD, FACS. "And, men are looking to plastic surgery for a variety of reasons. Increasingly, men are seeking plastic surgery to keep up with a younger wife or to stay relevant and competitive in the workplace." Men are feeling the pressure to keep that aging monster at arm's length because newer, younger versions of themselves are entering the work force every day.
Jeffrey R. Raval, MD, FACS said, "I've treated a lot of men looking for in-office procedures as well, such at Botox and fillers to see subtle, yet undeniably youthful results." Just like women, the trend shows men getting their feet wet with quick "lunchtime" procedures and then moving on the the more substantial surgeries.
Men want to look just as good as women as they age. They're just starting to realize that the same tools are available to them if they choose the cosmetic route.