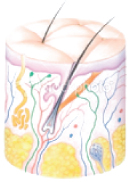 Microdermabrasion is a great way to get healthy looking, glowing skin! It consists of a hand-piece with a diamond particle embedded tip that is combined with a vacuum to rejuvenate the skin. Used with precision to remove the dead outer layer of your skin, it brings smoother, softer skin to the surface. A microdermabrasion treatment is the most trusted gentle, non-invasive skin rejuvenation therapy available today.
Because a microdermabrasion is so gentle, it is an ideal treatment to get on a monthly basis. It truly paves the road to consistently healthy skin. Over time, regular treatments can improve fine lines and wrinkles, age spots, uneven skin texture, enlarged pores & damage from sun exposure.
Raval Facial Aesthetics recognizes the need for skin maintenance. To answer the need for long-term maintenance, they created the Youthful Skin Club. For a low price, they offer the consumer the chance to have monthly skin maintenance treatments. (You can choose a glycol peel or a microdermabrasion treatment with the club.) Their membership plans include one treatment a month - giving you upgrade options and great discounts! Keeping your skin in top condition is vital for maintaining a youthful look. The Youthful Skin Club allows you to stay on top of this process on a monthly basis, and you save money while doing it!