Human skin is quite amazing. For instance, the average adult has approximately 21 square feet of skin and more than 11 miles of blood vessels! It is your body's largest organ and it renews itself every 28 days by shedding dead cells to reveal fresh, new skin. It plays a vital role by detecting temperature, protecting the underlying structures of the body like muscles, bones, and internal organs. Perhaps most incredible is that changes in your skin can indicate health issues, protecting you on a whole different level.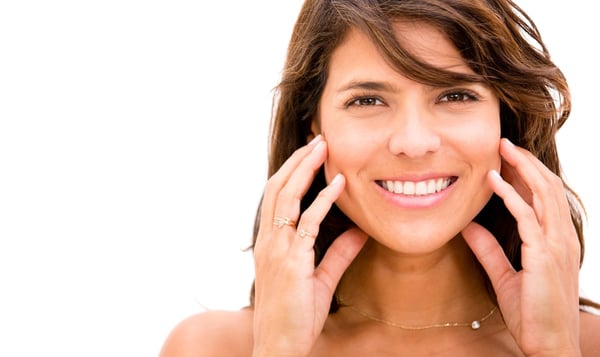 Aside from its impressive biological attributes, your skin is also a very forward facing aspect of your physical appearance, namely the skin on your face. Keeping it healthy and looking youthful is a goal for many people. Genetics, aging and lifestyle are all factors that can cause skin imperfections. Here at Raval Facial Aesthetics, we see a range of patients – from those who want to improve their skincare regimen to those looking for a more intensive treatment. We love to help each unique person navigate the world of skincare. Dr. Raval has created a robust line of skincare products that combine his extensive experience with cosmetic surgery and the best ingredients and technology available. Raval Rx is the perfect choice for clients who are not ready for in-office skin treatments. For those who are, we offer highly effective, minimally invasive options such as microdermabrasion or chemical peels. But first, let's talk about good practices for our own Colorado climate.
Skincare in Colorado
While it is important to take good care of your skin no matter where you live, those of us in Colorado have some unique challenges. The cold, dry winters are tough on the skin. Daily moisturizing is critical and you may find yourself applying creams and lotions all day long in the winter! Changing seasons offer some relief, but our arid desert climate keeps us pretty dry year round. And let's not forget about the blazing sun that we have the pleasure of seeing for more than 300 days a year! One of the greatest things Colorado has to offer is its plentiful sunshine, but that means mindful sunscreen application. You should be wearing SPF on your face every single day. Yes, every day. Colorado's altitude means thinner air, less atmosphere, and more intense sunlight. Even in the winter, SPF on your face is a must. You've seen people back at work after a weekend of skiing, right? The skier's sunburn? Mountaintop sunshine and the reflection off of the snow…bad combination if you forgot your sunscreen!
Skincare Must Dos
Best practices shift as the seasons change, in part because change stresses your skin. This kind of stress happens when the day's temperature fluctuates significantly and when you move back and forth between indoor warmth and the frosty outdoors, but also when summer gives way to winter cold.
Moisturize
Moisturizer for your face and the rest of your body right down to the soles of your feet is essential to healthy skin. You know you need to hydrate your body (also good for the skin), but you also need to provide continuous hydration for your skin. Be sure to moisturize after every hand washing because you're washing away your last application. Your lips and the skin around your eyes is the thinnest – and therefore the most vulnerable. So wearing moisturizing lip balm with SPF 15 or higher is also a must.
Avoid Over-Exfoliation
Use facial exfoliants sparingly. This is a good practice because it helps remove dead skin cells, which allows the pores to absorb nutrients. It refines the top layer of skin, giving you a healthy glow. However, skincare experts suggest once or twice a week is plenty, giving your skin a few days to renew itself in between.
Hydrate
Keep your body moisturized from the inside, too, by drinking plenty of water. This simple step offers multiple health benefits. Among them, it improves your skin's elasticity, which can slow formation of permanent, mobility-related wrinkles such as crow's feet and smoker's lines around the mouth.
Personal Hygiene and Habits
In the cold winter months, a long, piping-hot shower sounds like heaven. Resist that temptation, though, as that hot water will dry out your skin. Cool or lukewarm water is best for healthy skin. You should also be mindful about your shower tools – use a soft brush instead of a washcloth or rough loofah and avoid scrubbing your skin. Pat yourself dry after a shower or bath instead of toweling off vigorously. Moisturize right away, preferably while your body is still damp. Choose fragrance-free (not "unscented"), mild soaps for your face, hands and body.
Don't sit too close to the fireplace or the campfire. Cozy as it feels, the extra heat is extra-drying for your skin.
Indoors, consider using a humidifier to boost your home's humidity level to around 50%
Skip the straw, as this has the same effect as smoking when it comes to producing lines around the mouth.
Eat a healthy diet, especially fresh fruits and veggies high in antioxidants, such as blueberries, pomegranate, cranberries and tomatoes.
Skincare Products – Raval Rx
There are hundreds of skin care products out there, so it's easy to feel overwhelmed. Which are best for you? Dr. Raval has you covered, with the Raval Rx lineup. These products have been developed as a unique combination of the latest medical knowledge, the highest quality clinically-proven ingredients, and Dr. Raval's extensive personal experience with in-office and surgical cosmetic enhancement procedures, all with Colorado's climate in mind.
Essential Night Treatment Cream
Brightens skin tone by inhibiting melanin production and reduces skin irritation and dryness with green tea extract. This cream can be custom-tailored for each patient.
Lightening Serum
Dries quickly and is tolerated well by most skin types. This product does not contain retinoids, steroids or sulfites.
Antioxidant C & E Ferulic Serum
Blends powerful antioxidants with a hydroxyacid, for both short-term and longer-term benefits. This serum enhances collagen production, reduces cell damage caused by free radicals, and helps brighten skin tone.
Gentle Foaming Cleanser
Plant-based and 100% fragrance-free, this cleanser helps reduce redness and remove excess oils while maintaining the skin's natural hydration.
Intense Moisture Cream
Restores the skin's moisture barrier to reduce the dry, flaky appearance that can follow microdermabrasion, lighter chemical peels or other non-ablative treatments. It contains no fragrance or steroids.
Mattifying Face Lotion
Formulated for blemish-prone or combination skin. It contains no oils, fragrance or paraben, and will not block pores.
B5 Hydrating Complex
Moisturizes and reduces signs of sun-related aging. It can be worn alone as a light moisturizer, or underneath makeup, sunscreen or another moisturizer.
Essential Eye Cream
Soothes and firms delicate skin in the eye area.
Skincare Consistency
You may be naturally inclined to buy and use everything you can find to keep your skin looking its best. Or you may be more of a minimalist. Either way, we hope you've learned a few new habits to add to your skin care repertoire. Focusing on these best practices will help you develop a skin care regimen tailored for our Colorado climate and your skin type.
If Raval Rx piques your interest learn more and schedule a consultation to create a plan tailored to your own unique skin.
Minimally Invasive Skin Treatments
A lot of patients that we see at Raval Facial Aesthetics are not after dramatic and instantly noticeable change. They want more subtle improvement and/or prevention that looks entirely natural. Our skilled medical aestheticians perform an array of corrective treatments to keep you looking your best and brightest. Let's have a look at some of the most popular treatments.
Intense Pulsed Light (IPL)
This is sometimes called photo rejuvenation because the laser is light-based. It applies quick bursts of high-intensity light to sub-surface skin layers, which stimulates natural growth of new collagen. These fibers strengthen the skin, helping diminish the appearance of lines and wrinkles. The IPL device has a sapphire tip that keeps the skin's surface cool and safe during the procedure.
Microneedling
During this procedure, very fine needles prick the surface of your skin. Nonetheless, we include it here for two reasons. Microneedling is not uncomfortable because Dr. Raval's team first applies a numbing cream to your face. And this treatment option is an excellent choice to boost your skin's overall appearance and also refine certain imperfections such as acne scars. So microneedling can be an excellent alternative to some of the truly non-invasive treatments we offer.
Chemical Peels
Chemical peels use natural acids to dry your skin's surface cells and then peel them away, revealing fresh new skin. Here at Rocky Mountain Laser Aesthetics, we offer three types of chemical peels – glycolic, TCA, and min-mélange – plus a Triple Peel option that combines all three. Our less-is-more philosophy really comes into play here. We use chemical peels only to produce light to moderate results and avoid addressing more sever skin issues with chemical peels.
Microdermabrasion
This treatment painlessly exfoliates the skin on your face or other areas of the body. It cleanses your pores and helps correct sun damage, age spots, and uneven skin tone.
We offer many more options – to learn more, visit our Skin Rejuvenation page.
Skin Treatment Maintenance
Most minimally-invasive treatments produce some visible improvement after just one session, but they are deliberately designed to provide less intense, gradual results. This is great, because it allows us to precisely tailor the procedure for each patient. Keep in mind that it does take more than one session to achieve the desired goal. The actual number depends on the type of imperfection(s) you want to address, the severity, and the traits of your own skin.
IPL: treatments are offered singularly as well as in a series of 3. We recommend a series in order to achieve optimal results. The series includes 20% off of Raval Essential Night Cream with retin A and hydroquinone, which pretreats the skin for an overall better and safer result.
Microneedling: treatments are offered in a series of 3. Most patients will get either 3 or 6 initial monthly treatments. If treatments are done in series, you will have stronger results that continue to produce collagen at a rapid rate.
Chemical Peels and Microdermabrasion: monthly appointments are recommended. Learn about the Youthful Skin Club, which allows our patients to receive microdermabrasion or a chemical peel each month. When done regularly, your skin consistently sheds the top layer of skin, leaving a fresh glow behind.
With non-invasive and minimally-invasive alternatives to surgery, the therapeutic value is not permanent. Results may last a few months, or they may last several years, but maintenance is necessary to retain the smoother, younger, or more vibrant look you originally achieved. Stay on top of that regular skin maintenance and you'll be pleased with your young, vibrant look for years to come.
ARE YOU Ready to take control of your skincare routine?