It seems like everywhere you look, there are young beauties with full, lush, long eyelashes. When you see them on magazine covers and all over social media, it can create the impression that it takes a team of professionals to achieve that look. And who doesn't want long, dark, visibly lush eyelashes? Most women want lashes like that because they are not only eye-catching (so to speak), they actually make you look younger! Sure, you could put on coat after coat after coat of mascara to try and achieve that look, but ultimately you'll just end up with a lumpy, clumpy mess. Not pretty. Don't worry, those gorgeous lashes are not out of reach for you! Let's talk about some options for eyelash improvements.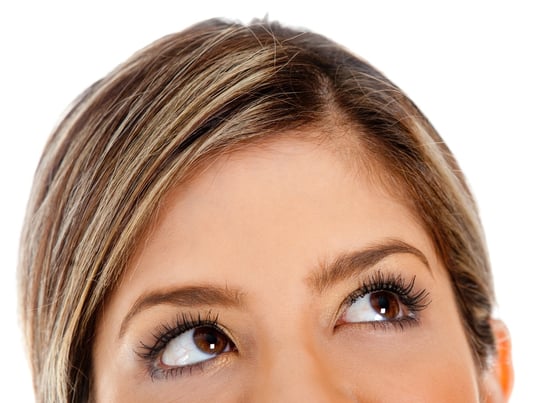 Lash Extensions are Tempting
Extensions look lush, dark and full – definitely the result you want. And they are semi-permanent, lasting around 6-8 weeks before they must be replaced. This is great, right? Well, maybe not. Lash extensions require ongoing professional maintenance even before replacement is needed, and they require careful daily attention at home to protect both the lashes and your eyes. You can't rub your eyes, it's recommended that you sleep on your back or wear an eye mask, you can't use just any makeup or makeup remover, but you do have to use a special lash cleanser. The initial application and upkeep can really add up in terms of cost.
Furthermore, especially if they are not applied perfectly or the wrong adhesive is used, lash extensions can cause stinging, redness or itching. The American Academy of Ophthalmology says extensions can also cause swelling, temporary (or permanent) loss of natural lashes, irritation of the eyelids or infections of the eyelid or cornea.
Fortunately, there is an alternative: Latisse
What is Latisse?
Latisse is a serum you apply to the lash line on your upper eyelid once a day. Interestingly, it was discovered by accident. When glaucoma patients reported their eyelashes growing longer and fuller, scientists took notice! They discovered that the bimatoprost ophthalmic solution in the glaucoma drops was the secret ingredient to eyelash growth. So they got FDA approval for cosmetic use of the medical eye drops. Bimatoprost makes your eyelashes more noticeable by prompting hair follicles to grow more eyelashes that are longer, thicker, and darker.
It is important to use Latisse as directed. Be sure to use a clean brush each time and don't allow excess liquid to seep into your eye. With regular, daily use, you should start to see noticeable improvement at about 8 weeks, with full results after about 16 weeks. Once your desired lashes have come in, upkeep only requires use of Latisse 2-3 times a week. If you stop using Latisse, your eyelashes will gradually return to their previous appearance.
As with any medication, Latisse does have a few reported side effects. Red, itchy, irritated or discolored skin around the eye can occur, but these effects are typically reversible. You may have read that using Latisse can result in pigmentation changes if you have light-colored eyes (especially green). These changes can be permanent – however, they have never been reported in clinical studies. If you try Latisse and experience any of the side effects, you can discontinue use of the product.
Latisse Lets You Get on with Your Life, Comfortably
Several of our own team members use Latisse and they love it! Here is what our own Brooke Sullivan had to say:
"I have been using Latisse for at least 10 years, and it is a great product,
and really works well! It truly lengthens the lashes, and even makes them thicker.
The product is easy to apply at night before bed. I have blue eyes and have never
experienced any side effects. After the initial 4 months of daily use,
you apply a maintenance application 4 times per week, making this product reasonable to purchase.
For me using Latisse is much safer for my natural lashes than lash extensions.
I will continue to use Latisse, and highly recommend anyone try it."
Brooke is our Patient Care Coordinator, a Medical Assistant and Aesthetic Injector, so her testimonial really holds water!
Almost anyone is a good candidate for Latisse. However, because patient safety is always our top priority at Raval Facial Aesthetics and because Latisse requires a prescription, the first step is a personal consultation with Dr. Jeffrey Raval or one of our talented aestheticians. Once we determine this lash-building treatment is suitable for you, you can get started growing the lashes you've always wanted.