Many say wrinkles are a sign of wisdom and maturity. Smile lines and crow's feet signify a life lived happily. While that may be the case, it's difficult to escape social and cultural demands that we all retain a youthful appearance that begins with the face. Unfortunately, the face is where we tend to see wrinkles appear first!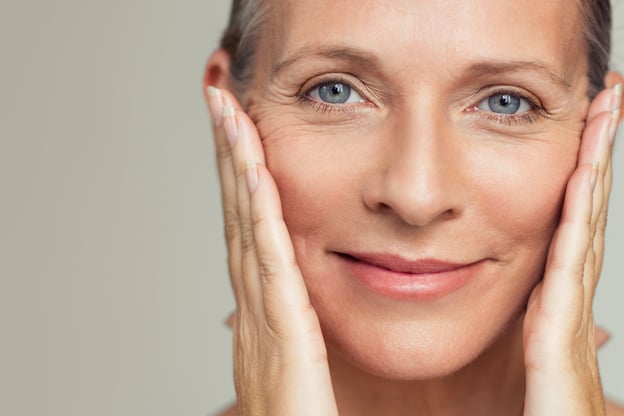 So what are wrinkles, really? As part of the natural aging process, skin gets thinner, drier, and less elastic. Each time a particular facial muscle is used, a groove forms under the surface of the skin. A young person's skin springs back. Not so fortunate are the mature among us. With time, springing back becomes harder and more permanent grooves form. Excessive sun exposure and smoking cigarettes will bring on the wrinkles even earlier in life.
The aging process can be beautiful as we grow older, wiser, and more at peace with ourselves and the world around us. The wonderful thing about today's technology, though, is that if you like, you can utilize it to achieve a more youthful appearance. Let's look at the different options to reduce the appearance of wrinkles.
Wrinkle Treatments Vary
What kind of treatments exist for wrinkles? There are many products that promise glorious results, so be careful not to get sucked down a Google rabbit hole looking at creams and masks and moisturizers. If you're looking for a non-invasive way to address wrinkles, look for vitamin A acid, an ingredient in prescription creams. It has a long history of success in reducing fine lines. Other common ingredients like alpha-hydroxy acids and antioxidants produce subtle results, if any. Slightly invasive procedures like chemical peels, microdermabrasion, and Botox or fillers have provided results for many patients. Laser resurfacing has been a successful option for many people as well. Let's take a closer look at those techniques.
Think of laser resurfacing as simply heating the water molecules within the collagen layer of the skin to trick it into a healing phase. This triggers extensive repair and collagen production and after a period of recovery, skin will typically appear firmer, tighter, and more youthful with fewer wrinkles.
There are several specific laser treatments for wrinkles to consider:
ProFractional laser treatment is an incredibly precise tool used to target just a fraction of the skin. It creates tiny wounds to trigger the body's natural healing response. New collagen is produced and skin looks fresher and smoother. Most patients undergo about four treatment sessions with this technique.
---
A Microlaser Peel is a gentler and more affordable alternative to a chemical peel. This laser will "scrape" away dead or damaged surface cells to stimulate new collagen growth. You will see immediate results with this technique because it works only on the surface.
---
Triple Peel (IPL + Profractional + Microlaser Peel) This is a service you'll only find at Raval Facial Aesthetics. This treatment is very specifically tailored to each patient and combines the benefits of each technique for incredible results with little downtime for recovery.
Is Laser Treatment Right for You?
You may be wondering who gets these laser treatments and why - and are you a good candidate? Remember that these laser skin resurfacing techniques are meant to produce noticeable but not dramatic results. If you have fine lines around your eyes, mouth, or forehead, you might be a good candidate. Most people need 3-4 treatments and maintenance every 3-152 months, depending on your goals. We will gather a thorough medical history from you and address any and all concerns you may have. Together we can decide if laser skin resurfacing is the right option for you.
Risks Associated with Laser Skin Resurfacing
As with any medical procedure, there are certain risks to consider when thinking about laser treatment for wrinkles. Pain, swelling, bleeding, scarring, crusting, and discoloration are all possible. Recovery time is usually short, about 1-2 weeks, depending on the treatment you choose, during which time you will need to stay out of the sun. We will discuss all possible risks and side effects with you.
Is it Worth it?
Let's talk results. Again, these laser treatments for wrinkles are designed for subtle changes that are noticeable, but not incredibly dramatic. While some patients will require more than one session to address wrinkles, others will see results after one. The wonderful thing about laser resurfacing for wrinkles is that once complete, they produce long-lasting results, with just a bit of maintenance.