It's the kind of thing that will stop you in your tracks as you casually pass by a mirror. Is that a wrinkle?! We've all been there and we've all lamented the unavoidable passage of time and pull of gravity. Our skin gets a little looser, a bit more droopy. Why, oh why does this happen? Over time, our skin loses its elasticity and produces less collagen. This means we start to see hollows in our cheeks and under our eyes. We start to miss our plump, tight skin and soon enough, we can map out every single wrinkle that has snaked its way across our face. Luckily for us, we live in a time that has perfected Laser Skin Resurfacing to help us face these annoyances head on.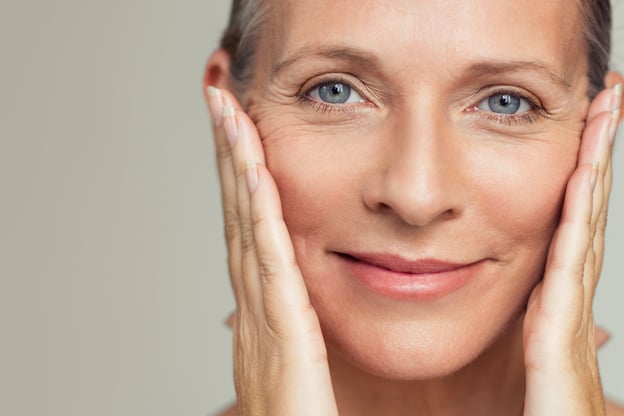 How Does Laser Skin Resurfacing Work?
There are two methods of resurfacing:
Ablative Laser - this method uses a wounding laser that destroys the outer layer of skin and heats the underlayer. To heal itself, the body initiates the production of collagen and elastin. These newly grown skin cells make the face appear more smooth, tight, and vibrant.
Nonablative Laser - a less invasive method, this non-wounding laser also stimulates collagen growth, but with no intentional damage to the outer layer of skin.
Both ablative and nonablative laser treatments utilize a fractional laser. This type of laser leaves microscopic columns of tissue untreated within the target area. This shortens recovery times and reduces the risk of side effects like infections.
Raval IPL Treatment Intense Pulsed Light (IPL)
IPL is a gentler type of laser procedure that delivers short bursts of high-intensity light below the skin's surface. Because the light is broad-spectrum, we can use IPL to treat multiple skin issues. In addition to treating wrinkles, it is especially effective at correcting dark spots and reducing redness and pore size.
ProFractional Laser Treatments
ProFractional treatments can significantly improve overall skin tone and texture by reducing the appearance of lines, wrinkles, scars, and other imperfections. ProFractional is different in that the laser delivers thousands of micro-beams, but only to a fraction of the skin within the treatment area. That triggers the unaffected surrounding cells to produce new collagen which helps produce smoother, younger-looking skin.
Raval Microlaser Peel
Microlaser peel is a great choice if you want to correct fine lines or wrinkles but cannot afford much time. This laser is so precise, it delivers beautifully consistent results across the treatment area with virtually no discomfort. Treatment is quick and results are immediate. Microlaser peel is effective for refining scars as well as resurfacing skin.
Triple Peel (IPL + ProFractional + Microlaser Peel)
This one does it all. We often recommend a combination of laser treatments to help patients get the best results possible. However, we also offer the ultimate combination – our Triple Peel – that includes all three treatment types. The entire three-step procedure takes just one session, with minimal downtime.
Is Laser Skin Resurfacing Right For Me?
This question is best addressed with your doctor directly. Everyone's skin is unique and will lead to a unique treatment plan. Your medical history as well as details about your motivation and expectations for a laser treatment will all affect your outcome. Be open and honest with your doctor so that your treatment plan will accurately reflect your goals. You should also be well aware of the risks and benefits of any treatment you choose. This will help you achieve results in the time frame that is right for you as well as prepare you for any recovery time that might be required.
Risks & Benefits of Laser Skin Resurfacing
Laser technology is versatile and treatment sessions are very short. Different types of laser skin treatments can address deep or superficial resurfacing goals to:
Plump or tighten skin
Smooth fine lines and wrinkles
Reduce brown or red age spots
Minimize acne scars
Remove unwanted hair
Improve overall skin tone and texture
Risks are minimal when using laser skin treatments to address fine lines and wrinkles. Recovery time tends to be short, but you should be aware of these possible side effects:
Redness or swelling at treatment site
Itching
Acne breakouts
Infection
Changes in skin color
Scarring
Results of Laser Skin Treatments
Laser skin resurfacing is effective at helping clients achieve a rejuvenated, vibrant appearance. Following ablative laser treatments, the skin is likely to be red or pink for several weeks, even months. As it begins to heal, you will see improvements in your skin that will last for years to come. Non-ablative treatments will provide a more gradual and progressive improvement. In order to maintain your new results, whether from an ablative or nonablative laser, you will want to avoid sun exposure and be sure to use high quality skin care products.
Next Steps
Ready to find out if Laser Skin Resurfacing is the way to go? Please give us a call or click here to schedule your consultation.