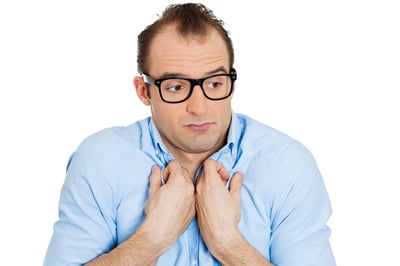 Men are catching on fast to the benefits of professional skin rejuvenation treatments. One of the most frustration skin "conditions" for men is hair – too much hair. Sometimes you want it all gone, sometimes you may want just a bit of thinning. When it comes to your back, though, most men want all or nothing! Whatever your preference, laser hair removal may be a great option for you to get the results you want, virtually permanently.
There's no way you can shave your back, or conveniently attempt to apply depilatory creams. And no matter how much of a tough-guy you are, waxing hurts like mad, and you have to keep doing it. It's a hassle, and the costs adds up seriously over time.
Back Hair Laser hair Removal to the Rescue
This procedure can keep you sports-ready, make wearing shirts a lot more comfortable, and give your self-image a lift so you feel more confident when you take off that shirt.
It's fast. We can treat your entire back in about an hour, which makes scheduling very convenient. (And, by the way, if you have only a few random hairs or small hairy areas on your back, we can treat those in just a few seconds or minutes.) However, you will need more than one treatment session to achieve overall results.
Laser hair removal works by targeting pigment in hair follicles with an intense beam of light. The pigment absorbs the light, killing the follicle so it no longer produces new hairs. But hair grows in cycles, and the laser only works on active follicles. With multiple sessions (usually 3-7), we can get maximum coverage. We like to say that laser hair removal is permanent, but you may eventually see an errant hair grow back. If that happens, we can quickly remove it.
It's safe and effective. That said, lasers don't work equally well on all skin colors and types. However, the technology has evolved tremendously in recent years. So even though we still caution potential patients that the procedure works best if you have fair skin and dark hair, don't let that dissuade you from checking it out.
There's no downtime. After your treatment session, you can go back to whatever you were doing. We do recommend avoiding strenuous exercise for about 24 hours, to give your skin a chance to rest.
Back Hair Removal Results Depend on Your Provider
Although you may see laser treatments advertised at salons or spas, the truth is that these should be considered medical procedures. Lasers are sophisticated tools, and in the wrong hands they can be dangerous. Here at Rocky Mountain Laser Aesthetics, our paramedical aestheticians are highly trained and experienced. They work with, and under the direction of, Dr. Jeffrey Raval – owner of Raval Facial Aesthetics and a well-known and respected facial plastic surgeon.
Safety is our #1 goal, and it should be yours, too.
Are You a Good Candidate for Back Hair Laser Hair Removal?
A personal consultation with Dr. Raval or one of our paramedical aestheticians enables us to see your situation up close – not only your specific skin tone and hair color, but your back and hair. We can discuss one-on-one what you want to accomplish, along with aspects of your medical history that might affect your response to laser treatments. If it looks like a go for you, we will do a small test, to confirm your likely results.
Once that's done, you can schedule your first appointment and get ready to say goodbye to that pesky back hair forever. Well, almost forever.