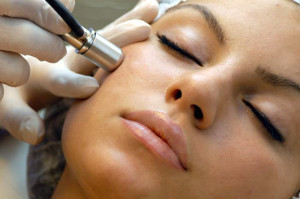 You see the dentist every 6 months. You see your gynecologist every year. You might even get your nails done every week. But what about your skin? It is vital to have regular maintenance on your skin in order to keep it looking youthful and fresh.
We would suggest that a monthly microdermabrasion or chemical peel is one of the best ways to keep your skin in tip top shape. Microdermabrasion uses a directed stream of micro-crystals combined with a vacuum to rejuvenate the skin and take off the dead layers of skin. It can remove age spots, fine lines around the eyes, lips and neck as well as remove blackheads and whiteheads, lessen the appearance of acne scars and improve the appearance of your skin right before your eyes.
A chemical peel does much the same thing. It is used to improve and smooth the texture of the facial skin using a chemical solution that causes the dead skin to slough off. The regenerated skin is usually smoother and less wrinkled and even helps with discoloration.
We have developed a program called the Youthful Skin Club that allows our patients to get a microdermabrasion or chemical peel every single month in order to stay on top of the aging process. When done regularly, your skin consistently sheds the top layer of skin, leaving a fresh glow behind. Think about it! Treat your skin like you would your teeth or your toes. Stay on top of that regular skin maintenance .