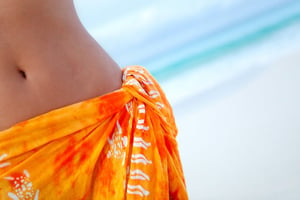 The bikini line is often the most difficult area to keep maintained, especially during swimsuit season. Getting laser hair removal treatments can help limit that maintenance and keep your skin looking smooth and flawless no matter how itsy-bitsy your bikini. Most women don't know that there are actually a few different options for laser hair removal of the bikini line. What style of hair removal are there? Which one is the best fit for you? It all depends on your personal hygiene preferences as well as how revealing your swimwear will be.
Different bikini line laser hair removal options:
Regular - bikini is the least extensive, removing only hair that might not be covered by a classic-style bikini bottom. Think tidying up your panty line. Typically that's the inner thigh, sides of your thighs, and possibly, hair below your belly button.
Brazilian - is the most extensive, removing all the hair in your pubic/genital area, including between the buttocks. This is the most popular technique worldwide, perhaps because it leaves you completely hair-free no matter what underwear or swimwear you choose.
Australian - this bikini line option leaves some hair, sometimes called a "landing strip" but removes all other hair down under, both in the genital area and between the buttocks. The public area is tidied up, of course.
Just say no to waxing with bikini laser hair removal
Waxing is the most common method of achieving bikini hair removal. Warm wax is applied to the unwanted hair, then when it has cooled and hardened, it is peeled off, pulling the hairs out by the roots. The hair grows back in around two to four weeks. You can endure waxing to achieve any of the above bikini looks, but yikes – the pain! And the endless cycle of growing-out and re-waxing.
Laser hair removal is torture-free and virtually permanent. That's not to say there is zero discomfort associated with laser treatments. Most patients say it feels something like being snapped with a rubber band. And, although we usually describe the results as "permanent," it is possible for a few hairs to grow back eventually.
Why start laser hair removal treatment before summer?
It takes more than one treatment session to achieve full coverage with laser hair removal. That's because the laser targets and kills active follicles, and hair grows in cycles. We usually recommend at least five treatment sessions to ensure we are able to treat all the hairs as they are in active growth stage.
Treatments are typically scheduled about a month apart, which is why getting a head start is important to getting to the bikini-ready by summer.
Are you a good candidate for a bikini line laser hair removal?
Lasers use pinpoint beams of intense heat to target hair follicles. It's easiest for the laser to "see" follicles if there is strong contrast between the follicles and surrounding tissue. So lasers work best if you have dark hair and light skin, not well if you have very fair skin and pale color hair. That said, technology advances now give us an array of options and greater control when it comes to laser equipment. So the technique is both safe and effective for people with a wide range of skin tones and hair colors.
Whether laser hair removal is a good option for you depends on many personal factors, including your skin and aesthetic goals. And few skin treatment options are more personal than bikini laser hair removal. Scheduling a private consultation will help you understand the pros and cons in your case, then you can focus on deciding just what bikini style you want.