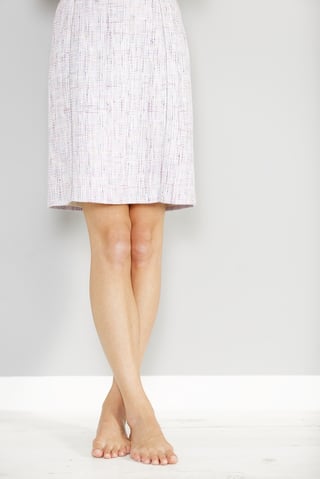 Sick of incessant shaving, painful waxing, and creams that don't work to eliminate excessive or unwanted hair? Of course you are! Laser hair removal can be a major improvement in your quest to achieve naturally smooth skin. Don't be overwhelmed by all the hype, though. This is a serious procedure, so you want to take it seriously.
With that in mind, how should you choose a Denver laser hair removal clinic?
What is a laser?
Understanding the technology behind the treatment makes it clear why training and experience are so critical. In the hands of an inexpert provider, high-tech tools can be dangerous, and you're not likely to see the kind of results you hoped for, either.
Lasers aim a pinpoint beam of light at a specific target area. For hair removal, the target is individual hair follicles – actually the pigment within each follicle. The concentrated light kills the follicle at its root, so the hair does not grow back. Concentrated light produces heat, which can cause burns if the laser is not used properly.
Defining "permanent" when it comes to hair removal
You often hear laser hair removal described as a permanent solution to unwanted or excessive hair. But this is not quite accurate. At Rocky Mountain Laser Aesthetics, we emphasize to patients that this procedure actually produces significant hair reduction.
How much hair reduction will you see, and how long it will last? That depends in large part on the laser itself. There are many types of lasers used for various skin enhancement purposes. Not all are FDA-approved for every type of procedure, and not all produce the same quality results. The technology we use at our clinic operates very gently, yet it delivers the most comprehensive results possible.
So when you're considering which Denver laser hair removal clinic to choose, ask what type of device they use (and why), and ask about who will be treating you. Certainly, you should beware any place that claims they can give you "100%" or "permanent" results.
The nature of hair also affects short-term and long-term results
Laser hair removal is not a one-and-done procedure. Depending on your type of skin and hair and your aesthetic goals, you will need multiple treatments to achieve optimal results. This is because hair goes through both active and dormant growth stages, and the laser can kill only growing hairs.
Follow-up sessions allow targeting of follicles that were dormant previously. Your provider will recommend how long you should wait between treatments. He or she may also recommend future "pick up" sessions to maintain your results.
Do your homework
You've probably already done some research about hair removal, and perhaps about clinics as well. You can talk to family members or friends to get referrals, and look online to find reviews about providers here in the Denver area. Look for medical professionals, not salons. Reviews aren't foolproof, but when you find a doctor or clinic with a lot of very positive reviews, that's certainly a good sign.
Pick two or three that stand out for you, then take a stroll around their website. You can get a feel for the clinic's personality as well as their scope of services. Specifically, you should look for:
The supervising doctor's credentials. For example, are they board-certified in dermatology, plastic or cosmetic surgery? How long have they been in practice? How many laser hair removal procedures have they performed?

The staff's credentials, if a supervised aesthetician performs hair removal treatments. What kind of training and experience do they have? Training is critical, but experience increases skill.
Choosing the right clinic means choosing the right person to perform your laser procedure. The more qualified they are, the lower your risk of injury or other negative side effects, and the greater your opportunity to get truly satisfying hair reduction results.
Ask lots of questions
You cannot get all the information you need to make a confident decision without a face-to-face consultation. Some clinics charge for this, others do not. Either way, you should meet with the doctor or clinician who will actually perform your procedure. They should be very willing to answer all your questions. Your consultation has several goals:
Do you feel comfortable with this person and the clinic's atmosphere?

Trust is key to making the decision that's right for you.

Are you a good candidate for laser hair removal?

Earlier, we noted that lasers work by detecting pigment in hair follicles. Lasers cannot "see" clearly with contract between light and dark. So if you have light skin and dark hair, that's great. If you have tanned skin, or darker tone skin, or pale hair, that's not so great. It may turn out that this procedure isn't worth the investment for you. But don't make any assumptions – this is why you're consulting a professional. Ask how many procedures they have done on people with similar hair color/skin tone to yours.
Even the provider you consult shouldn't assure you that you're a good candidate without doing a "patch test" on your skin. Lasers can affect different people differently, so you can't go by hair and skin color alone. Conducting a small trial will show exactly how your body will respond to the procedure. You'll have to wait a few days after the test to see the results.
During your consultation, be sure to mention any medications you're taking, because certain drugs can also affect results of laser hair removal. Your potential provider needs to be fully informed in order to give you sound advice.
What does the procedure involve?

You can get general information from your own research, but every hair reduction procedure is unique, because each patient is unique. You want to know what

your

procedure will be like, in terms of time commitment, potential pain or discomfort, downtime, post-procedure requirements, and so on. Discuss potential risks and complications, too, so you can make a well-informed decision about hair removal as a procedure.

How much will it cost?

Of course this depends on the extent of hair reduction you're seeking, the number of treatments you'll need, and other factors, so your cost will be different from someone else's. But you should expect a straight answer, and it should be the projected total, so you know what to expect and won't have any financial surprises.
You can compare costs between clinics, but be sure you're comparing total figures for each of them. And remember that your personal safety and top-quality results are far more important than getting the cheapest price. If a clinic tells you they can give you great results with fewer treatment sessions than others recommend, that could be a red flag.
What sets Rocky Mountain Laser Aesthetics apart?
Training. Experience. Professionalism. And a friendly, caring atmosphere. Dr. Jeffrey Raval has received numerous professional recognition awards and accolades from patients. Both Raval Facial Aesthetics and Rocky Mountain Laser Aesthetics emphasize the highest safety and ethical standards. That means we put patients first, in every respect.
We invite you to learn more about laser hair reduction at RMLA.