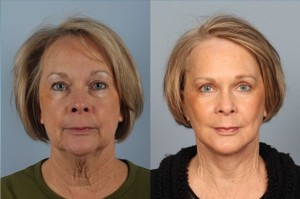 While, for years, Dr. Raval has prescribed Celebrex (Celecoxib) to help with post-facelift pain as a way of using fewer opioid narcotics, researchers are coming to agree with Dr. Raval. The recent findings of the study which reviewed the medical records of 100 facelift patients, 50 who used Celebrex and 50 who did not, shows that post-operative pain was diminished and thus the need for opioid medication was reduced for Celebrex users. The authors of the study commented that "treatment with [Celebrex] appears to be effective in decreasing acute postoperative pain and opioid consumption in patients undergoing facelift." They show an important reason that patients of Raval Facial Aesthetics are greatly satisfied by their surgical and nonsurgical procedures: exceptional care.
From the perspective of medical cosmetics, one of the more common risks of surgery can be the over-prescription of narcotics used to treat pain and their intense side-effects. Patients may have more or less acute pain than others when it comes to the healing process, but the use of opioids, rather than pre-emptive use of drugs like Celebrex, still presents a danger. Researchers in the study must have been delighted to find considerable evidence for the efficacy of Celebrex as a pre-emptive and post-operative solution. Non-users of Celebrex had much higher instances of nausea and vomiting and more acute pain. Facial plastic surgeons, like Dr. Raval, and the study's authors recommend Celebrex, "Given the well-documented adverse effects of opioids, [Celebrex] is a desirable alternative."
In Dr. Raval's experience, patients who experience less pain post operatively tend to heal more quickly and recover faster than patients who suffer from post-operative pain. Patient care-centered surgeons, like Dr. Raval who directs Raval Facial Aesthetics, can help reduce the risks of acute pain and opioid side effects by prescribing drugs that were developed as a safer alternative to those that can increase pain and dependency. In fact, Dr. Raval prescribes Celebrex for most of his post-operative patients including not only facelifts but mini-facelifts, rhinoplasty (nose jobs) and blepharoplasty surgery (eyelid surgery) as well. Dr. Raval develops a post-operative care course based on each individual patient. He sees patients regularly during the healing process to respond dynamically and strategically to pain, side effects, and symptoms.
You can learn more about his office's approach to excellent patient care by reviewing his surgical procedures, reviewing before-and-after photos andwatching videos of Dr. Raval demonstrating his techniques with satisfied patients. For more information or to schedule an appointment for consultation, call (303) 381-FACE (3223).
SOURCES CONSULTED:
Behrad B. Aynehchi, Eric W. Cerrati, and David B. Rosenberg, "The Efficacy of Oral Celecoxib for Acute Postoperative Pain in Face-lift Surgery," JAMA Facial Plast Surg. 2014, July 10.