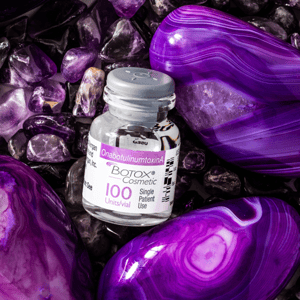 Botox has many beneficial application areas and effects, such as reduced sweating and wrinkles. Men and women are patients and research professionals are steadily finding new consequences to celebrate. In addition to physical improvements, for example, Botox injections may also apply positive mental and emotional effects. Supported by proper research and personal accounts, Dr. Raval shares why a procedure he performs daily might reduce his patients' headaches and improve their mood.
"In my years of practice, I hear similar stories of success from my regular patients," says Dr. Raval, commenting on a trends piece in Harper's
Bazaar
and study results on depression and headache relief
.
The Harper's story explored "a simple way to treat depression" that 47-year-old woman found by deciding to reduce her frown lines. By participating in the Georgetown University study, she and the researchers are not afraid to smile at the results: 52% of the clinically-depressed patients "felt significantly better" after their first Botox injection.
"Even when my patients, like Sarah or those with persistent headaches, just want to look better," says Dr. Raval, comparing these results to a study of headache relief, "they also help themselves feel better." It's true: the study in Cosmetic Dermatology supported Botox treatments even for "purely cosmetic goals" help with chronic headaches.
But why? "Many studies show that regular Botox or Dysport treatments make aesthetic results more effective," he explains, "Seeing, feeling, and maintaining a consistent self-image might naturally maximize moods and sedate stress as well." As patients and professionals discover new ways that Botox or Dysport is an attractive treatment, "It's a question of consistent care," Dr. believes, "The most important thing I can do is provide a safe environment for patients to care for their personal needs."
Dr. Raval envisioned the ClubTOX membership program as a course of care. Patients in its community use it to increase the satisfaction, invest in long-term value, and improve the cost-effectiveness of regular Botox or Dysport treatments. In addition to natural-looking, custom treatments, the ClubTOX community enjoys free, annual laser procedures.
This is one of the ways Dr. Raval's leadership at Raval Facial Aesthetics and Rocky Mountain Laser Aesthetics creates a positive community among individuals actively improving their life and looks. Come visit by scheduling an appointment and calling (303) 381-FACE.
SUPPORTING SOURCES:
Liz Kreiger in "A shot at happiness: a simple way to treat depression has been in our face all along," published in Harper's Bazaar on Sep. 17, 2014.
Drs. Goldman et al. in "Evaluation of headache relief with cosmetic onabotulinum toxin A injections," published in the Journal of Cosmetic Dermatology (vol. 13) in 2014.