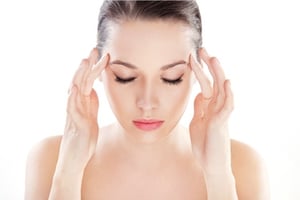 Most patients experience their Botox and Dysport results and procedure in comfort, but first-time patients might not know what to expect. They ask their friends and trusted doctor:
Inner Rejuvenation: Why the Best Botox and Dysport Results Don't Look Fake
Botox and Dysport results require none of the downtime, intensity, or recovery of surgical rejuvenation. With an experienced injector, your youthful appearance improves safely and your facial expressions remain natural. If you are worried about natural-looking improvement, choose a doctor like Dr. Raval who has performed and taught advanced Botox techniques for nearly 15 years.
Results that Grow Younger: How Botox and Dysport Results Improve
Rather than sudden changes, patients notice aesthetic improvement in steps because of how Botox and Dysport work below the skin.
Phases of Rejuvenation

What to Expect from Botox and Dysport Treatments

(1) Relaxation Phase

After the injection…

· You feel muscles relax and block persistent impulses to worsen your aging signs.

(2) Reduction Phase

After 24 to 48 hours…

· You may see noticeable improvement already

After 14 days…

· Maximum effect of steady rejuvenation is usually visible.

(3) Renewal
Phase

For 3 months…

· One-time treatment protects you from unwanted wrinkling.

After 3 months…

· Regular treatments will help protect and enhance your Botox and Dysport results.
Youthful Skin in a Pinch: Why Botox and Dysport Results Don't Have to HurtThe most important phase of non-surgical rejuvenation is to schedule recurring appointments. Through regular treatment, research shows Botox and Dysport results in improved youthful elasticity and pliability. Your skin will look and feel younger.
Each patient and procedure is distinct, but Dr. Raval, creator of the ClubTOX membership, has noticed a trend across the hundreds of patients that trust his Botox and Dysport treatments: it's gentle.
His technology, formula, and experience help reduce any slight pain a patient would normally feel. Using a hyper-thin, precision needle to shrink the "sting" of injection, Dr. Raval delivers a concentrated formula to give patients the same units and results. With nearly 15 years of procedural experience giving patients the best Botox and Dysport results, Dr. Raval has developed a patient-centered treatment to:
reduce patient discomfort,
cut unnecessary volume, and
minimize possible complications.
Watch Dr. Raval demonstrate his pain-reduced Botox and Dysport treatment in target areas for facial aging signs.
Each week, Dr. Raval will answer the most common Botox questions as part of his forthcoming TOX Top 10 white paper for patients. Next, he will outline the Botox and Dysport treatment timeline, answering what patients wonder: "How long will treatment take?" Sign up to receive the patient newsletter, so you can receive post reminders and exclusive specials.