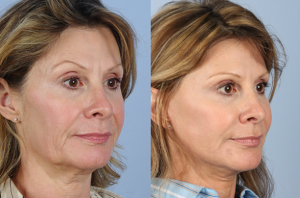 The Combo Lift is an innovative facial treatment that is designed to address some of the most common aging concerns: as the years pass, gravity slowly starts to take its toll on your body skin and on your face by pulling it down. This is where the Combo Lift steps in and restores the youthful appearance of your face by simply lifting it back up and restoring the volume of your face. Like the name suggests, the Combo Lift is basically a combined facial lifting: during this cosmetic procedure, the face is lifted up and at the same time, the plastic surgeon adds extra volume to certain parts of the face (such as the cheeks) to make it look fuller and younger. Gravity and aging cause loss of volume as well, and this is why this procedure involves the use of injectable fillers.
One of the main benefits of this revolutionary type of facelift is that the final result is very natural: it often happened that patients who underwent a facial lift ended up with unnatural results, and this is exactly what the Combo Lift is designed to prevent. Additional benefits include less downtime, pain and bruising, mainly due to the fact that the Combo Lift involves less lifting and more filling, unlike it happens with most facial lifts nowadays.
The filling part of the procedure is minimally invasive and it can be done within minutes, as it involves cleaning the part that is about to be treated and then injecting a filler that can last up to 12 to 18 months, depending on certain factors. In addition to this, the results of the filler are instant and they can be visible right after the procedure is completed. The area that is about to be treated is temporarily numbed in order to minimize the discomfort.