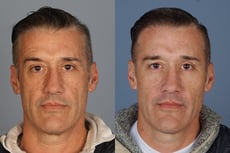 "My experience tells me that a man's decision to utilize Botox or Dysport is a strong combination of competition, fitness, and economics." Board-certified surgeon, MBA, and nationally-recognized Medical Director, Dr. Raval predicts the number of men who take advantage of services non-surgical procedures will continue to grow aggressively. "In a society of global competition," observes Dr. Raval, "I'm not surprised that men build up 10% of the 2.8 million Botox procedures last year." As the #1 Non-Surgical Procedure for men in his leading practice, Dr. Raval understands what motivates the men in the market.
Men play the field."For my success-minded male patients," Dr. Raval observes, "Botox is simply an investment opportunity—not a quick-fix for insecurities." National ASPS statistics fall in-line with Dr. Raval's view: Nearly 50% of men using Botox in 2013 were 35 to 50 years old, a mature age of security and reason. Probably not buying into stereotypes, insecurities, or flashy results, men use Botox to get ahead in a competitive society that values an image of social and economic status. "My patients want subtlety and realism," Dr. Raval continues "and, Botox is a strategy to enhance diet and exercise regimens."
Men are active, not reactive. Highly-active men, especially in Colorado, train for endurance, strength, and low body fat. As a consequence, facial volume loss from low body fat and sun exposure can worsen and increase wrinkles. "Men want to minimize risk," explains Dr. Raval, "and visible aging and tired looks threaten the appearance of their true vitality and energy." Youthful confidence and well-managed image help men to a competitive edge in romantic as well as professional ventures. Botox is not an easy way out, but rather a way to promote and protect their success in exercise, social engagement, and professionalism.
Men consider consequences and commitment. While defending their appearance from risks of aging, Dr. Raval thinks men choose Botox (or Dysport) from economic consideration of cost, benefit, and commitment. Men like Todd White, a real estate executive featured in Business Week, use Botox on a tight schedule—often monthly—for maximum benefit. Dr. Raval has innovated the ClubTOX membership program to improve his patients' high-rate of result satisfaction, to protect patients' from unreasonable changes in price, and to give complimentary laser treatments annually. (Laser treatments, like hair removal, are a close second in men's choice.) For men who want to give Botox a shot first, the procedure is not a long-term commitment: it's no-downtime, natural results lasting up to 6 months.
As owner and Medical Director of both Raval Facial Aesthetics and Rocky Mountain Laser, Dr. Raval is in a unique position to give men access to a suite of services at a single location. To learn more about our VIP memberships and non-surgical treatments, like Botox, Dysport and laser hair removal, call (303) 381-FACE.