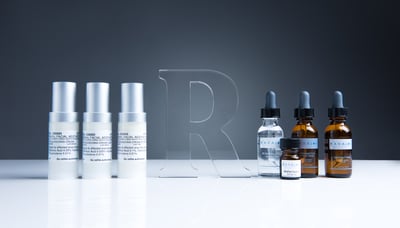 Our clients at Rocky Mountain Laser Aesthetics often ask us for recommendations. After all, that's what a consultation is for – our knowledgeable staff can help you choose the product or procedure that's exactly right for you. Occasionally, someone asks for the ultimate recommendation – what procedures or products do we use ourselves to keep our skin looking fresh and healthy?
So we thought it would be fun to ask each of our RMLA staffers to let us in on their personal secrets.
Secret no longer, here are their top picks:
All of our RMLA employees use Botox. Here's what Brooke Sullivan has to say: "Within a few days after treatment, my skin appears smoother. What I love most about the results is that my wrinkling is less, but I still have expression. The results are always so natural looking, no one would guess I have had Botox!"
This is what Dr. Raval calls "preventive maintenance" – small, incremental tweaks that keep you looking your best undetectably, instead of major overhauls that are much more obvious (and more extensive in terms of recovery time, etc.).
All of our staff take advantage of this procedure, too. Amy Raval says, "Laser hair removal is one of my favorite services that we offer. It has been so nice not having to shave or deal with razor burn and ingrown hairs. The procedure is virtually painless and I saw a significant reduction in hair growth after each treatment."
Raval Essential Cream
This is one of the products in our proprietary Raval Rx Skin Care line. Blanca Leos says, "The Raval Essential Cream is my favorite because it works wonders on my melasma!" She's talking about brown patches which can appear on facial skin, often due to sun damage or hormonal changes during pregnancy.
Becky Dennison agrees. She says "keeping my brown spots at bay" is just one reason she loves Raval Essential Cream. "It contains retin-a and hydroquinone, which are great for wrinkles, and it helps with texture."
Available only by prescription, Latisse treats a condition called hypotrichosis that causes inadequate eyelashes. Stephanie Wickliff says, "I couldn't live without my Latisse! Initially I was very nervous about starting to use Latisse because of the risks of my light green eyes becoming flecked with brown pigment. However, after using it religiously for over 3 years now, I can safely say that I haven't noticed any discoloration in my eyes. I constantly get compliments on my luxurious lashes, and am happy not to be wearing mascara everyday anymore."
Skin Protection
As employees of Raval Facial Aesthetics and Rocky Mountain Facial Aesthetics, our staffers know just how important it is to use sunscreen regularly. But of course they each have their favorite product. Here are a few:
Denise Medina picks

Obagi Sunshield Matte

. "My skin is oily and most sunscreens make it worse," she says. "This product dries nicely and doesn't make me shiny. It also helps my makeup to stay on longer."

Amber Muniz says, "My favorite sunscreen is Intellishade matte because it doesn't make my skin look shiny, it has a high SPF, and it's a quick fix to cover some of my skin imperfections."

Jaclyn Prado loves

Elta UV Aero 45

"because it gives me the coverage I need during the summer heat and sun. I don't burn with this sunscreen on and it sprays on."

Davina Medina's favorite product --

EltaMD Clear

-- protects her skin in a different way. "It calms and protects my acne prone skin," she says. "I love that it's oil free and lightweight, so it doubles as a moisturizer."
Now you know our top favorite products and procedures. So let us turn the question around: which one is your favorite?