The nose is the central point of our face, so even small changes to its size or shape can transform your entire facial appearance. No wonder rhinoplasty accounts for 10% of all surgical procedures performed on men and women each year.
There are many ways surgery can reshape your nose and/or give your face a more balanced appearance:
Straighten
Reduce overall size or width
Reduce projection
Smooth a hump or bump, or "fill in" a depression, along the top
Revise a bulbous, pointy, drooping, or upturned tip
Change size or position of nostrils
Elevate the bridge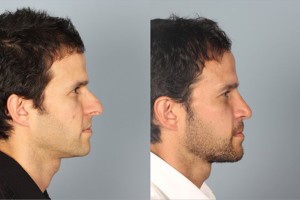 Beyond cosmetics, a "nose job" can also correct breathing problems caused by genetic abnormalities or injury. Nasal valve surgery and septoplasty are procedures that can straighten a deviated septum, remedy a collapsed valve, or fix other interior defects. Both cosmetic and corrective issues can be addressed in a single surgery, if desired. Rhinoplasty can boost your self-image and confidence, and give you a better night's sleep.
Some patients come to Dr. Raval for revision surgery, if they are not happy with results of their previous procedure elsewhere. Redoing a nose job is often more complex, so whether this is the right solution for you is something you should discuss with Dr. Raval in person.
WHAT DOES RHINOPLASTY INVOLVE?
Dr. Raval uses only the latest, most effective techniques in all his surgeries. For rhinoplasty, he uses an "open" procedure, making an incision across the columella (the narrow structure between your nostrils) and then gently lifting the skin to revise nasal bones or cartilage underneath. To change nostril size, he also makes an incision on the outside of each nostril, along the natural crease. Incisions are tiny and should not be noticeable once healing is complete.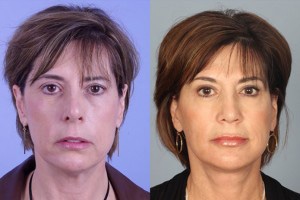 Every surgery is individually tailored to the patient. Cosmetic procedures may require removal of bone or cartilage, or Dr. Raval may use grafts to support a change in shape or increased size. If needed, grafts are made from your own cartilage, usually taken from your septum.
Reconstructive surgery often involves straightening your nose, since the most common problem is a deviated septum. However, if your breathing is impaired by tiny projections inside your airways, Dr. Raval will remove or reduce them.
Once the corrective procedure is complete. Dr. Raval will carefully reset your skin and close the incisions. Nasal surgery is an outpatient procedure, so there is no hospital stay involved. You'll be able to go home about an hour to an hour and a half after your surgery, though someone else will have to drive you.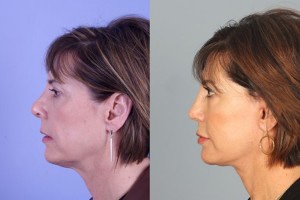 There are some risks associated with rhinoplasty, just as there are with any surgery. The most common are:
Unsatisfactory results. This often comes from unrealistic expectations. Remember, no nose can ever be "perfect," but you can still achieve significantly positive changes.
Internal scarring that interferes with air passage. Dr. Raval uses post-operative splints to minimize this risk.
Infection. This is rare, and the risk is further minimized because Dr. Raval always performs procedures in an accredited surgical center to ensure the greatest possible patient safety.
RECOVERY & DOWNTIME
The smoothest, quickest recovery starts by following your pre-surgery instructions, because good health enables your body to heal faster. Exercise is highly recommended. And if you smoke, you'll have to quit at least two weeks in advance, and remain smoke-free following your surgery, too.
At first after your surgery, you will have stents inside your nostrils and a cast over the bridge of your nose. Dr. Raval will remove these a week later, and you'll get your first peek at your new nose. It won't look much like the final result, though. You can expect swelling and bruising for 2-4 weeks, and a bit of residual swelling may last several months. Nonetheless, you'll be able to resume work and other daily activities within a couple of weeks. Maybe even sooner.
This infographic explains the steps of rhinoplasty recovery in greater detail.
WHAT ABOUT RESULTS?
Whether your goal is visible change, better breathing, or both, realistic expectations are the key to a happy outcome. The perfect nose doesn't exist. That's just as well, because it wouldn't look good on every person's face. Faces come in a wide range of sizes and structures, and not one of them is perfectly symmetrical.
But you can still make changes, large or small, to achieve a nose that you like better. Because we're all different, your results won't be exactly like someone else's, but you can get a good idea of the possibilities by checking out before and after photos of some of our past Raval Facial Aesthetics and ENT patients. Pay particular attention to photos of people similar in age to you, with similar pre-surgery concerns.
And speaking of age, our faces continue to evolve throughout our lives. So even though your surgical alterations will be permanent, your face will still age along with the rest of your body.
RHINOPLASTY COST
Because every surgery is patient-specific, costs can vary depending on the details. The cost of a primary rhinoplasty at Raval Facial Aesthetics and ENT includes fees for the surgical facility, medical tests, surgeon and anesthesiologist, and post-surgery medications. You will be given detailed cost information before making your final decision to have surgery.
Do note that health insurance does not typically cover cosmetic surgery. However, if you are having reconstructive surgery, that may be covered. If you're having both cosmetic and corrective work done, your insurance may cover part of the cost. We strongly recommend you speak directly to your insurance carrier in advance, to clarify your personal coverage.
IS RHINOPLASTY RIGHT FOR YOU?
If you'd like to change the appearance of your nose, or you're bothered by breathing problems, rhinoplasty could change your life. You're a good candidate if you're in good health, a non-smoker and old enough that your face has stopped growing.
WHY CHOOSE JEFFREY R. RAVAL, MD, MBA, FACS?
Dr. Raval is double board certified, as a plastic and reconstructive surgeon and as an ear-nose-throat surgeon. He specializes in rhinoplasty. He is well-known and highly respected nationally as well as around the Denver area where he practices. Knowledge and experience are critical in choosing any surgeon. When it comes to rhinoplasty, however, aesthetic sense is equally critical.
Your face is usually the first thing people see about you. And your nose is front and center. Once you've decided to have rhinoplasty, choosing the right surgeon can literally determine the outcome.
FIND OUT MORE
Why not schedule a personal consultation with Dr. Raval? You can meet him in person and learn more about what rhinoplasty can do for you. This is a chance for you to honestly discuss your aesthetic goals and concerns. Dr. Raval can examine your facial structure and skin as well as your nose, and learn about your medical history. With all that information, he can recommend the best course of action for you. And you'll know if he's the right surgeon for you.