Facelifts continue to be one of the most popular plastic surgery procedures, helping both men and women turn back the clock to rejuvenate their appearance.
Genetics, lifestyle, age, and other factors determine the changes we see in our face and neck over time. Some of us develop crow's feet and laugh lines relatively early. Others develop only fine lines and wrinkles on their face but may have saggy jowls and/or wrinkly neck skin. Many patients choose to have a necklift as well as a facelift.
Facelift surgery, called rhytidectomy, addresses only the lower third of the face and, sometimes, the neck. There are separate surgical procedures that remedy signs of aging around the eyes or on the brow.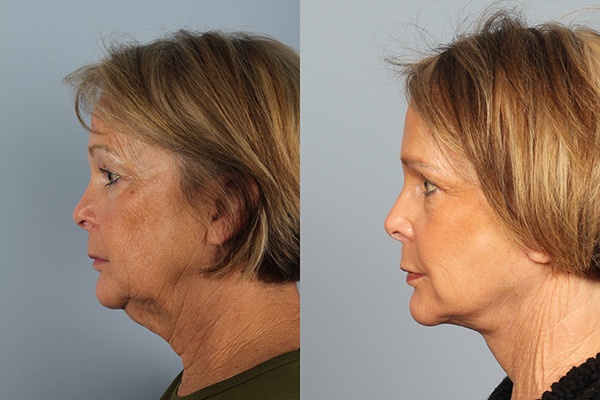 Dr. Jeffrey Raval believes in "real people" results, so his philosophy is less is more. He uses the latest modern facelift techniques to create fresh, more youthful, and – most importantly – natural looking results. The old-style "caught in a wind tunnel" look is a thing of the past. In fact, Dr. Raval uses three different facelift and necklift procedures, or sometimes a combination, depending on each patient's skin condition and desired aesthetic goals.Choosing to get a facelift or necklift is a big decision. These are surgical procedures, so results are more dramatic than changes you can achieve with a non- or minimally-invasive procedure. However, the cost is also higher, there are increased risks, and it takes longer to recover.
THREE SURGICAL OPTIONS
In traditional facelifts, the skin was drawn straight back from the face, which caused the telltale "windblown" look. The reason modern techniques look far more natural is that sagging skin is drawn slightly upward as it's tightened. This counteracts the visible effects of gravity, which pulls skin downward as we age.
Each of the three facelift procedures we offer at Raval Facial Aesthetics is designed to rejuvenate your appearance in a different way:
The mini-lift is the quickest and most modest procedure. It aims to smooth the jowl and jawline area. If you're in your 40s or early 50s and are starting to see jowls, a mini-lift can perk up your jawline – subtly making you look younger but still natural. For this procedure, small incisions are made near the ears, excess skin is removed, then the remaining skin and underlying muscle are re-suspended. The surgery takes a two to three hours, and there is minimal downtime compared to a MACS facelift.
As the name implies, a necklift is for those who want to get rid of wrinkly, sagging neck skin. In this procedure, excess skin and fat are removed, then the remaining skin and muscle beneath are tightened.
The SMAS facelift is a more extensive option that uses the latest, advanced techniques to address significant signs of aging in the lower face and neck. (SMAS stands for Superficial Muscle Aponeurotic System.) Typical candidates for this procedure are usually in their mid-50s or older, with noticeable jowls and jawline sagging but not so much neck aging. Results are more obvious than a mini-lift, but they are still entirely natural looking.
For this procedure, incisions are made along the side of the face. Along with removing excess skin, Dr. Raval elevates underlying tissues that are deeper than those affected by a mini-lift. Patients experience less swelling and faster recovery than a full, traditional facelift, but of course there is more downtime for this procedure than either the mini-lift or necklift.
Because every patient is different, every facelift is unique. Dr. Raval may recommend a combination of techniques, or even a traditional full facelift, depending on your personal situation and goals. Because aging causes us to lose fat as well as skin elasticity, Dr. Raval may also use dermal fillers to create an even more natural looking "finishing touch" for your procedure.
As with any surgery, there are some risks associated with facelifts and necklifts, ranging from unsatisfactory results to bleeding or nerve damage. Dr. Raval is highly skilled and experienced in facial surgery, and he performs procedures only in a fully accredited surgical center, all of which minimize risks.
WHAT ABOUT RESULTS?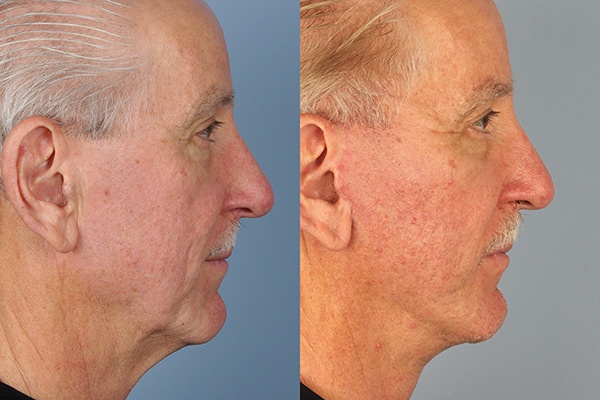 The key to achieving a successful outcome from cosmetic enhancement surgery is realistic expectations. The beauty of today's facelift and necklift options is that you can look really great for your age – healthier and more vibrant, with fewer lines and wrinkles -- without making shocking changes. You will continue to age, of course, but you will also continue to look 7 to 10 years younger.
Along with producing far more natural results, today's facelift procedures leave minimal scarring. Dr. Raval makes the smallest possible incisions, in locations where they will be hidden. If you don't tell people you've had a surgical lift, they will never know.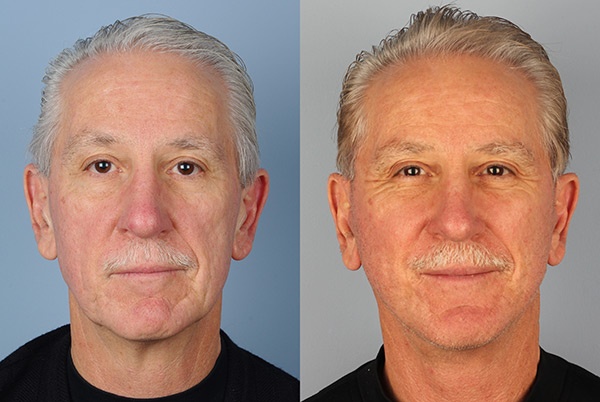 Every patient who comes to Dr. Raval has different skin and facial structure, so surgical results can vary from one person to another. However, you can get a good idea what a facelift or necklift might do for you by reviewing the before after photos of some of Dr. Raval's past patients.
WHO IS A GOOD CANDIDATE?
Men and women who want to reverse visible signs of aging on the lower face or neck are potentially good candidates for some type of facelift or necklift procedure. If you're still a young adult, Dr. Raval may recommend one of several non-surgical options that can produce the results you want – quickly, affordably and with little or no downtime.
RECOVERY & DOWNTIME
Dr. Raval performs mini-lift, necklift, and MACS facelifts in a surgical center, using general anesthesia. All of these procedures are outpatient surgeries, so you will not remain overnight. After your surgery, you'll rest for an hour or so until the anesthesia wears off, then someone can drive you home.
Your follow-up instructions and how long it takes you to recover will depend on the details of your surgical procedure and your overall health. In general, stitches may be removed after about a week, and you should be back to some normal activities within a couple of weeks.
COST
The cost of facial surgery depends on your specific procedure. The price we quote you will include Dr. Raval's fee as well as costs for anesthesia and the surgical facility. Prices are subject to change but as of December 2017, costs are approximately:
Mini-lift, $7,500
Necklift, $8,500
MACS facelift, $11,200
Most health insurance does not cover the cost of cosmetic surgery. However, we encourage you to contact your insurance carrier to double-check your own coverage.
THE RAVAL DIFFERENCE
If you decide to have facial rejuvenation surgery, it is essential to pick a surgeon with whom you feel comfortable. Medical training and specific experience with your type of procedure are crucial. But so is the personal side of your relationship. You're teaming up with someone who is going to make permanent alterations to your face, and that requires trust as well as confidence.
It's vital that you feel comfortable speaking honestly about your concerns and aesthetic goals, so Dr. Raval can recommend a surgical plan that is exactly right for you, physically and emotionally.
Dr. Jeffrey Raval, MD, MBA, FACS is highly respected nationally as well as locally within the Denver area for his outstanding surgical skill and his professional-yet-personable demeanor. He specializes in facial surgery and is double board certified by the American Board of Facial Plastic and Reconstructive Surgery and the American Board of Otolaryngology / Head and Neck Surgery. You can read more about Dr. Raval and his entire team before scheduling your consultation.
WHAT'S BEST FOR YOU?
Nothing is more personal than your self-image. If you feel younger on the inside than your face and/or neck appear on the outside, it may be time for a private consultation with Dr. Raval. A face-to-face meeting allows both of you to ask questions and discuss the possibilities. Then, together, you can make the best decision for your face.