As people age, muscles weaken, skin stretches and fat accumulates around the eyes causing the appearance of fatigue and stress. More than 230,000 people a year undergo eyelid lifts to regain a younger, firmer looking eye area. The eyelid lift procedure can be performed on either the lower or upper eyelids or both and can be combined with other facial procedures.
The Procedure
Typically performed under local anesthesia with sedation, or sometimes general anesthesia, eyelid surgery can last between one to two hours. Incisions are made along the crease of the upper eyelid and just below the lashes of the lower eyelid. The skin is separated and underlying fat is repositioned, the muscle trimmed or tightened, and the skin repositioned, trimmed of any excess and stitched closed.
Pockets of fat in the lower eyelid are removed through a small incision inside the lower eyelid. Called transconjunctival blepharoplasty, this technique is usually used on patients without excess skin, who only need fat removal from the lower eyelid.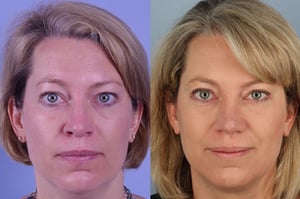 Post Surgery
Expect some bruising and swelling for the first week or two. Stitches will be removed or absorbed on their own between four to seven days. Your eyelids may feel tight or sore but this is usually moderate. Pain medication will be prescribed to manage discomfort.
The recovery process is different for everyone, but within a day of your eyelid surgery you should be up and moving around. You may shower gently or wash your face however keeping your head elevated for two weeks following surgery. Small ice packs during the first 24 hours help reduce welling and discomfort. For the first day or so you may notice some tearing and light sensitivity. You may also need to clean your eyes carefully for the first two weeks and keep your sutures free of blood and crust. Eye drops may be prescribed. Normal visual tasks like reading or watching TV are possible soon after surgery, but avoid wearing contacts until you are instructed to. Plan on being off usual activities for one week and then gradually return to activities such as lifting, exercise and sex, avoiding high impact activities for one month including saunas as steam can affect healing.
Though the appearance of bruising will fade gradually, you may notice some remaining bruises for as long as a month and may wear special camouflage makeup as you heal.
Because the incisions used during surgery are small and hidden within the creases of your eyelids, any scarring is usually minimal or unnoticeable. The appearance of your eye area will improve over several months.