WHAT ARE LASER SKIN TREATMENTS?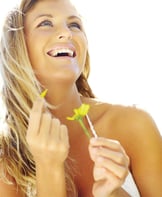 Lasers use gentle, precisely-targeted light or heat to resurface skin and stimulate production of new skin cells. The result is a smoother, more youthful appearance. Lasers are very precise, so we can use these treatments to address large or very small areas, virtually anywhere on the body. Laser skin treatments work well for men as well as women, but are not always an effective option for those with darker skin.
Because lasers use heat or very intense light, technical skill and experience are essential to ensure your safety as well as produce optimal results.
Rocky Mountain Laser Aesthetics is part of Raval Facial Aesthetics and ENT, owned and directed by Dr. Raval, one of Denver's most-respected facial plastic and cosmetic surgeons. Laser treatments are performed in-office, to provide maximum convenience and comfort for clients.
Every person's skin is different. And every treatment is individually tailored. So the first step is always a personal consultation with each client – to discuss your aesthetic goals and determine the laser skin treatment option best for your skin type, condition, and desired results.
WHAT ARE THE BENEFITS OF LASER SKIN TREATMENTS?
Laser technology is versatile. Different types of laser skin treatments can address deep or superficial resurfacing goals to:
Plump or tighten skin
Smooth fine lines and wrinkles
Reduce brown or red age spots
Minimize acne scars
Remove spider veins and bulging veins
Remove unwanted hair
Improve overall skin tone and texture
Treatment sessions are very short, with minimal discomfort and downtime for recovery. In most cases, a series of treatments is recommended to achieve the best results. Sessions are usually spaced a few weeks apart, and you choose the schedule, so follow-up appointments never interfere with your work or personal time.
WHAT LASER SKIN TREATMENTS ARE AVAILABLE?
Here at Rocky Mountain Laser Aesthetics, we offer the following laser skin treatments: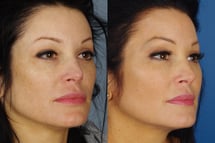 Intense Pulsed Light (IPL) is a gentler type of laser procedure that delivers short bursts of high-intensity light below the skin's surface. Because the light is broad-spectrum, we can use IPL to treat multiple skin issues at the same time. It is especially effective to correct dark spots and to reduce redness and pore size.
ProFractional laser treatments can significantly improve overall skin tone and texture, by reducing the appearance of lines, wrinkles, scars, and other imperfections. ProFractional is different in that the laser delivers thousands of micro-beams, but only to a fraction of the skin within the treatment area. That triggers the unaffected surrounding cells to produce new collagen which helps produce smoother, younger-looking skin. ProFractional treatments are best for the face, neck, chest, and hands. Sessions are short, though Dr. Raval usually recommends up to four sessions to achieve optimal results.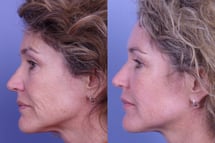 Microlaser Peel is a great choice if you want to correct fine lines or wrinkles but cannot afford much time. This laser is so precise, it delivers beautifully consistent results across the treatment area with virtually no discomfort. Treatment is quick and results are immediate. Microlaser peel is effective for refining scar as well as resurfacing skin.
Triple Peel (IPL + ProFractional + Microlaser Peel) does it all. We often recommend a combination of laser treatments to help patients get the best results possible. However, we also offer the "ultimate" combination – our Triple Peel – that includes all three treatment types. The entire three-step procedure takes just one session, with minimal downtime.
Any of these laser treatments can also be combined with other non-surgical procedures as well as specialized skin care products, to enhance long-term results and help protect the skin.
DOES ROCKY MOUNTAIN LASER AESTHETICS OFFER ANY SPECIALS?
Yes, of course. The best way to learn about them is to "like" our Facebook page. That way, you'll be among the first to hear about special promotions and discounts, and you can stay in touch as part of our Raval family. You may also check out the Specials page on our website, and we invite you to subscribe to our e-newsletter.